About
Minnesotans Building a Clean Energy Future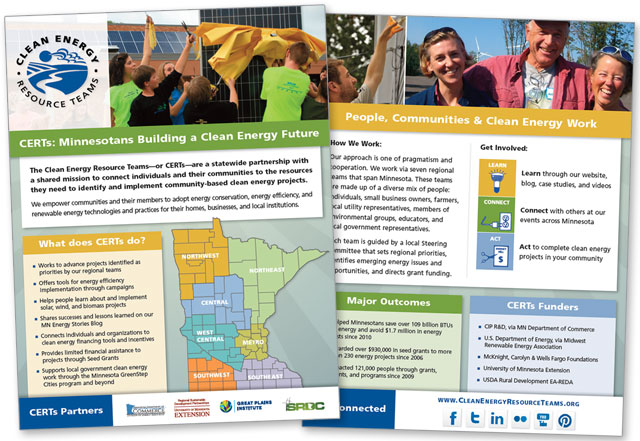 The Clean Energy Resource Teams—or CERTs—are a statewide partnership with a shared mission to connect individuals and their communities to the resources they need to identify and implement community-based clean energy projects.
We empower communities and their members to adopt energy conservation, energy efficiency, and renewable energy technologies and practices for their homes, businesses, and local institutions.
Learn more about CERTs, meet our staff, or check out our structure. You can also see press releases and news sightings, read and submit testimonials, or find someone to contact.
Press Releases
Over 100 cities advancing energy, water, economic, and environmental practices  
It is an energizing New Year for communities across Minnesota. The state's Clean Energy Resource Teams (CERTs) are awarding Seed Grants to 39 innovative renewable energy and energy efficiency projects...
RAM and the Clean Energy Resource Teams (CERTs) are once again working together to provide the Recycle Your Holidays™(RYH) program to Minnesotans. Hundreds of drop-off sites are available to Minnesota...