About
Helping Minnesota communities determine their clean energy future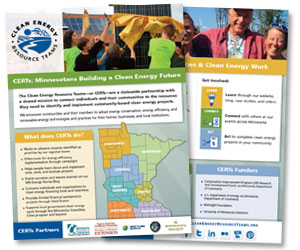 The Clean Energy Resource Teams—or CERTs—are a statewide partnership with a shared mission to connect individuals and their communities to the resources they need to identify and implement community-based clean energy projects.
We empower communities and their members to adopt energy conservation, energy efficiency, and renewable energy technologies and practices for their homes, businesses, and local institutions.
Learn more about CERTs, meet our staff, or check out our structure. You can also see press releases and news sightings, read and submit Clean Energy Scrapbook entries, or find someone to contact.
Press Releases
Free event by Central Clean Energy Resource Team (CERT) highlights heating options
In 2013 Minnesota passed aggressive laws to move solar energy forward in the state, including new incentives, net-metering reforms, and a requirement that investor-owned utilities generate 1.5 percent...
Willmar, MN – The West Central Clean Energy Resource Team (WC CERT) and The Minnesota Project are presenting an educational program on how to pursue funding to support an LED lighting retrofit project...