Guaranteed Energy Savings Program (GESP)
What is Performance Contracting?

Energy Savings Performance Contracting (ESPC) is a performance-based procurement and financing mechanism that leverages maintenance, operations, and utilities savings achieved through the installation of energy efficiency and renewable energy measures, to finance the cost of the facility retrofit and renewal project, with no bonding or raising taxes.
---
What is the Guaranteed Energy Savings Program?

The Guaranteed Energy Savings Program (GESP) promotes awareness and implementation of energy efficient and renewable energy measures in public facilities to provide millions of dollars in annual energy savings in Minnesota. To do this, GESP supports you every step of the way. GESP can help you:
Solicit and award site-specific requests for proposals from pre-qualified Energy Service Companies (

ESCO

s) to perform Energy Savings Performance Contracting (

ESPC

) services
Evaluate the technical and financial feasibility of

ESCO

proposals
Negotiate and award work order contracts to pre-qualified

ESCO

s under the

GESP

Master Contract to implement energy conservation measures
Offer project management oversight of

ESPC

projects
Provide technical assistance to ensure the

ESPC

Measurement and Verification Plan is properly performed throughout the performance period of the contract
Download a factsheet about GESP >>

---
What Can You Do with
GESP

?


Whether you're a county, city, school district or any other form of local government, there are improvements that you can make to your facilities to save energy and save money.

High-Potential Facilities:


Schools
Courthouses & City Halls
Ice Arenas
Correctional Facilities
Water & Wastewater Treatment Plants
Recreational Facilities & Pools
Public Works Buildings
Libraries
Liquor Stores

Possible Projects:


Upgrading to high-efficiency boilers and chillers

HVAC

system redesign
Retrofitting to efficient lighting
Installing heat recovery equipment
Increasing water conservation
Adding solar energy systems
Converting to ground-source heating & cooling




---
The Benefits of Bundling

GESP allows you to bundle projects so that low-hanging fruit can finance deeper retrofits without impacting your budget. Learn more about how to bundle projects, as well as the potential savings of different types of energy efficiency upgrades. Bundling projects in and between the types of facilities below is a benefit of GESP. These projects were not completed with GESP, but they provide insight into how to bundle energy conservation measures, as well as the potential costs, savings, and paybacks of upgrades, in and between multiple facilities.
Cities:
Counties:
Schools:
Need more ideas of energy efficiency upgrades or clean energy projects in Cities, Counties, or Schools to bundle? Check out the Local Government Energy Action Blog Posts Here.
---
GESP

Project Development Process


Below are six steps for Guaranteed Energy Savings Program (GESP) participants and the estimated amount of time for each. The process is then further detailed in the second graphic (click here to see larger version).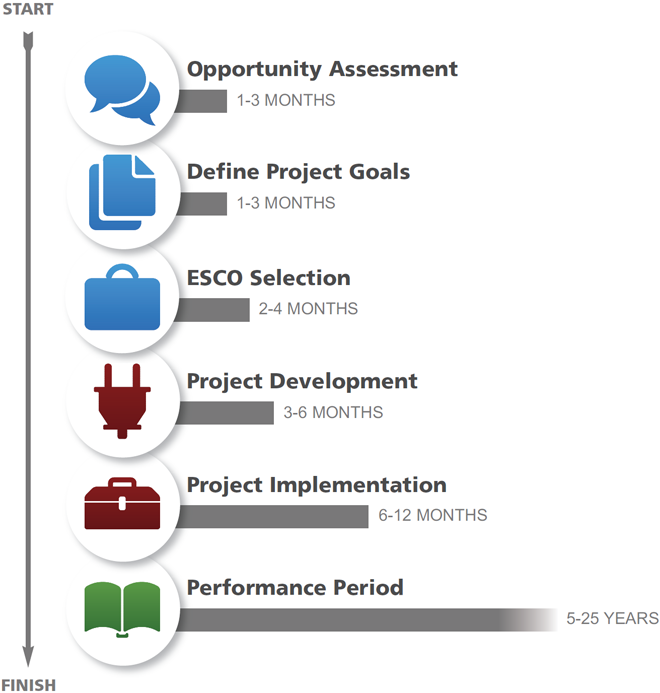 ---
Ready To see if
GESP

is a good fit for your local government?

Step 1. Compile a list of your city, county, or school's public buildings and the annual utility costs for those buildings.
Step 2. Be ready to talk about you local government's buildings goals, needs, and issues. Need help? Briefly answer the Qualifying Questions.
Step 3. Call us:

Lindsay Wimmer
Clean Energy Resource Teams
wimm0020@umn.edu
612-625-9634

Get details & join the program:
Energy Information Center
MN Department of Commerce
energysavings.programs@state.mn.us
651-539-1882 or 1-800-657-3710
---
This project was made possible by a grant from the U.S. Department of Energy and the Minnesota Department of Commerce.