Bemidji Pioneer - Going even greener: Harmony Co-op introduces solar awning project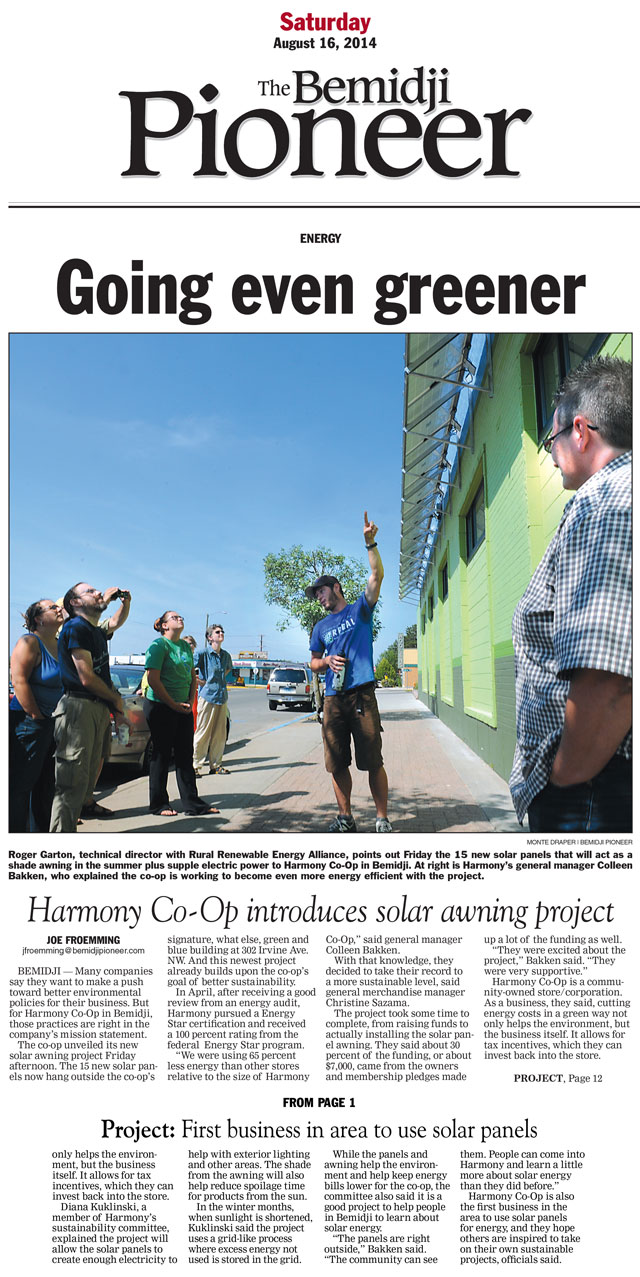 ---
By Joe Froemming on Aug 16, 2014 at 4:09 p.m.
BEMIDJI — Many companies say they want to make a push toward better environmental policies for their business. But for Harmony Co-Op in Bemidji, those practices are right in the company's mission statement.
The co-op unveiled its new solar awning project Friday afternoon. The 15 new solar panels now hang outside the co-op's signature, what else, green and blue building at 302 Irvine Ave. NW. And this newest project already builds upon the co-op's goal of better sustainability.
In April, after receiving a good review from an energy audit, Harmony pursued a Energy Star certification and received a 100 percent rating from the federal Energy Star program.
"We were using 65 percent less energy than other stores relative to the size of Harmony Co-Op," said general manager Colleen Bakken.
With that knowledge, they decided to take their record to a more sustainable level, said general merchandise manager Christine Sazama.
The project took some time to complete, from raising funds to actually installing the solar panel awning. They said about 30 percent of the funding, or about $7,000, came from the owners and membership pledges made up a lot of the funding as well.
"They were excited about the project," Bakken said. "They were very supportive."
Harmony Co-Op is a community-owned store/corporation. As a business, they said, cutting energy costs in a green way not only helps the environment, but the business itself. It allows for tax incentives, which they can invest back into the store.
Diana Kuklinski, a member of Harmony's sustainability committee, explained the project will allow the solar panels to create enough electricity to help with exterior lighting and other areas. The shade from the awning will also help reduce spoilage time for products from the sun.
In the winter months, when sunlight is shortened, Kuklinski said the project uses a grid-like process where excess energy not used is stored in the grid.
While the panels and awning help the environment and help keep energy bills lower for the co-op, the committee also said it is a good project to help people in Bemidji to learn about solar energy.
"The panels are right outside," Bakken said. "The community can see them. People can come into Harmony and learn a little more about solar energy than they did before."
Harmony Co-op is also the first business in the area to use solar panels for energy, and they hope others are inspired to take on their own sustainable projects, officials said.
Presentation about the project:
Download a factsheet about sustainability at Harmony Food Co-op >>
---