Recycle Your Holidays 2010-2011
This is no longer the active Recycle Your Holidays page.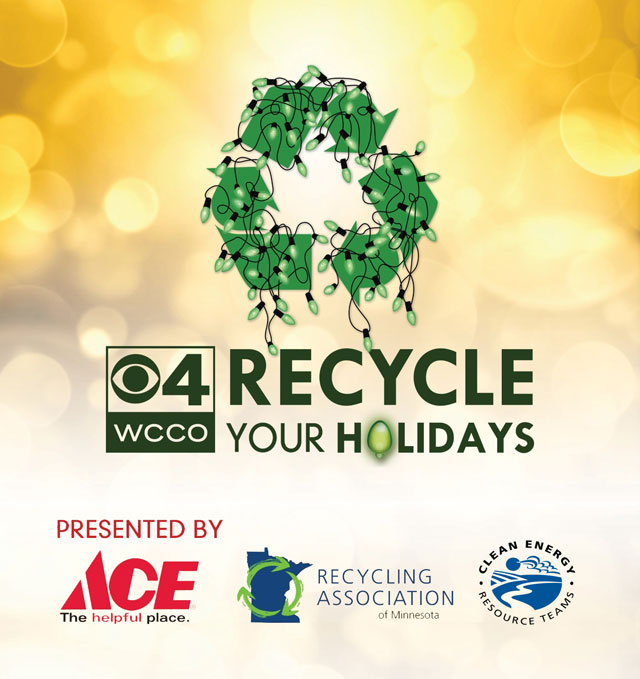 ---
Thanks so much to everyone who participated in the 2010-2011 Recycle Your Holidays season!
If you have any questions, please contact Maggie Mattacola, Director of Marketing & Communications at Recycling Association of Minnesota at 651-641-4589 or maggie@recycleminnesota.org.

Minnesotans are encouraged to drop off their old, broken holiday lights at any participating Ace Hardware or the WCCO TV Plaza during the holiday season. A map of all participating locations is provided for your convenience. Check it out, and recycle those lights!
The partners and the program: The Recycling Association of Minnesota (RAM) in partnership with the Clean Energy Resource Teams, WCCO TV, Xcel Energy, and Ace Hardware Stores in Minnesota, is again launching Recycle Your Holidays™ for the 2010-2011 holiday season. This first-of-its-kind effort in the country began last year.
Recycle Your Holidays recycles every part of the light strings. Even the little lights are recycled by another project partner, Green Lights Recycling. Our goal last year was to recycle 50,000 pounds of lights which we more than doubled! This year our goal is to recycle over 200,000 light strands and to encourage Minnesotans to use LED light strands instead, which will save a lot of energy.
This is a great chance to combine recycling with energy efficiency. People can reduce their home energy costs with new LED lights, plus there is a 85-90% reduction of energy using recycled copper from the old holiday lights versus extracting copper. In addition, many utilities and hardware stores now offer rebates on LED holiday lights.
Another energy benefit are the savings from recycling copper. By one estimate, recycling copper takes about 10 percent of the energy it takes to extract it. It's very energy intensive to create new copper, so this is a big deal. According to estimates by the Clean Energy Resource Teams, recycling 50,000 pounds of lights in Minnesota would save about 530,000 kilowatt hours, or about 960,000 pounds of carbon dioxide. That's assuming 20,000 pounds of lights are replaced by LEDs and that homeowners with lights use them for about six hours a day from Thanksgiving to New Year's Day.
Recycle Your Holidays in the News: The popular holiday light recycling program has been all over the news in Minnesota this season.
Click here to see stories >>
Hover over or click on the megaphone
to share this campaign with others
on Facebook, Twitter, email, and more!

This is a project of the Recycling Association of Minnesota
The Recycling Association of Minnesota (RAM) is committed to promoting resource conservation through waste prevention, reuse, recycling, composting and purchasing practices using the most cost effective and environmentally sound methods available in Minnesota. Learn more at www.RecycleMinnesota.org



WCCO

TV Video About Recycle Your Holidays™
Testimonials from 2009-2010
We had a good response. People were excited to have a place to drop off their lights instead of just throwing them in the garbage.
Stacey Tenhoff, Manager of the Appleton Hardware Hank
[Recycle Your Holidays] was a great program! Family members loved it; It was so simple—I made a sign, hung it above the bucket, and families that visited utilized it. People that brought their lights in often commented that it was a great idea to not put old lights in the landfill but put towards something useful. We want to do it next year!
Mary Milbrath, Housing Director and Director of Nursing at Laurels Edge Assisted Living in Mankato
[Recycle Your Holidays] went really well, so well be we had to use bigger containers …32 gallon garbage cans. Customers really liked it; they could get rid of their old lights in an environmentally friendly way. Our store gave $3 rebates if people replaced their old lights with LEDs and this went over very well, too. We'll enthusiastically do this again next year.
Dave Nieman, Manager of the St. Peter Ace Hardware
[Recycle Your Holidays] was a unique niche, and very easy to facilitate. Our student council members were surprised by how quickly the bins filled up!
Holly Evans, Guidance Counseler, Lake Crystal High School
[Recycle Your Holidays] was a successful project in Granite Falls. We collected about 10 boxes of lighting strings and then delivered them to Benson. People appreciated it because it was convenient; it was easy to do, and just took a little volunteer time. The local hardware store box was always full. This was a highly successful project and we hope to do to again next year.
Dennis VanHoof, Granite Falls EDA
People were excited to get rid of their old lights. I'd estimate that 80% didn't replace them; our sales this year of all kinds of LEDs have been good. We'd do it again!
Rick Pralle, Manager of St. Cloud Ace Hardware (8th street)