Saving Watts and Drops Bulk Buys
| | | |
| --- | --- | --- |
| | | |
| | Saving Watts and Drops Bulk Buys helps cities and other similar community-level organizations distribute plug-and-play energy and water saving products for free or at a low cost. | |
| | | |
Why do this?




Contribute to conservation goals
Engage community in energy savings
GreenStep Cities get credit for best practice actions 1.3 (public buildings), 2.1 (residential), or
25.2 (businesses)

How can

CERT

s help?




Determine which plug-and-play item to distribute
Assist with getting bids from vendors
Provide input on how items will get distributed to community members
Offer customized outreach and educational materials to go with the items
Watch the 12 minute overview video below for a nice introduction
Which items to distribute?
CERT

s suggests the following plug-and-play products be considered for distribution.



CERTs can help the city or other community-level organization think through which product makes the most sense based on conservation and engagement goals. Below each product, a typical bulk cost and likely audience is noted. Hover over each product to get a description of it.
LED

Light Bulbs

Advanced Power Strips

Low Flow Showerheads

Low Flow Faucet Aerators

Efficient Pre-Rinse Spray Valves

$3-8
Residential, Commercial
$15-30
Residential, Commercial
$4-10
Residential
$0.50-2
Residential
$25-50
Commercial
CERT

s suggests buying in bulk and getting multiple bids.



It's possible to get a better price per item when products are purchased in bulk. The city or other community-level organization will need to find money within their budget for this effort. Utilities could claim the cost of this effort in their Conservation Improvement Program (CIP) spending. CERTs does not have funding to support the purchase of items.

Organizations, cities, and utilities may use their own vendor of choice, and / or compare the price from their usual vendor to a few new vendors to ensure the best possible bulk price. If there isn't an existing vendor the organization, city or utility has used in the past, CERTs can provide a few recommendations.

Confer with CERTs on bids to make sure enough options are included. CERTs is happy to help select one, if the organization would like.
There are a number of ways to get the plug-and-play energy saving items into the hands of your community members.


Here's a few ideas:
giveaway for free at community events or gathering spaces
host a bulk-buy to recover some or all of the costs
distribute kits to those who request them by mail or at a pick-up location
CERTs can help weigh the pros and cons of the above distribution methods and help the community get creative.
Other communities have done this!


In 2013, several cities used the CERTs Make A Splash campaign to distribute energy and water saving items to their communities. Below are some of the communities, the items they chose, and how they distributed them.
City of White Bear Lake distributed 500 Faucet Aerators throughout the summer at their weekly farmer's market.
City of Jackson hosted a bulk-buy to help 9 restaurants in town get Pre-Rinse Spray Valves at an affordable price.
City of Apple Valley distributed 720 Faucet Aerators at their Spring Home & Garden Expo.
City of Falcon Heights' Environment Commission gave away 170 Faucet Aerators at the city's Annual Summer Ice Cream Social.
These communities below also purchased large quantities during Make A Splash and possibly distributed for free, charged a small amount, or installed directly into public housing for which the city is responsible.
City of St. Anthony Village – 200 Faucet Aerators
City of Mahtomedi – 200 Faucet Aerators, 26 Showerheads
City of Windom – 1000 Faucet Aerators
City of Sandstone – 100 Faucet Aerators, 6 Showerheads
CERT

s provides customized educational materials to go with the items.



When items are purchased in bulk, there's typically little information with the individual item. CERTs is happy to create educational pieces to go with each item – and they can even be branded with your organization's logo! Below is an example of a "mini-handout," sized 4 inches by 5 inches, to go with faucet aerators.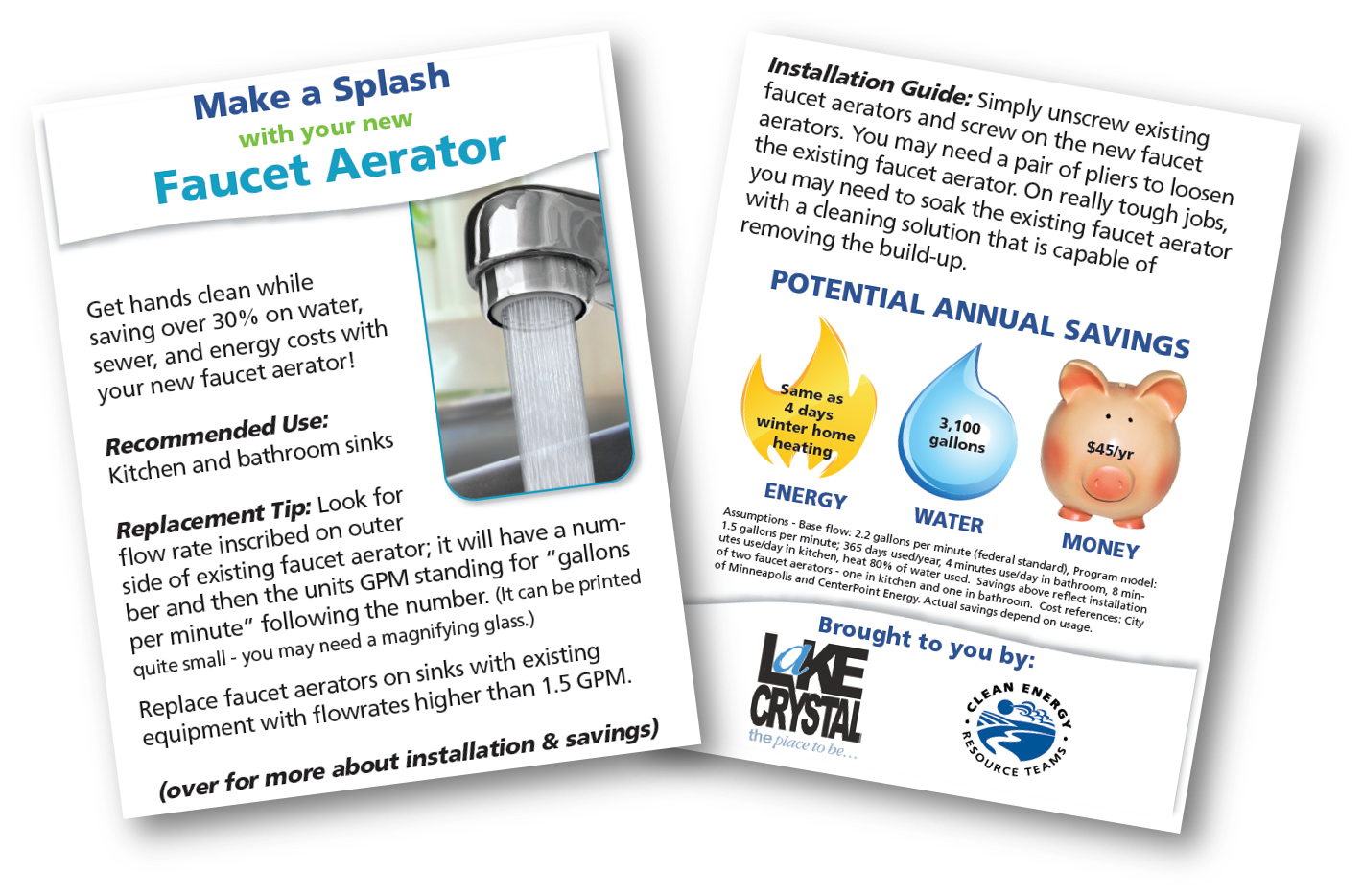 CERT

s assists with outreach on your distribution, too.



CERTs will be able to help the first few communities collaborating with CERTs on this campaign create the following communication pieces to announce the community's distribution of plug-and-play energy saving devices:
Press Release for newspaper articles
Newsletter announcements
Social media posts for Facebook and Twitter
Afterward, CERTs will post examples of the outreach here for other cities and community-level organizations to gain inspiration.
Fill out a form to let us know you're interested
CERT

s staff will connect with you within 1 week to begin providing assistance.