Saving Watts and Drops Fundraisers
| | | |
| --- | --- | --- |
| | | |
| | Saving Watts and Drops Fundraisers helps Minnesota community and youth groups conduct fundraisers with plug-and-play energy and water saving products in collaboration with their electric or natural gas utilities. | |
| | | |
What are the Benefits?

Community groups: Raise funds for your projects and save energy by selling items like

LED

bulbs and showerheads.


Utilities: Contribute to conservation goals while engaging community or youth groups in your service territory.
CERT

s supports the following plug-and-play products with educational resources.


LED

Light Bulbs


Advanced Power Strips




Low Flow Showerheads




Low Flow Faucet Aerators




Efficient Pre-Rinse Spray Valves



Community Groups: Make about $0.50 to $5.00 for each item sold (varies by product type and payment arrangement).

Utilities: Plan on 50 to 200 items sold per fundraising effort.



Community Group

Learn and teach others about easy-to-install energy efficient products as you sell them to raise funds toward a goal

CERT

s

Connect utilities and
community groups when
partnerships don't already exist
and support each as needed

Utility

Purchase fundraiser items and provide technical information about them to the community group
How does this fundraiser work?
This is a sampling of the resources provided through Saving Watts and Drops.
You'll get access to all of them immediately after submitting an interest form below. The resources are suitable for approximately 14 year old youth through adults.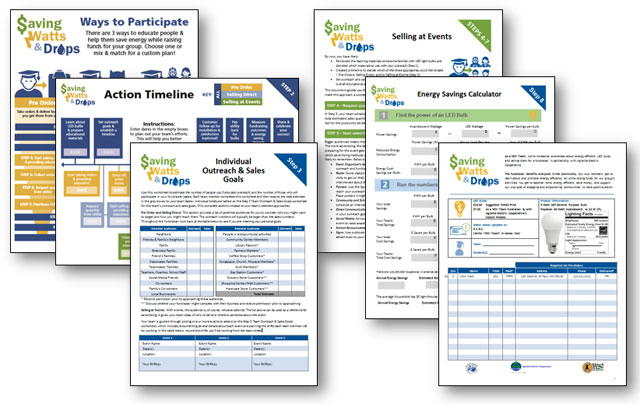 Fill out an interest form to get started
Get started and get connected to all of the resources provided by filling out an interest form.