Make a Splash with Money-Saving Upgrades!

Avoid losing up to thousands of dollars each year on utility bills by upgrading to water- and energy-saving equipment
Through September 15 2013 you can sign up to take advantage of discount prices on efficiency upgrades to your pre-rinse spray valves and faucet aerators, dramatically cutting your water and energy use with these simple, inexpensive retrofits. Keep reading to learn more and take part!
Pre-rinse spray valves are used in commercial kitchens to remove food before placing dishes in the dishwasher or sanitizer. Faucet aerators screw on to the end of your faucet to regulate the flow of water and are great for any facility with numerous hand washing sinks.
Our special discount through Niagara Conservation is 60% off spray valves and 75% off faucet aerators. Click here to learn more about your potential savings, and if you're ready, place your order.

Information for specific groups:

Restaurants
Business Associations
Chambers of Commerce
Hospitals
K-12 Schools
Higher Education
Multi-Family Buildings
Senior Living Centers
Congregations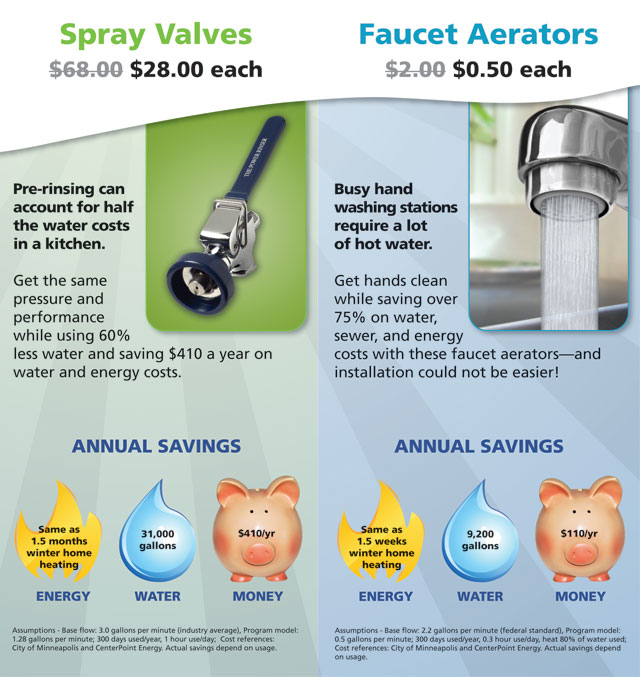 | | |
| --- | --- |
| | Several utilities in Minnesota offer rebates for pre-rinse spray valves, reducing the equipment cost by up to half! Click here to find rebates. |
---
| | |
| --- | --- |
| | Action Steps: What to do |
Learn: Check out our brochure and more resources below (if you need them) so that you understand the technologies and the opportunity for savings.


Test Sprayer: Determine if you should upgrade your commercial kitchen pre-rinse spray valve(s) by testing the flow rate of your current spray valve(s). If it takes less than 30 seconds to fill a 1 gallon container (or if you know that your spray valve uses more than 2 gallons per minute), you should upgrade your spray valve and start saving money each year from here on out. Refer to the Replacement Guide or the

CERT

s

CONNECT

Video: Testing Your Spray Valve for more information.


Test Aerators: Determine if you should upgrade the faucet aerators in sinks in your commercial kitchen, bathrooms, and at hand-washing stations by checking the flow rate of each of your current faucets. The "gallons per minute" or

GPM

rating is typically printed on the side of the faucet aerator located right where the water comes out. You should upgrade your faucet aerators if they use more than 1.5 gallons per minute. Refer to the Replacement Guide for more information.


Consider your needs for efficient showerheads: During the ordering process, you will be given an opportunity to purchase low-flow showerheads at reduced prices to help lower your energy and water costs even more. Showerheads are offered in chrome or white and with options like easily-adjustable two flow rate (1 and 1.5 gpm), easily-adjustable two flow type (powerful massage and gentle needle spray), and luxury appearance. Showerheads are an easy retrofit to consider in school and exercise facility locker rooms, nursing homes – assisted and independent living, multi-family housing complexes, hospitals, and more.


Questions Before Ordering? From program details to product information, we have answers in our Frequently Asked Questions. Also, read first-hand tips and tricks for faucet aerators in this blog post. You may also contact Alexis with

CERT

s with any additional questions you may have at 612.626.0455.


Order: Place your order using our secure form. Niagara Conservation will email an order confirmation to you.


Delivery & Install: Receive your new spray valves and faucet aerators. Refer to the Installation Guide or the

CERT

s

CONNECT

Video: Replacing Your Pre-Rinse Spray Valve to start using your water-saving equipment.


Recycle: Did you know that you can give your old spray valves and aerators to scrap metal recyclers in Minnesota? Click here to see a map of locations and here for a list from the Pollution Control Agency.


Share: Let others know about this great opportunity for them to save water and energy with these easy upgrades. View our

CERT

s

CONNECT

Video: Making a Splash with Water, Energy and Cost Savings. Use the resources above for specific groups, our brochure, and information in the Share section to get others the information they may need to participate in this program.
---
Who's Behind this Effort?


Clean Energy Resource Teams
Alexis Troschinetz
Behavior Change and Metrics Coordinator
atroschi@umn.edu
612-626-0455
Campaign Partner
Niagara Conservation
www.niagaraconservation.com
Niagara Conservation is committed to providing their customers with energy- and water-saving products of the highest quality, with the least possible impact to the planet's resources. They are headquartered in Cedar Knolls, New Jersey with satellite offices around the world.
---
| | |
| --- | --- |
| | Share: Help Others Take Action! |
Share quickly with friends and colleagues:


Watch these short videos from CERTs to learn how to test your current spray valve, how to replace your valve, and why you should spread the word about the Water-Saving Program. Then use the resources below to take action!
Great resources for sharing:


Looking for something else?


We want to help you spread the word! Tell Dan Thiede, CERTs Communications Manager, what you need at 612-626-0556 or thie0235@umn.edu. Thanks!


---
| | |
| --- | --- |
| | More Resources: Dig Deeper |
The resources below will help you to fully understand high-efficiency pre-rinse spray valves.
Videos: Restaurants saving water, energy & money

Cutting back on water and energy use means more money to spend elsewhere in the business and less wasted resources down the drain.
Minnesota 2020's Tom Niemisto stopped in to Las Mojarras Mexican Restaurant on Lake Street in Minneapolis to see the sprayers in action, and talk to owner Oscar Reyes about the difference so far:

Lakeland Public TV's Lacy Monteleone talked to Molly Luther, owner of The Good Life Cafe in Park Rapids, about the ways they're saving energy, in part with new faucet aerators:


Make A Splash Tweets