About
Helping Minnesota communities determine their clean energy future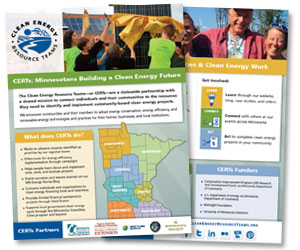 The Clean Energy Resource Teams—or CERTs—are a statewide partnership with a shared mission to connect individuals and their communities to the resources they need to identify and implement community-based clean energy projects.
We empower communities and their members to adopt energy conservation, energy efficiency, and renewable energy technologies and practices for their homes, businesses, and local institutions.
Learn more about CERTs, meet our staff, or check out our structure. You can also see press releases and news sightings, read and submit Clean Energy Scrapbook entries, or find someone to contact.
Press Releases
Conference Offers Advice and Networking for Cities, Businesses, Schools, Farmers and Utilities on Solar, Electric Vehicles, Biomass, an
Energy experts to explore cost-saving strategies with attendees   Media Contact:
CERTs in the News
New Hope has joined Minnesota GreenStep Cities, an assistance and recognition program to help cities achieve sustainability goals. Watch The Video Here
Erika Bailey-Johnson is one of Nissan's newest LEAF owners. The Bemidji resident purchased the electric-only vehicle a few weeks ago, but she's been a hybrid owner for the last decade....
Power Up Winona-Community Solar received a $3,500 Southeast Clean Energy Resource Team (CERT) seed grant in 2014 to review and evaluate the role Winona-area nonprofits and institutions can play in...