About
Helping Minnesota communities determine their clean energy future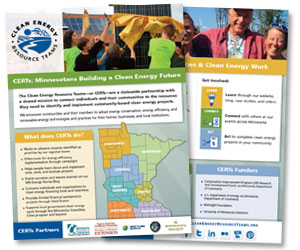 The Clean Energy Resource Teams—or CERTs—are a statewide partnership with a shared mission to connect individuals and their communities to the resources they need to identify and implement community-based clean energy projects.
We empower communities and their members to adopt energy conservation, energy efficiency, and renewable energy technologies and practices for their homes, businesses, and local institutions.
Learn more about CERTs, meet our staff, or check out our structure. You can also see press releases and news sightings, read and submit Clean Energy Scrapbook entries, or find someone to contact.
Press Releases
Energy experts to explore cost-saving strategies with attendees   Media Contact:
Lighting accounts for 5-10% of total energy use in the average American home and costs $50 to $150 per year in electricity. That might not sound like a huge amount, but when you multiply that by the m...