Solar Energy Technology Resources

Solar energy can be used to generate electricity, to provide hot water, and to heat, cool, and light buildings. Believe it or not, Minnesota has the same solar potential as Tallahassee, FL and Houston, TX!
Offerings from the Clean Energy Resource Teams


Solar Electricity for the Home, Farm, and Business: Solar Electricity for the Home, Farm, and Business is a series of factsheets designed to help you determine if a solar electric system will work for you. Topics include site assessment, sizing, costs, installation, and more.


Clean Energy Project Builder: This online directory features companies serving the Upper Midwest's solar industry. Find solar installers and manufacturers, explore available community solar gardens, and browse solar installations near you.


MN Solar App: Wondering if a particular site in Minnesota is good for solar energy? The MN Solar App can help. You start by entering an address and clicking on a location, then you can see an overview and full report of solar potential with more tools to move forward.


Community Solar Gardens: Perhaps you live in an apartment, have a shaded roof at home, or don't have space at your organization. You might be able to subscribe to a centrally-located Community Solar Gardens and get credit on your electric bill.


Renewable Energy for Greater Minnesota: Solar, wind, and biomass are plentiful sources of clean energy in Minnesota, and we're here to help farmers and rural small businesses get projects done.

CERT

s offers tools to pursuing renewable energy projects.


Commercial

PACE

Financing: Property Assessed Clean Energy (

PACE

) is a way to finance energy efficiency and renewable energy upgrades to the buildings of commercial property owners with costs repaid through property tax assessments.

Solar Images: Photovoltaic (PV), Air Heat & Hot Water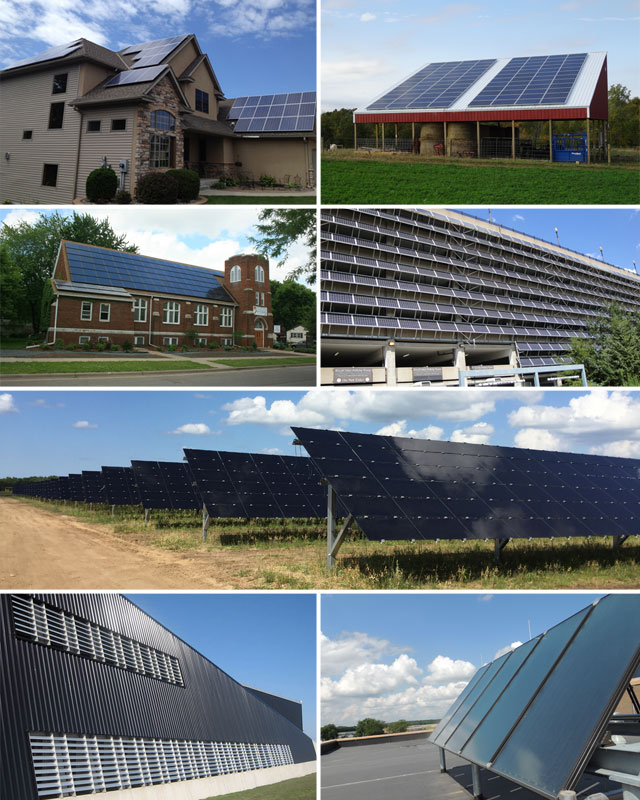 Planning Your Solar Project

Download this Simple Steps to Solar guide for home or for business and farm projects.
| | |
| --- | --- |
| Energy Efficiency First | |
Before adding solar energy production, limit your need for additional energy by making your farm or business as energy efficient as possible. All of our utilities have incentives for efficiency improvements, so be sure to ask your utility. You can also check out the CERTs resource page for energy efficiency to learn more.

| | |
| --- | --- |
| Get Educated | |
Understand what sort of system is right for you. Solar technologies come in differing models. Any one of these technologies might be right for you depending on your energy use and the solar resource available at your site:
A photovoltaic (PV) system offsets electric energy use
A solar thermal hot water system reduces demand for fuels needed to heat water
A solar thermal air heat system lowers demand for fuels needed to heat buildings
Dig Deeper: You can learn more about solar using our guide, Solar for the Home, Farm, and Business, a series of factsheets designed to help you determine if a solar system will work for you.

| | |
| --- | --- |
| Start Planning | |
Consider your sun exposure, budget, and roof life and structure.
It is important to consider the solar resource at your site. You can get a sense for the solar resource at your site using the Minnesota Solar Suitability App. A solar site assessor can help you decide which technologies are the best fit. Assessments will provide insight on the solar resource and potential structural issues. Clean Energy Project Builder provides a directory of solar installers who can provide this information.
If you don't have a good solar resource on your roof or property and you'd still like to use solar, you should consider subscribing to a community solar garden if one is available to you. Community Solar Gardens are centrally located solar photovoltaic (PV) systems that produce electricity for participating subscribers. Xcel Energy customers can participate in projects offered by private developers. Members of other utilities in Minnesota can subscribe to a community solar garden if one is offered by the utility. Click here to learn more. If your utility does not offer community solar, they might have a separate green pricing program that allows you to sign up for renewable energy—ask them to learn more.
It's important to check in with your local city/county about ordinances that might be in place that would impact your solar project. Some require setbacks or structural assessments, for instance. Your solar installer should have a good handle on this process, but it's worth knowing in advance.
Installers should be able to provide a good cost estimate for a project you're considering, and incentives can make solar more affordable. A federal tax credit can cover up to 30% of the project cost, and utilities often have incentives, too. You should also consider the Made in Minnesota Solar Program if interested in using locally-made products. Check

DSIRE

for more utility and other incentives.

| | |
| --- | --- |
| Get Bids | |
Compare bids from several solar contractors. You can use the Clean Energy Project Builder online directory, to help you search for solar installers. That website also provides a useful set of questions that you can ask companies. TIP: Most contractors will charge you a fee for coming out to do a site assessment, but then subtract that amount from your contract if you select them. Sometimes you can get site assessments for free or reduced costs in the winter.

| | |
| --- | --- |
| Install Solar | |
Select a contractor, sign a contract, and install your system TIP: It usually takes from two weeks to two months from the time you sign an agreement to the time a project is completed, depending on the type of solar technology and the incentive process. If installing PV, your contractor will facilitate an interconnection agreement with your electric utility that will allow you to track your production and get paid for excess production with net metering.


Stories, events, and more about Solar Energy
Solar Energy Blog Posts
Upcoming Solar Energy Events
Solar Energy Case Studies
Funding & Financing Opportunities

There are various opportunities for funding and financing any clean energy project. CERTs offers a list of funding opportunities currently available in the fields of energy and the environment. Start exploring now! Learn more
Planning your own projects?

The success of any clean energy project depends on how you plan and utilize community, organizational, and financial resources. This is a place for you and your community members to learn from what others have done and strategize about how to accomplish your own clean energy project goals. Learn more.
CERTs Supported Projects

CERTs awards Seed Grants to community groups for energy efficiency and clean energy projects. See projects or learn more about grants.
Find Companies

The Clean Energy Project Builder is an online directory that will help you find companies to help you plan, implement, and manage your clean energy projects. It's also a great place to just learn more about companies serving the solar and wind energy industries in Minnesota. You can even save a portfolio of folks to follow up with! Check it out
Detailed Solar Energy Resources
General Information


Community Solar Gardens – CERTs
Community Solar Gardens are centrally-located solar photovoltaic (PV) systems that provide electricity to participating subscribers. Could it work for you? Are you interested in going solar but unable to do so on your own? Perhaps you live in an apartment, have a shaded roof at home, or don't have space at your organization. CERTs has compiled useful guides, consumer and community question lists, FAQs, current programs, and much more.
Solar Energy Basics – US DOE EERE
A good place for other basic information about solar—covers photovoltaics, solar heating, and solar lighting.
Small Solar Electric Systems: A MN Guide – Minnesota Department of Commerce
More and more Minnesotans are asking if they can use solar energy to power their homes. You'll find some of the answers here.
A Consumer's Guide to Buying a Solar Electric System – National Renewable Energy Laboratory
This document covers pros and cons of investing in a PV system, how to pick an installer, how to fulfill permit requirements, how to get a net metering agreement, and other topics.
Rural Minnesota Solar Initiative Factsheet – Clean Energy Resource Teams
The Rural Minnesota Solar Initiative is a resource to help farmers and small business owners learn more about how solar can work for them, and provide the needed assistance to catalyze projects. This factsheet covers the basics of the program, highlights best practice projects from around Minnesota, and lets you know how you can take action.
Solar-Powered Water Pumps & Electric Fences Factsheet – Clean Energy Resource Teams
Electric fencing can be powered by solar photovoltaic energy, perfect for temporary, portable, or remote applications. Solar photovoltaic-powered water pumps are a versatile and cost-effective way for you to provide water remotely. Download this factsheet to learn more about both technologies and how they could be utilized on your farm.
Solar Energy Systems for Small Commercial Businesses – Brian Ross, CR Planning, Inc.
Small commercial businesses in Minnesota frequently have both interest in and opportunity to invest in solar energy. This document describes the basic process for businesses to assess opportunities and barriers to making solar energy investments and how to move forward with installing a solar energy system. The document outlines the following steps: (1) Understand your options; (2) Assess of your solar resource; (3) Assess your building; (4) Bidding and installing your solar energy system.
Renewable Energy and Schools: A Step-by-Step Guide – Minnesota Renewable Energy Society
This guide provides a step-by-step approach to help navigate the sometimes obscure process of creating a successful renewable energy project that meets the school's educational, sustainability, fiscal and environmental goals. The guide lays out a general process, but also provides examples of details and technical information, as well as educational, financial, and technical resources available to schools.


Incentives & Financing


DSIRE: Minnesota Incentives for Renewable Energy – North Carolina Solar Center & IREC
The Database of State Incentives for Renewables & Efficiency (DSIRE) is a clearinghouse for state policies related to renewable energy and energy efficiency. Their database is organized by state and can be searched by technology.
Commercial Property-Assessed Clean Energy (PACE) Financing
Property Assessed Clean Energy (PACE) is a new way to finance energy efficiency and renewable energy upgrades to the buildings of commercial property owners. Energy-saving measures pursued by the owners receive project financing and repay it as a separate item on their property tax assessment for a set period. PACE eliminates the burden of upfront costs by providing low-cost, long-term financing.
Guaranteed Energy Savings Program (GESP) Financing
The Guaranteed Energy Savings Program (GESP) promotes awareness and implementation of energy efficient and renewable energy measures in public facilities to provide millions of dollars in annual energy savings in Minnesota. To do this, GESP supports you every step of the way.
Federal Funding and Incentives:
State Programs:
Utility Grant Program:
Utility Rebate Program:
Minnesota Solar Electric Rebate Report: 2002-2008 – Minnesota Department of Commerce, Division of Energy Resources (April 2009)
Report summarizing both Phase I and Phase II of the Minnesota Solar Electric Rebate Program. Minnesota achieved a milestone of more than one megawatt of total solar photovoltaic (PV) capacity in 2008. The Minnesota Solar Electric Rebate Program offered financial assistance for most of this development, along with federal incentives.
Stray Voltage Resources
Here at CERTs we have been getting a few questions recently about stray voltage with regards to clean energy project, so we thought it would be useful to share some resources for people to learn more. While stray voltage can be a concern in certain situations, it's unlikely to arise when work is done by professional contractors in partnership with electric utilities.


Companies & Consultants


Clean Energy Project Builder
The Clean Energy Project Builder connects you with the clean energy industry by helping you find companies that can work with you to plan, implement, and manage clean energy projects. The Clean Energy Project Builder directory allows you to browse companies; to search by specific technologies like wind and solar or services like engineering, operations & maintenance, or legal services; to find companies near you using geographic search; and to find companies through a range of other details like service area, company age, or completed project capacity. Once you have found companies that you want to follow up with you can create a portfolio that allows you to tag them, organize them, and export your lists to a PDF. Compiling a list of qualified companies for your request for proposals just got a whole lot easier! It is also easy and free to add your company to the Clean Energy Project Builder directory.
Hiring a Renewable Energy Installer – Clean Energy Project Builder
This document lists a number of questions that you should ask a renewable energy installer before you hire them—a very handy resource to ensure that you're vetting potential companies appropriately.


Done with Solar Energy? See other Technologies: