Although Minnesota communities share a common belief of how important a healthy environment is to both our economy and lifestyle, there are many ways of putting that value into action. Finding ways to engage local businesses and residents to make a contribution toward a clean energy plan is an approach that works.
Eighteen communities in Minnesota have participated in Partners in Energy to develop a plan that helps them identify where they want to go with respect to energy and how to best achieve those goals, and now there is an opportunity for even more to share in their success.
Xcel Energy is now accepting applications for the next cohort of communities to join Partners in Energy. Open enrollment deadline for applications is July 13. If accepted, a volunteer team of local residents, businesses, and stakeholders identifies a path forward to make meeting energy goals a reality. Partners in Energy provides tools and resources to help drive the community to success.
"Xcel Energy's Partners in Energy Program is making an important difference in Faribault," said David Wanberg, AICP, City Planner for Faribault. "The program helped us develop our energy-related goals and it is providing us with resources and expertise needed to help us reach our goals. I highly recommend this program to other communities."
Empowering Change

The energy plans for each of the participating communities—cities, neighborhoods, or even county departments—are developed through an agreed-upon timeline, and then with help from Xcel Energy, a framework is built to focus on the initiatives that matter to those community representatives. Carbon reduction, energy conservation, and increasing renewable energy are common goals for participating communities.
As an example of successful Partners in Energy communities, Winona, Red Wing, and Edina were recently awarded Minnesota Clean Energy Community Awards for their work at the 2018 Clean Energy Resource Teams (CERTs) Conference. Each of these communities participated in Partners in Energy and were able to leverage the resources provided to move them even further forward reaching their energy goals. More details about their journeys are available on Xcel Energy's Connect blog. You can also download a Red Wing case study.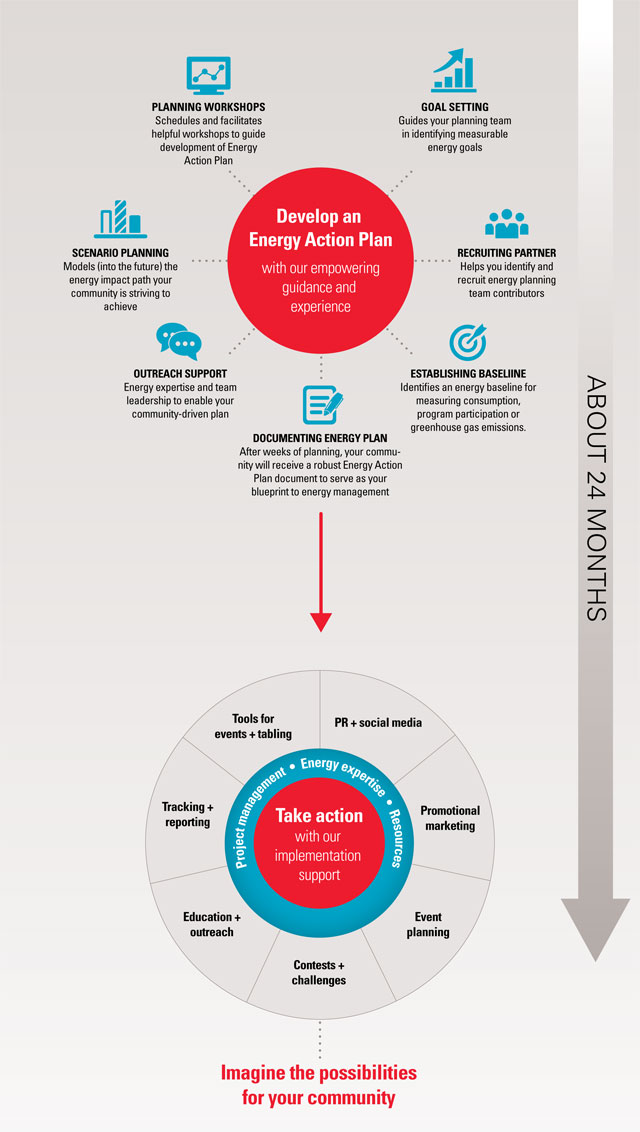 Partners in Energy Services are Free

Partners in Energy is available to communities served by Xcel Energy in the state of Minnesota. Click here to learn more and sign up your community to participate. You can also watch the video below to learn more.