Across Minnesota, organizations from every industry are finding innovative ways to advance energy efficiency, renewable energy, and other sustainability practices in their day-to-day operations. In an effort to recognize and share these efforts, the first annual American Green Energy Summit, AGES for short, is being held this October in the Twin Cities. We interviewed event organizer and KARE 11 News Anchor Tim McNiff to learn more about the summit.

---
What is the
AGES

Summit all about and why should people attend?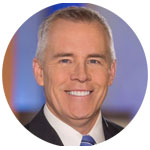 The American Green Energy Summit is a first of its kind, two-day event at the JW Marriott, Mall of America, with a vision to advance sustainable energy efforts through the sharing of best practices by industry leaders. Our vision is to create the Oscars of Green Energy, bringing people from 20 different business verticals together in one place to teach, learn and inspire everyone in attendance to do more when it comes to sustainability, and to make is clear that eco-friendly business practices are good for business.

It's an awards show! What are the awards for, and how do people make nominations?

The AGES Awards Show, features and honors the green energy efforts of the most influential people in various businesses, to raise awareness and share knowledge with a goal of helping all industries improve their sustainable energy output and lower their carbon footprint.
We identified twenty business verticals from which we are seeking five worthy candidates for the AGES Award from each vertical. Our intention is to do a feature story on each nominee that we will make available to the media, distribute on social media, and share during the summit itself.
Please nominate worthy candidates on our website. Each selected nominee will be allowed to attend the award show for free, receive a complimentary stay at the JW Marriott, Mall of America, and the opportunity to present at the Summit if they so desire.

What will the two-day agenda hold in store for attendees?

The American Green Energy Summit, October 19 & 20, seeks to inspire the cross-pollination of green energy ideas applied in business across a variety of industries by sparking conversation among industry leaders passionate about creating change. There will be two full days of seminars, speakers and topics TBA, with a continental breakfast on Saturday and lunch provided both Friday and Saturday.

How can people get involved?

There are sponsorship opportunities for the AGES Summit that can be found at https://www.americangreenenergysummit.com/ but right now we just want to encourage those who have been working toward this common goal to nominate those they work with and recognize as change-makers for what we hope will become a recognized and coveted symbol of sustainable business practices, the AGES Award. #DrivetheChange