Interview: Lake Region Electric Cooperative's Innovative EASY-PAY LED Lighting Program
We recently spoke with Dan Husted, Vice President of Energy Services with Lake Region Electric Cooperative, about an innovative program they have created to provide quality LED light bulbs to their membership.
It's called EASY-PAY LED Lighting, and you can read on to learn more!

---

What made you decide to distribute

LED

s to your membership in this way?

It's just a small program but it's provided us with an opportunity to innovate. As an electric co-op utility, we encourage energy efficiency and we offer rebates for certain energy efficient products, like LED's. Our goal is to keep electricity bills affordable for our members and our rebate programs also help us meet our state's CIP energy conservation goals. Our online store provides Lake Region members an easy, convenient and affordable way to purchase basic LED lamps for their home.
The reason for opening an online store is that we wanted to do our rebate program differently. We wanted to keep rebate dollars in the local economy and produce a new revenue stream that would help offset lost kWh sales revenue. We felt that traditional rebate programs, using our co-op rebate dollars (funded by co-op member rate payers) tended to provide price support for LED manufacturers and big box stores. We wanted to provide our members a commensurate purchasing value and keep rebate dollars local – with the co-op and its members.
We realized we couldn't compete with the box stores strictly on price, after all they purchase bulbs by the shipping container and have many other business and logistical advantages. But we could provide the convenience of online purchasing with no credit card required and an on-bill payment plan we call EASY-PAY. Through EASY-PAY, the LREC member pays for the bulbs over a period of months right on their electric bill. Based on three hours use per day, the monthly energy savings provided by an LED exceeds the monthly cost of the bulb. With the rebate credited to the bill in the first month after purchase, EASY-PAY provides for positive cash flow on the technology switch from the very first month. We've taken the EASY-PAY approach and applied it to other energy product sale as well.

How long has the program been in existence?

We rolled it out in the summer 2014. The bulbs sold on our website are primarily for residential use but we have placed special orders for bulbs.

How many bulbs have been sold?

We've sold about 7,500 LED's through the program. 60% of the bulbs sold have been standard A-bulbs used in lamps and 40 % are BR30 floodlights for recessed lighting fixtures.

Of the seven bulbs offered, has there been a favorite?

Probably the LED 9 watt replacement for the standard 60-watt incandescent bulb. The member receives a $3 rebate upfront, the bulbs costs 26¢ and if used three hours per day the LED saves the member 53¢ per month.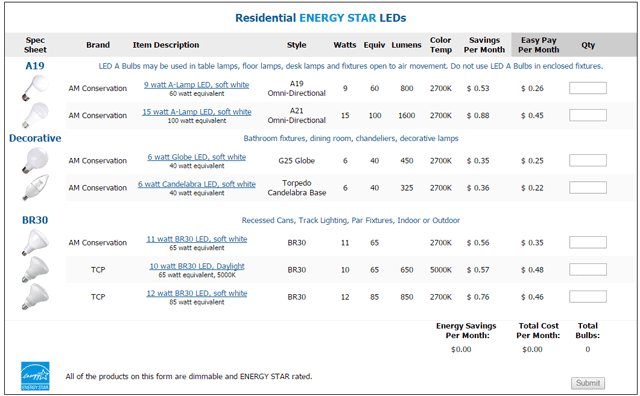 Any unforeseen challenges?

On occasion, we do have to explain our sales and rebate plan and how it compares to a standard rebate applied at the time of purchase.

Do you know if any other co-ops or electric utilities are going to try something similar? What advice would you give them?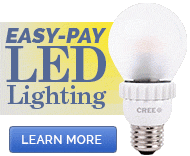 We didn't have relationships with LED manufacturers or distributors and we certainly aren't set up to be an order fulfillment center, so selecting that fulfillment partner was very important. We selected Service Concepts, a cooperative owned organization that serves as a source for electric cooperatives for high quality, competitively priced energy saving products, kits and services. They have done a great job for us and have provided great service.

---
Who else is doing this?

Utilities in Minnesota that offer similar programs include:
Relates to the following technologies
May be of interest to the following communities

Bringing you news about clean energy projects and opportunities happening across the state. Tell your story.

---