Jorgenson Hog Farm in Westbrook, MN cashes in with solar PV
With energy costs on the rise and the cost of solar PV coming down, farmers like Jim Jorgenson of Westbrook, MN are cashing in on renewable energy.
This spring, Jorgenson added a 30kW solar array to the 10kW wind turbine he installed a couple years back. With a cash grant from USDA's Rural Energy for America Program (REAP) and a 30% Federal Tax Credit, the solar installer estimates that the solar array—which was made in the USA and has a 25 year warranty—will payback in just under four years.
Learn more about the project in an article from the Sentinel Tribune in Westbrook >>
---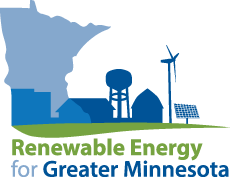 Relates to the following technologies
May be of interest to the following communities

Bringing you news about clean energy projects and opportunities happening across the state. Tell your story.

---