Milan is model for small-town energy efficiency, conservation
The tiny Minnesota farming town of Milan may be small in terms of population—about 1,000 for the greater Milan area—but it is big time when it comes to energy efficiency.
The west central town, through its Greater Milan Initiative, committed in 2009 to develop a long-term community culture of reducing energy usage and costs and promoting renewable energy to end users. Milan adopted the nation's first rural "Sustainable Energy Utility," a community-based model that provides a point of contact for residents, businesses and organizations to learn about and implement energy efficiency.
To help demonstrate sustainable behavior, the nonprofit Greater Milan Initiative partnered with Otter Tail Power Company, the state, and local contractors to provide cost-effective improvements to its community center. The result has been a thriving community center that has tripled its usage, while enhancing comfort and safety and reducing energy consumption.
The little town that could:
"Three cheers for the little town that could," said Bill Klyve, energy management rep for Otter Tail Power Company that serves Milan. "Milan's community center would probably be a seldomly used building if not for the work of its sustainable energy utility. Milan has been a shining star for achieving energy efficiency."
Like the town's many older homes and businesses, the community center was old, leaky and ripe for an energy overhaul. The building was built in 1915 and served as the Milan High School until 1990 and then as an elementary school until 2007, when it closed and was sold to the Greater Milan Initiative for $1. The Initiative then turned the school into a community center. An energy assessment by S.L. Simon Engineering analyzed the building's performance and identified several ways to reduce energy. Otter Tail Power Company worked closely with the assessor and the Initiative to implement the best options for saving energy.
Thanks to the savvy of the Greater Milan Initiative's executive board, Milan was able to secure grants from the Minnesota Department of Commerce and Otter Tail Power Company to finance most of the $80,000 project. Milan also received grants from several local foundations and some private donations to pay for the rest. Here's some of what Milan did:
Caulked and weather-stripped 20-year-old aluminum-framed windows.
Weatherized all entrance doors to the buildings—four sets of double doors and two single exterior entrance doors.
Replaced nine old windows.
Insulated walls and ceiling in cafeteria and kitchen.
Installed fixed double doors at west entrance of building.
Replaced 44 large (500- and 750-watt) inefficient incandescent bulbs with efficient fluorescent lights in the gymnasium.
Replaced a 1974 walk-in commercial refrigerator with a high efficiency commercial refrigerator/freezer combination unit.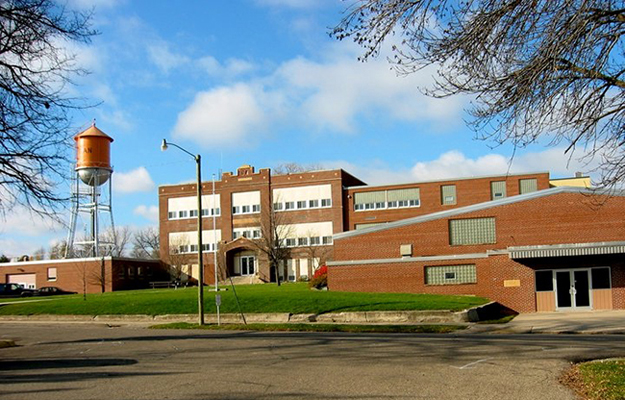 In all, the improvements were estimated to save about 140,000 kWh in energy and $5,800 in utility costs each year. The energy efficiency project was completed in December 2010 and the building has served the community well ever since.
"It's a much more comfortable building now—much warmer and the building is aesthetically more pleasing," said Ann Thompson, a member of the Greater Milan Initiative executive board. "We're keeping our heat in during the winters and keeping the cool air in during the summers."
The building operates as a community center and special events venue that hosts weddings, reunions and other events. Most of the large special events occur in the gymnasium, where the former hot, high-wattage incandescent fixtures were replaced with cooler, more efficient lighting. The kitchen, with new refrigerator/freezer, and a remodeled dining room provide a more inviting venue that is available for meetings, receptions and other occasions. The community center is also home to the Milan Community Fitness Center and the Full Circle Thrift Shop. It hosts five looms for the Milan Village Art School, which appreciates the lower humidity.
Building use increases dramatically, energy use increases a little:
Even though the building is used much more, it used just six percent more energy (about 18,000 kWh more) in 2012 versus 2010, before the improvements were made, according to Klyve. The building envelope improvements—caulking, weather-stripping, insulation, new doors and windows—produced the greatest energy savings, he added. Klyve also notes that Milan works closely with Otter Tail Power to increase energy demand savings. For instance, Milan's electric brick storage heating system is programmed to tap power during non-peak rate times to save on electricity costs.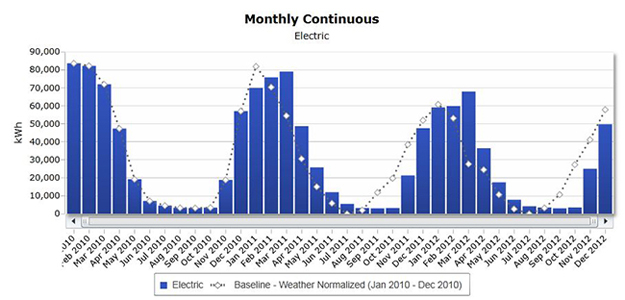 Figure 1. Milan is easily able to track its monthly energy use on the Minnesota B3 Benchmarking website.
The city of Milan tracks its energy consumption in B3 Benchmarking, Minnesota's building energy management system for public buildings (see below for more on B3 Benchmarking). The data in Figure 1 compares the community center's energy use from 2010 (before improvements and before the increased building use) to 2012.
Model of sustainability:
Milan clearly has been a model for energy efficiency, energy conservation and clean energy. It started its Sustainable Energy Utility, a model developed by the University of Delaware, with the help of a grant from the West Central region Clean Energy Resource Team (CERT) in June 2009. It led community education workshops, assisted residents with low-and no-cost energy efficiency upgrades, and shared its results with the Milan community.
By working closely with Otter Tail Power Company, Milan has accessed several rebates from the utility for its energy-saving projects. It continues to seek energy improvements and is working with CERT to explore clean energy alternatives, such as wind energy and a district heating system.
"Other communities can learn from Milan," said Klyve. "It is truly a model for addressing energy the right way."
Helpful resources for public building projects:
As Milan has demonstrated, cities and other public entities seeking energy improvements are highly encouraged to consult with their local gas or electric utility. Utilities can help with building assessments and may provide rebates for energy efficiency improvements.
In addition, the Minnesota Department of Commerce, Division of Energy Resources (DER) provides support to local government units, state agencies, school districts, and institutions of higher learning that are seeking energy efficiency and renewable energy measures. Contact DER at energysavingsprograms@state.mn.us to discuss which of its energy efficiency programs can be of help.
The U.S. Department of Energy's Building Technologies Office also provides helpful resources for building retrofits, including "The Advanced Energy Retrofit Guide for Office Buildings." For more on energy efficiency, including information on Minnesota's B3 Benchmarking tool, contact the DER Information Center at energy.info@state.mn.us or 800-657-3710.
B3 Benchmarking—Buildings, Benchmarking and Beyond:
Minnesota B3 Benchmarking is an energy tracking system for public buildings in Minnesota, including state, local government, and public school buildings. It provides the tools to manage your buildings, improve your building portfolio efficiently, and monitor the improvements.
Benchmarking simply means that the energy consumption for a particular building is compared to the energy it should be using. Identifying those buildings that are using more energy than they should is extremely important because these are the buildings that will likely have the most cost-savings potential. The B3 tool is provided by the Minnesota Department of Administration and the Minnesota Department of Commerce, with funding from all utilities in the state supporting the effort.
To add your building to this benchmarking database, go to Minnesota Benchmarking and click on "Contact Us." For general information on B3, visit State of Minnesota B3 Benchmarking.
View the original story on the MN Dept. of Commerce website.
---
About the Local Government Energy Action Series:
This effort tells the stories of Minnesota municipalities, counties, and schools and the tangible results of their energy-saving efforts to inspire others to take their own actions. See all stories in this series >>
Local Government Energy Action is brought to you by the Clean Energy Resource Teams (CERTs) in partnership with the Minnesota Department of Commerce, Division of Energy Resources.
Relates to the following technologies
May be of interest to the following communities

Bringing you news about clean energy projects and opportunities happening across the state. Tell your story.

---