For the Youth Energy Summit (YES!) program, the last few months of 2015 included two successful Fall Summits, welcoming two new YES! Coordinators, reconnecting with a YES! alumna, and more.

Fall Summits a success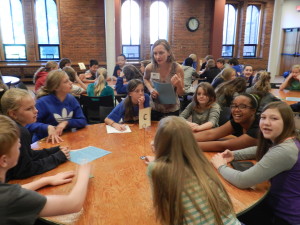 The air was electric with the excitement of 240 students and coaches at the 8th annual Fall Summit, held at Saint John's University on September 30th. This excitement was echoed two weeks later on October 14th as 76 students and coaches attended the 2nd annual Northeastern YES! Fall Summit at Laurentian Environmental Center. At both events staff from Climate Generation: A Will Steger Legacy gave the keynote address, educating students about climate change and encouraging the students to work together to mitigate the effects of climate change through their energy action projects. Energy conservation, waste reduction, and renewable energy experts provided guidance and expertise throughout the day at each event while students explored climate change, possible projects, and other resources.
Read more about Fall Summits at Saint John's University and Laurentian Environmental Center.

Two new
YES

! coordinators
Sarah Hayden Shaw:

YES

! is welcoming a new member to their staff—Sarah Hayden Shaw is the newest

YES

! Coordinator! We are excited for Sarah to share her knowledge and enthusiasm with the

YES

! Program! She will be coordinating teams in Aitkin, Crow Wing, Cass, Wadena, Ottertail and Wilkin counties. Sarah Hayden Shaw is a Certified Energy Manager, and has worked as an energy auditor and energy efficiency consultant since 2008. She also coordinates the Central Region of the Clean Energy Resource Teams. She taught high school math for 2 years, and holds a Masters of Science in Environmental Science. Before all that, she held many positions including drywall hanger, salmon gut puller, and security guard, and learned much through it all. She enjoys nature, music, community, and has a crazy fun home complete with twin toddlers, a dog, a garden, and a husband. Read more about Sarah >>
Kory Klebe: Kory Klebe is the

YES

! Coordinator for the West-Central

YES

! Teams. He is the Environmental Education and Shooting Sports Coordinator at Prairie Woods Environmental Learning Center and is now adding

YES

! to his list of duties at

PWELC

! Kory says he is "excited to be joining this wonderful program." Read more about Kory >>
Alumna spotlight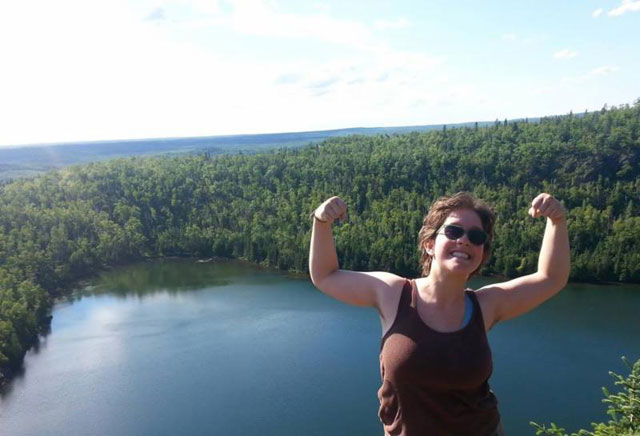 Grace Brosnan, a member of the Mankato West YES! team from 2012-2014, shares what YES! has meant to her.
"While in YES!, I helped make changes to my school that made it a more environmentally sustainable place. We switched out our disposable Styrofoam lunch trays for reusable ones, implemented composting in ours and other school lunch rooms, installed water bottle fillers throughout the school, and distributed reusable water bottles to the student body."
"I learned a lot of skills that seem simple, but are ultimately very important, like taking good notes at meetings, having clear communication in groups, and using spreadsheets and other online tools in an effective manner."
"I continue to be involved in climate justice work in Minnesota. YES! taught me of the importance of young people in working for change, and of the power and responsibility that I, as a young person, have in building a better world."
"I enjoyed meeting others through YES! who valued the environment. It was empowering to know that I wasn't alone in wanting to do something about climate change."