The U.S. Military and National Guard have been leaders when it comes to adopting clean energy, and Camp Ripley in Little Falls is ahead of the pack in Minnesota. What are they doing? That's what 50 Minnesotans recently found out!
On Tuesday, August 2nd, the Minnesota National Guard Camp Ripley Training Center opened their doors to the public for a Central CERT tour to show off their amazing work to make their facility a national leader in energy efficiency, renewable energy production, and energy security.

We started off with a lineup of great presenters
Marty Skoglund, Environmenal Program Manager for the Minnesota National Guard: Marty started out by telling us about the incredibly biodiverse setting the Camp is located in and their efforts to protect and preserve this unique wilderness. He then talked about all of the energy efficiency and renewable energy initiatives at Camp Ripley and how the Minnesota National Guard's goal to become Net Zero serves their primary mission of preparing soldiers to serve and protect our country. He called teaming up with Minnesota Power on the 10 MW, $25 million solar array "a partnership made in heaven." Download presentation
Jenna Lewein, Minnesota GreenCorps member for the Minnesota National Guard: Jenna took a deeper dive into Camp Ripley's renewable energy and energy conservation efforts. Camp Ripley has been on a very ambitious path toward Net Zero energy use. This path has included energy efficiency renovations to existing facilities, new facilities built to

LEED

or SB 2030 standards, incorporation of geothermal heating and cooling, solar hot water systems, biomass heating, solar and

LED

lighting, intensive behavioral education around energy conservation, and most recently a huge solar PV installation on site in partnership with Minnesota Power. The facilities have earned a great deal of recognition for their efforts, including recognition by the Secretary of State as the best sustainable team in 2015! Download presentation
Kris Spenningsby, an Account Manager with Minnesota Power: Kris gave us the inside scoop on the 10 MW, 63 acre, solar PV system currently being installed. The array is Minnesota Power's first utility-scale solar project in its coverage area. The electricity produced will go not just to Camp Ripley but to surrounding communities like Little Falls and Nisswa. However, in the case of a power outage, all of the solar energy produced will go into Camp Ripley's own microgrid, ensuring energy security. Kris told us that the panels will generate a total of 17,000 megawatt hours per year, or enough for 2,000 customers. Download presentation

After the presentations we headed out for the tour
Education Center: First we toured Camp Ripley's SB 2030 certified Education Center, a 31,000-square foot, air conditioned, two-story classroom building that provides meeting and classroom space for the Minnesota National Guard, other Department of Defense activities, and various state agencies and organizations. The building features

LED

lighting, solar tubes that bring natural light to both floors, solar thermal hot water for 30% of the building's needs, and ground-source heat pumps that heat and cool the entire building.
Solar PV Array: Next we had an opportunity to tour the enormous 10 MW solar PV installation that is currently 75% complete. It covers 63 acres at Camp Ripley. Each thin film panel is about 2 feet by 4 feet, and the array will have 120,000 of them when it's finished. The array has a projected 35-year lifespan.

Take the tour with us! Explore photos below.
See Camp Ripley tour in the news
Camp Ripley's solar power array will be the largest of its kind in U.S.
Brainerd Dispatch | Zach Kayser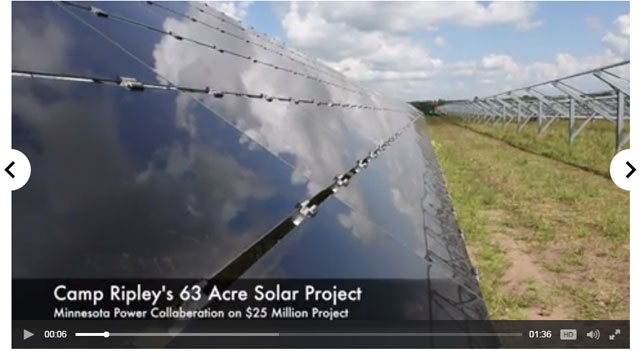 Camp Ripley Looks Forward To An Energy Efficient Future
Lakeland Public Television | Logan Gay
Camp Ripley's $25 million solar project nears completion
Morrison County Record | Tyler Jensen
Highlighting clean energy efforts at Camp Ripley
Northern Community Radio | Heidi Holtan & John Latimer

---
About the Local Government Energy Action Series:
This effort tells the stories of Minnesota municipalities, counties, and schools and the tangible results of their energy-saving efforts to inspire others to take their own actions. See all stories in this series >>