CERTs is thrilled to welcome Jacob Selseth as the newest member of our team! He has just started as the coordinator serving the West Central CERT region. We asked Jake to share a little bit about himself so you can learn a bit about his background since there's a good chance you'll be working together!
"Coming from a long line of tradespeople including tinners, brick masons, plumbers and electricians, I grew up around hands on folks that build and install the things that make our buildings work. This led me down a path where I could leverage that background and build on it while earning his B.S. in Energy Management from Moorhead State University."
"I began as a intern at Moorhead Public Service in a time they were developing the "Capture the Wind" program that provides wind energy to its customers. From then on I was hooked on helping people make wise decisions on how they use energy and choose the best technologies to achieve their goals. I became a Certified Energy Manger with the Association of Energy Engineers to better help lower energy bills, reduce carbon footprint, and increase production while maximizing efficiency."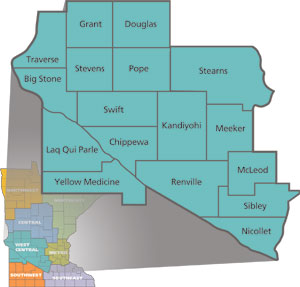 "I have enjoyed working from multiple sides of the meter including generation, distribution, and directly for consumers. This gives me a unique understanding of each perspective and aides greatly in navigating the industry to find the best energy solutions. I like to think we can always be improving and do things better. I look at all types of energy and technology to best achieve people's goals. I am excited to help communities put all the pieces together to making the best energy choices for them."
"When not thinking of ways to better use energy, I keep my feet on the ground with my three boys working in the barn, gardening, and finding other ways to play in the dirt. To pick up the pace a bit I am also an avid alpine skier and triathlete."
Introduce yourself to Jake!
Jacob Selseth
West Central CERT Coordinator
612-801-7955
[email protected]