It's been just over two years since La Crescent, MN (population 5,200) became a Minnesota GreenStep City in October 2015, but they have big achievements to share. In June of 2017 they advanced to a Step 2 city and City Administrator Bill Waller indicated that they are on track to achieve Step 3 in 2018. They were also one of three finalists in the top three Best of B3 Benchmarking competition for the state, being narrowly beaten out by the larger Prior Lake.
Laying the groundwork for success

Waller talked about the opportunities and subsequent energy savings that building energy benchmarking has opened up to the city. After joining the voluntary statewide recognition GreenStep City program, La Crescent partnered with Winona State University to create an internship. It was with the help of the WSU Student Intern, Alison Bettin, that La Crescent began to track and compare their building energy use to national benchmarks and against other public buildings in the state of Minnesota. This benchmarking was done through a program called B3 Benchmarking, which is provided free of cost to managers of all public buildings across the state. Now city council members review energy use bar charts at their meetings, and says Waller, "the La Crescent city council has seen the city's energy use decreasing, they know why benchmarking is worth the effort."
Savings and solar at the fire hall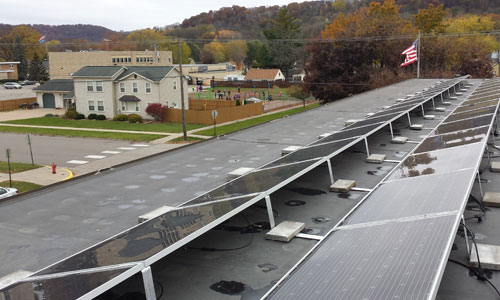 La Crescent discovered that upgrades to their community center/fire hall which were funded by a revenue-neutral loan program available through MiEnergy, had already brought the buildings energy use to 60 percent below averages for similar buildings. In 2017 they won the Made-in-Minnesota incentive lottery and have installed an almost 40 kW solar electric array on the roof of the fire station which will meet a little over half the buildings annual electricity demand. The financing mechanism and incentives make this an immediate money saving effort for the city.
Cool improvements for the ice arena

But the great work for La Crescent has not stopped there. The lighting at their ice arena was updated to LED's and with extensive rebates will pay for itself in under 3 years and go on to save energy for a couple decades. The humidification system was upgraded to use newer variable speed motors with immediate and dramatic energy use reductions. The benchmarking tools shows that in the winter of 2016-17 electricity and natural gas usage at the ice area fell 60 percent. Waller describes how grant funding paid for the majority of the upgrades. La Crescent is now working on a plan to change to an electric ice maintenance machine which will not only improve air quality, but save energy because the arena's air doesn't have to be changed out as often to vent the exhaust fumes. Again, the majority of this upgrade is being financed through grants. The use of benchmarking data has proven so successful that city staff is now using it to identify new projects. With help from Xcel Energy, the La Crescent Parks Department has identified potential upgrades at the six buildings that use the most energy in their system.
Learn more about benchmarking

If you would like to learn more about how public building B3 Benchmarking could save your school or municipality money then please check out the recap of the SE CERT Capturing Savings: Public Building Energy Benchmarking Workshop. This free event offered hands-on assistance and presentations from both Bill Waller, La Crescent City Administrator and Alison Bettin, former intern and Winona State student. Attendees also learned about free and low-cost ways to get implementation help for benchmarking and move to energy and money savings. Click here to see a recap and download presentations >>