The City of Trimont in South Central Minnesota is leading the way for small cities looking to revamp their street lighting and improve their buildings. The city recently transitioned to LED street lights and updated the heating and cooling systems in their Community Building.
It all started when Jim Haler at South Central Electric Association brought the Southwest CERT Seed Grant opportunity to the city's attention. We interviewed Mike Paulson, Public Works Supervisor with the City of Trimont, to learn more about the project and how it went.
---
Can you tell us what this project is all about?

The City of Trimont's energy efficiency project had two parts: updates to the Community Building and new street lights.
Community Building: The Trimont Community Building was finished in 1994, and the heating and cooling systems were original to the building. They were both inefficient and the air conditioner was failing. Our goal was to install energy efficient equipment that would provide dependable heating and cooling that would save taxpayer money in energy costs. Quotes for equipment and installation were obtained and the low bid from Feder Mechanical and Kuehl's Electric were accepted. Both the furnace and air conditioner were installed in February 2016. The A/C connection was completed when the weather warmed, with Kuehl's and Feder's completing the work in April 2016. Both systems are operational and working perfectly!
Street Lighting: We had 21 gooseneck style 250 watt high pressure sodium street lights on Main Street that were inefficient and did not supply high quality lighting to that area. We wanted to convert those lights to LED fixtures to save energy and electrical expense, and to improve the lighting for increased safety on Main Street. The LED fixtures were purchased from Resco Electric Utility Supply and were installed by Kuehl's Electric in April 2016. The cost for installation was lower than the estimate, at a final cost of just over $1,000. The lights are all operational and are providing high quality lighting to Main Street, East and West.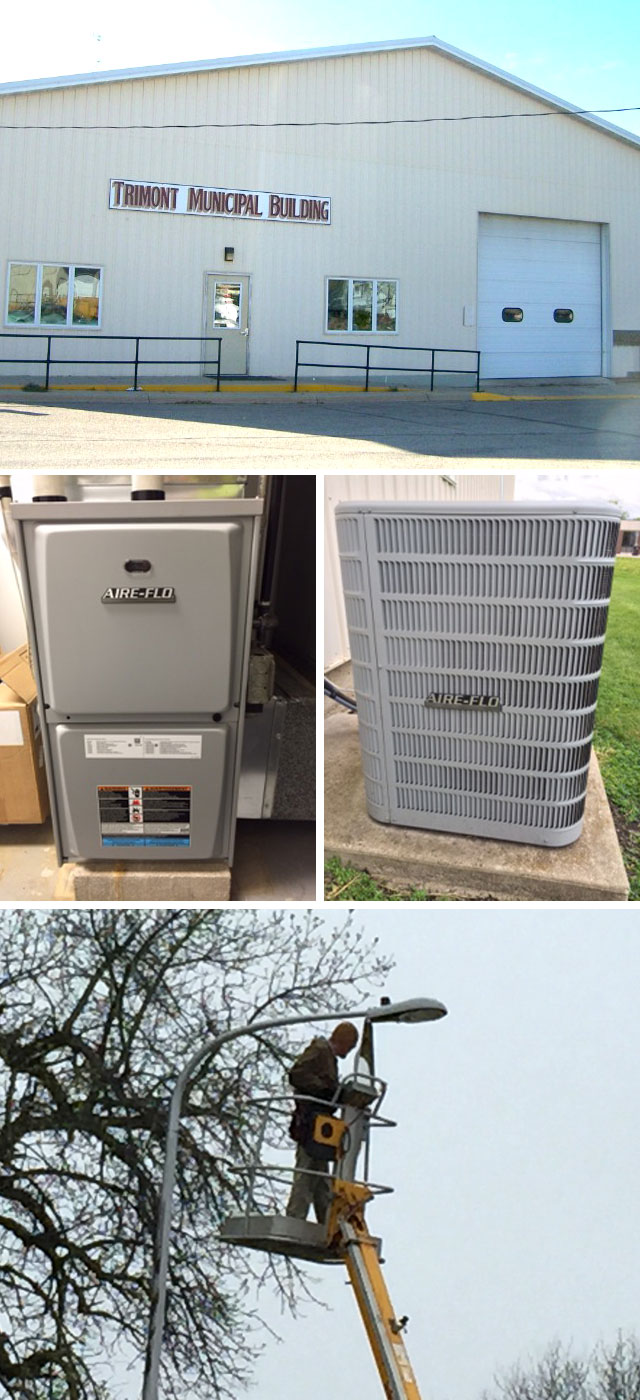 How did you involve the community in the planning process?

We provided information to area residents by promoting our projects in the Martin County Star and on our City website, www.trimont.govoffice.com. We invited residents to attend an informational meeting held on April 18, 2016 where Jim Haler with South Central Electric provided handouts and detailed information about LED lighting and the project we are undertaking. The information provided included how residents could implement energy saving changes in their homes and businesses to take advantage of new technology to improve energy efficiency and save money.

Any challenges you had to overcome?

The biggest challenge was finding funding within our budget to pay for the equipment itself. We were able to obtain a rebate through South Central Electric for the equipment, which helped with part of the cost. We also expect the energy savings to help us recoup much of the rest of the cost over time.

Have you gotten any feedback from the community?

Residents are very pleased with the new LED lighting on Main Street and have commented that it provides a higher quality light compared to the old lights. By introducing people to the new technology in this fashion, they will see how it is better than what they may be using now, and will encourage them to upgrade what they have. City staff are very pleased with the quality of the lighting we are getting from the new light fixtures, too. They light up a bigger area than our old lights did and will provide added safety and security to residents and businesses on Main Street. We thank South Central Electric Association for bringing this grant to our attention and for using their expertise to guide us in obtaining the best fixture to meet our needs.

What advice would you offer other cities looking to do similar work?

The first step is to contact your electric provider to get professional advice to help decide which of the many available options best meets your needs. They can also help with the grant process and any rebates that may apply to your equipment. We also discussed our plans with our electrical contractor to ensure our poles were compatible and structurally sound to use for the new fixtures. We would share our project timelines and costs so they can estimate the time needed along with funds required for their particular project. We visited with businesses along Main Street to get their view and discuss their lighting needs. The information we published and added to our website encouraged people to contact the City with any questions or concerns about any of the proposed projects, and also invited them to our informational meeting to help them become more informed of our plans.

Did the project inspire you to take on new projects in the future?

Yes. Our goal going forward is to one day install LED lighting fixtures in our short lamppost street lights on Main Street. We have 11 decorative street lights that are using old fixtures that we want to upgrade to provide the same quality lighting as the goose neck lights now do, which will save a great deal of energy as well. We are also adding LED street lights to the Town Center and to our water and wastewater plants to provide quality lighting to those areas. In addition, South Central Electric will begin installing LED fixtures to their street lights throughout Trimont when the old fixtures fail and need to be replaced. Eventually we hope to have the entire city lighted with LED street lighting.
Project Snapshot
Project: Replaced heating & cooling systems in the Community Building and upgraded 21 streetlights on Main Street to

LED

fixtures
Location: Trimont, MN
Activity: Implementation, Outreach
Technology: Building Energy Efficiency, Lighting
Benefits: Higher quality lighting, heating and cooling at reduced operating costs
Total Project Cost: $11,497
Southwest

CERT

Seed Grant: $2,997
Annual Energy Savings: 20,850 kWh and 65 therms
People Involved: 12
People Reached: 600

---
CERT

s awards seed grants to community groups for energy efficiency and clean energy projects across Minnesota. We've awarded over $1 million in Seed Grants since 2006. Click here to see more Seed Grant blog posts or click here to see more past funded projects.