The Clean Cities program through the U.S. Department of Energy has just released four (!) Plug-in Electric Vehicle handbooks.
Each handbook is targeted towards a specific sector: 1. Consumers, 2. Electrical Contractors, 3. Fleet Managers, and 4. Public Charging Station Hosts. Click here to read or download the handbooks (they're under the "vehicles" section).
We spoke with Jon Hunter, Manager of the Clean Fuels & Vehicle Technology program at the American Lung Association in Minnesota to learn a little more about Clean Cities and electric vehicle implementation in Minnesota.
Tell us a little about the Clean Cities program.
Clean Cities is a program of the U.S. Department of Energy that advances the nation's economic, environmental, and energy security by supporting local actions to reduce petroleum consumption in transportation. A national network of nearly 100 Clean Cities coalitions brings together stakeholders in the public and private sectors to deploy alternative and renewable fuels, idle-reduction measures, fuel economy improvements, and emerging transportation technologies.
The Twin Cities Clean Cities Coalition (TC4), which covers the entire state of Minnesota, was designated in 2001. TC4 works to increase the use of cleaner alternative motor fuels, such as biodiesel, electricity, E85, propane and natural gas. In a recent ranking of Clean Cities programs, TC4 was ranked first in the nation in reducing petroleum consumption. In 2010 alone, the efforts of TC4 and our stakeholders saved more than 11 million gallons of gasoline and diesel fuel through the use of alternative fuels, advanced vehicles and fuel efficiency measures. Those same efforts averted more than 29,000 tons of carbon dioxide emissions. TC4 and our partners have also helped establish Minnesota as a national leader in providing the availability of E85 (fuel up to 85% ethanol for use in flex fuel vehicles) at more than 360 retail locations throughout the state.
Clean Cities has recently published four handbooks about plug-in electric vehicles. What is their interest in these kinds of vehicles?
Electric vehicles are an excellent choice for many American drivers who would like to reduce petroleum use and air pollution. In addition to decreasing the use of oil, electric vehicles can significantly reduce greenhouse gas emissions and other tailpipe pollutants. They provide an exciting opportunity to dramatically change our transportation system, but that comes with a lot of logistical work. These publications will help to provide answers to questions that potential owners, fleet managers, electricians, and others may have and help ensure that this new technology gets integrated more smoothly and quickly.
You work for the American Lung Association in Minnesota, which coordinates the Clean Cities program in Minnesota. What value do you see in the Clean Cities program for Minnesotans?
Transportation produces more air pollution in Minnesota than any other sector. While the primary purpose of the Clean Cities program is reducing petroleum use, its efforts also help to make our air cleaner and healthier, a major priority for the American Lung Association in Minnesota. Alternative fuels can reduce ozone (smog) precursors, particulate (soot) pollution and global warming gases. Working with Clean Cities enables Minnesota to tap into national expertise from the U.S. Department of Energy and its labs, as demonstrated by these new EV guides. In addition, we work with more than 90 other Clean Cities coalitions nationwide that are working towards similar goals, face many of the same challenges and can exhibit great successes. With them, we can share good ideas, lessons learned and best practices.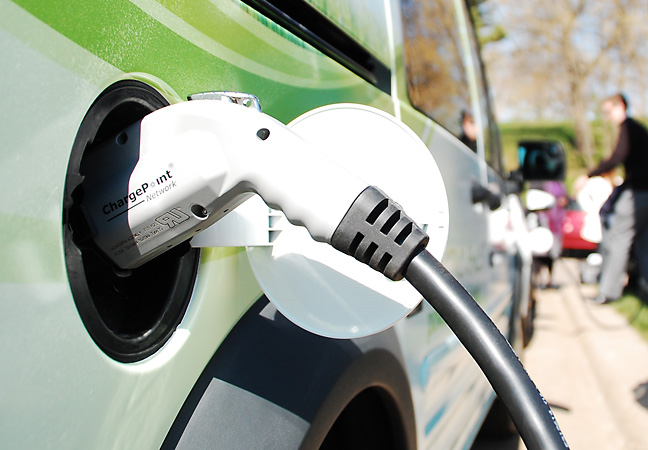 Do you have any final thoughts for people interested in plug-in electric vehicles?
Petroleum fuels are no longer the only option when it comes to fueling our vehicles. Minnesotans are lucky to have a variety of cleaner, alternative fuels available for every vehicle type. Plug-in electric vehicles can be a great choice for a new vehicle. They have been road-proven, the majority of us commute well within battery range and public charging stations are popping up around Minnesota enabling even greater flexibility. Think about your own driving needs and see if an electric vehicle – or another alternative – is right for you.
TC4 and CERTs are part of a group of EV stakeholders called Drive Electric Minnesota that is helping to build infrastructure, remove barriers, and educate the public on electric vehicles. You can also learn more about the Twin Cities Clean Cities Coalition on their website (TC4). Get involved!
Looking for more? Check out these recent posts: