Being an energy efficiency authority requires practicing what you preach—and that is exactly what Cook County is doing. In 2012, Cook County Higher Education and the Cook County Local Energy Project partnered to develop an energy efficiency education pilot project for contractors and homeowners in the community. But before they could teach anyone, they had to start at home.
The CCHE's main facility, based out of a renovated church, was the pilot project's first stop. A Building Performance Energy Audit (BPEA) using a blower door test (see below), as well as infrared camera imaging (see right), were conducted on the building. The results of the tests were then put to use. CCHE Executive Director Paula Sundet Wolf explained, "CCHE's facility served as the home-energy audit demonstration site that offered area contractors 8 CEU [continuing education unit] credits of training for Energy Efficient construction. Two energy efficiency homeowner workshops were also offered for the general public."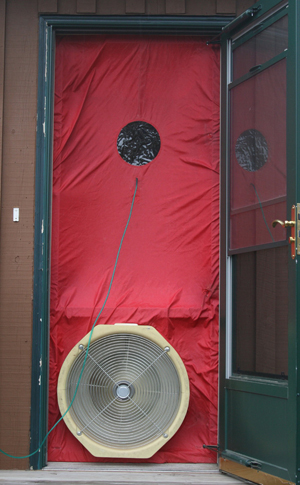 Both the awarding of CEU credits, along with the community workshops, were activities that served to support participation in a CCLEP Residential Energy Efficiency Project (REEP). Virginia Danfelt, CCLEP Coordinator described, "REEP was developed in 2012 to provide homeowner and contractor training and education in order to reduce Cook County's fossil fuel consumption through energy conservation by improving existing buildings."
Danfelt continued, "These goals [of REEP] are accomplished by policies that include simplifying the process of identifying the most cost-and-energy-effective improvements, working with Cook County stakeholders, creating partnerships with other organizations, supporting the local economy, and promoting wiser energy use."
From the energy audit, CCHE's facility identified a number of projects that could improve their building's overall efficiency. Some of these projects included: insulating ceiling lights, installing outlet covers on outside walls, caulking and foaming around windows and doors, re-insulating the entire building's ceiling, and installing a new energy-efficient furnace. With most of these projects already completed, or close to it, CCHE also intends to tear down its old siding and remove the asbestos, add new insulation, and re-side the outside in the fall of 2013.
Great benefits have come out of the energy workshops. "The community became more engaged in energy issues in two major ways," described Sundet Wolf. "For homeowners, they are interested in learning how to improve their own property, from creating a more comfortable home and saving money on heating costs, to learning where to lessen electrical use. For the contractors, much of the material presented was not new, but there is always a new perspective or detail that is new."
Although they have a good start under their belt, Cook County still has much more work to do. "With approximately 2,300 homes in Cook County, the REEP and Energy Efficiency Education Project have barely scratched the surface. To date, REEP has processed nine homes since the fall of 2012 in addition to the CCHE building." They're excited to keep going and say their next steps involve fine-tuning the program.
Project Snapshot:
Grand Marais, MN (Cook County)

HVAC

/ Energy efficiency
$2,500
$19,314
To download the PDF case study, click here!
To learn more contact Paula Sundet Wolf at [email protected] or 218-387-3411.