More than 150 people recently checked out a 100 percent battery-powered Nissan Leaf at two Whole Foods Co-op stores in Duluth. Minnesota Power, in collaboration with Drive Electric Minnesota, showed off the vehicle at "Kick the Tires" events this summer.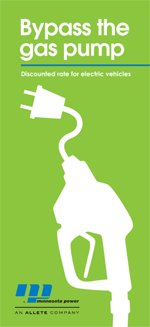 "We had so many good conversations!" said Pam Schmitt, customer solutions analyst for Minnesota Power. "Using Drive Electric MN's Nissan Leaf was a great way for us to connect with folks and answer the endless questions people have about this technology. People are often afraid of what they don't know, so it was fun to dispel some of the common myths about EVs, but also provide information that can help individuals and families make a decision as to whether an EV is right for them."
Minnesota Power employees were on hand at the events to answer questions about buying and owning an electric vehicle. They also offered information about Minnesota Power's special EV Rate that offers discounted charging during "off-peak" hours (11 p.m.-7 a.m.) when the demand for electricity is less.
In addition to the Kick the Tires events, Minnesota Power also celebrated the recent opening of a nine car EV charging port for the city of Duluth in Canal Park. The charging station has eight Level 2 chargers and one 50 kV direct current fast charger (DCFC), as well as 54 kilowatts of co-located solar panels sheltering the charging spots.
Battery technology is advancing rapidly as prices for long-range EVs continue to fall and new models enter the market. Couple that with the expansion of charging infrastructure across the country, including in northeastern Minnesota, and you'll likely start seeing more EVs on the roads outside of major urban areas. Here's a map of existing and proposed DC fast chargers: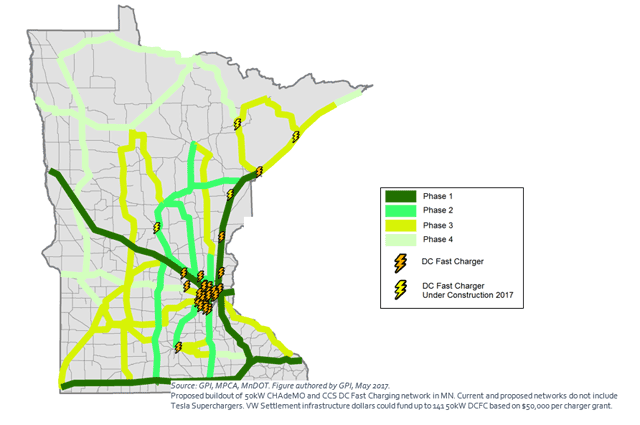 ---
Get more on EVs