There is A LOT happening in the world of plug-in electric vehicles (PEVs) here in Minnesota. We asked Jukka Kukkonen with PlugInConnect, LLC, to tell us a bit more.
---
The Overview

"This is a year of great developments in Minnesota," says Jukka. "Auto manufacturers are bringing more plug-in vehicle choices to the market and first affordable battery electric vehicles with over 200 mile range will be available here this fall. Utility companies are working to become energy experts in the transportation area to better assist their customers and auto dealers are realizing the market potential of this new segment. Still there are a lot of questions but fortunately we already have many plug-in vehicle owners who are happy to share their experiences with general public. It is great to work with all these partners and line up things in Minnesota for electrified future of transportation."

The Deal

Minnesota has a robust infrastructure of PEV resources, whether it is the Facebook group MN Plug-In Vehicles Owners or Drive Electric Minnesota, a partnership of Minnesota's electric vehicle (EV) champions, dedicated to encouraging the deployment of EVs and the establishment of EV charging infrastructure. Drive Electric MN has worked with Nissan to offer a steep discount on its popular LEAF EV. Katelyn Bocklund, program assistant at the Great Plains Institute which manages the Drive Electric Program, gave more details. "Over the course of the last year, As we celebrate the anniversary of our first voucher program, and approach 100 vehicles sold through, we're excited to offer our best deal yet: $10,000 off a new LEAF. That discount, coupled with the $7,500 tax credit can bring the cost of a LEAF below $15,000. Customers should hurry though. The deal expires March 31st." Learn more at http://driveelectricmn.org/deals.

The Bolt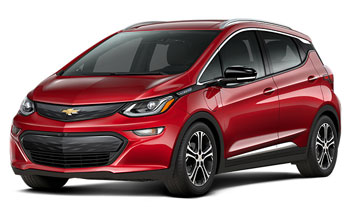 It was the 2017 Motor Trend Car of the year, North American Car of the Year and Green Car of the Year… And it recently appeared in the Twin Cities! Click here to learn more in a recent WCCO story.

The Resources
The Event

March 25, 2017 – Kicking the Tires on Electric Vehicles at Sprout Food Hub in Little Falls, MN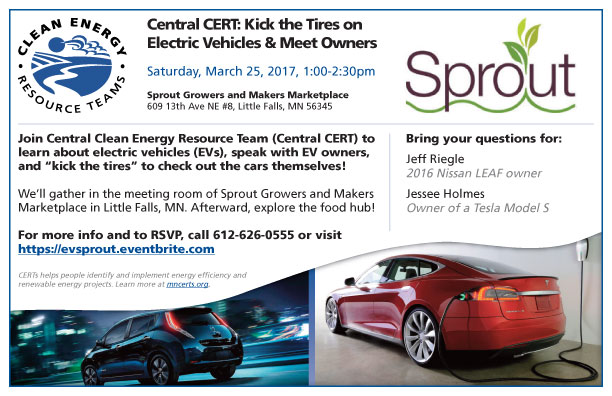 ---
Get more on EVs