Cities across Minnesota and the country are working to reduce costs and fuel consumption by greening and electrifying their vehicle fleets. The City of Elk River recently produced a Green City Fleet Guide as part of a Metro CERT Seed Grant funded project that can guide other cities in taking action.
The goal of the guide is to provide communities with some tools needed to create greener city fleets. The guide provides information about alternative fuel vehicles, suggestions for efficient fleets, benefits of electric vehicles, a list of electric vehicles on the market, financial incentives, global trends in fleets and additional resources. The guide also shares results of short fleet survey in some Minnesota cities.
The Green City Fleet Guide is a useful tool for local governments that are just starting to think about ways to reduce the costs and impacts of their fleets. It provides the background information to help get started. The guide also provides a comprehensive list of vehicles. Perhaps the best aspect is the list of resources for additional information and the financial incentives.
It is clear that lower-emission vehicles are continuing to grow as a larger chunk of fleets for businesses and local governments and this guide helps present the information needed to get started in an easy-to-digest format.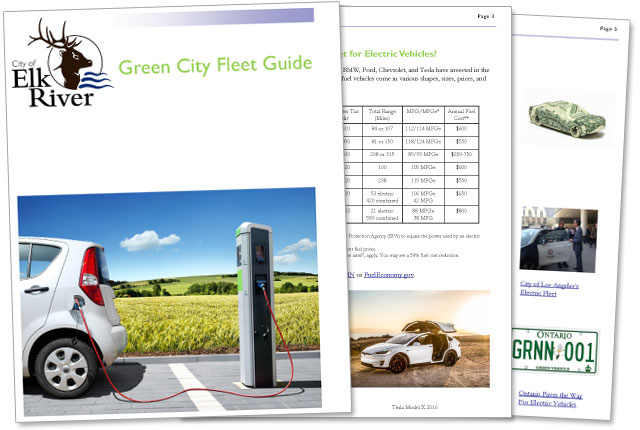 About Elk River: The City of Elk River is also a member of the Minnesota GreenStep Cities program. The City of Elk River and the Energy City Commission have worked hard to achieve a Level 4 in GreenStep Cities program. City of Elk River has worked on 26 of the 29 total Best Practices. The city is continually looking to achieve more tasks and increase their "star level" in order to achieve our sustainability and quality-of-life goals which align with the city and Energy City action plans. Residents can help the city achieve a higher level by being good stewards of water and energy usage, reducing solid waste, purchasing or installing renewable energy, and using smart transportation. Click here to learn more about Elk River's GreenStep Cities actions.
---
About the Local Government Energy Action Series:
This effort tells the stories of Minnesota municipalities, counties, and schools and the tangible results of their energy-saving efforts to inspire others to take their own actions. See all stories in this series >>