Cook County Local Energy Project (CCLEP) is a community organization located in Grand Marais with a goal to educate people of all ages about energy efficiency and renewable energy. With help from Northeast CERT, CCLEP was able to host a series of events called Energy Efficiency Evenings aimed at educating people about ways to reduce energy consumption at home, and even think about their renewable energy options.
There were four events in the Energy Efficiency Evenings series, all with different topics:
The first event was a screening of Chasing Ice, a documentary highlighting the work of climate change photographer Jim Balog.

The second and third events focused on increasing energy efficiency at home and information on solar PV systems, respectively. Guests were informed of simple ways that they could reduce energy use around the house and given some items that would allow them to do so.

At the third event, focused on solar PV, attendees were shown some examples of solar systems in action around Cook County, and also given some tips on how to choose the right system and installer if they wished to add solar panels to their homes.

The fourth event was an Earth Day panel featuring an expert on energy markets, a young Grand Marais woman who attended the Paris Climate Summit, a local kids group that is working on environmental initiatives called The Nordic Nature Group, and a local inventor who makes fossil-fuel-free cars.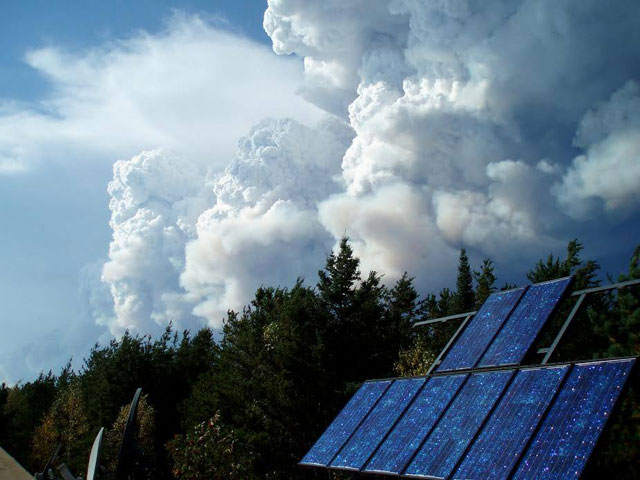 Local Cook County solar installation featured during event.
"Energy Efficiency Evenings worked very nicely in conjunction with the ongoing work and programs of CCLEP, including the REEP program, our annual Builder's Workshop, and the growing interest in solar power," noted CCLEP Coordinator Staci Drouillard. "There are currently 62 solar PV projects in Cook County. The CCLEP guide, Going Solar: A Cook County Guide, has proven to be a useful guide to homeowners, businesses, and nonprofits who want to make the change to solar power. Each evening provided new information and helped raise awareness about local resources and the larger repercussions of energy and renewable energy resources."
Energy Efficiency Evenings proved to be a success! CCLEP built awareness about energy efficiency and renewable energy all across Cook County, reaching an estimated 12,000 people through events and through their community outreach in the monthly publication Northern Wilds, the Cook County News Herald, and the WTIP radio station. Because of interest that was generated through these outreach efforts, CCLEP is planning to host more events like these next year. You should also see a nice article in MinnPost featuring their efforts.
Drouillard had this to say about their partnership with CERTs: "The Cook County Local Energy Project could not continue to bring energy efficiency awareness and stay on top of the renewable energy news without CERTs. We are thankful for your partnership."
Past work at CCLEP: You definitely have to check out a series of energy efficiency videos that CCLEP did as part of a previous CERTs Seed Grant!

Project Snapshot

Project: Providing four evening educational programs
Location: Cook County, MN
Activity: Outreach
Technology: Behavior change; Building Envelope; Lighting Upgrades; Solar thermal hot water; Solar electric
Benefits: Clarifies the choices the public can make to create more sustainable lifestyles
Total Project Cost: $2,838
Northeast

CERT

Seed Grant: $1,665
People Involved: 83
People Reached: 12,000

---
CERT

s awards seed grants to community groups for energy efficiency and clean energy projects across Minnesota. We've awarded over $1 million in Seed Grants since 2006. Click here to see more Seed Grant blog posts or click here to see more past funded projects.