Friends of the Finland Community had one simple goal in mind: to help the Clair Nelson Finland Community Center become more energy efficient and cost effective. A Northeast CERT Seed Grant helped them get it done!

LED

s were the perfect solution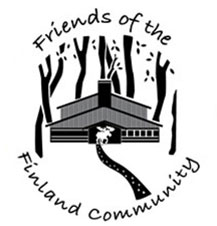 Friends of the Finland Community's aim was to replace ten metal halide light fixtures located on the outside of the building with LED lights. The metal halides that were originally put in were chosen by the designers of the community center because LED technology was not as fully developed at the time of the buildings construction. "That was immediately problematic, with light bulbs occasionally exploding, having to be replaced often, and then the disposal issue," said Honor Schauland, Director of Friends of Finland. "We wanted something more efficient, less hazardous and longer lasting. LED fixtures are the perfect solution."

Student research gets things going

At the start of the project, Friends of Finland was uncertain as to whether or not they would be able to retrofit the original fixtures with LEDs, or if they would have to replace all of the fixtures as well as the light bulbs. Because of this, they decided to enlist the help of five students from the nearby Wolf Ridge Environmental Learning Center to conduct a Sustainability Issues Investigation. These students did the research that was needed and presented their findings to the community, who then used this information to apply for a Northeast CERT Seed Grant and get the project underway.

Basking in the energy savings

With a lifespan of 50,000 hours, LEDs are also able to produce almost double the number of lumens that a halide bulb can produce using the same amount of electricity. "There is a community understanding that energy savings equal money savings, and thus it's just common sense." Honor stated, "So the community reaction to this project was really similar—this upgrade was just common sense." After making the switch to LEDs, Friends of Finland observed an immediate drop in energy usage at the community center in comparison to the past year. Because of the savings they have found, combined with the ease in which they were able to complete the project, they are now planning to replace the halides inside the community center with LEDs as well.

Value of partnership

When asked how CERTs was able to help bring their ideas to reality, Friends of the Finland Community had this to say: "Without technical guidance and this CERTs Seed Grant we would not have been able to take the leap to upgrade the outdoor lights at the Finland Community Center to LEDs. Thanks CERTs!"

Project Snapshot
Project: 10

LED

Exterior Light Fixtures (Wallpacks)
Location: Finland, MN
Activity: Implementation
Technology: Energy Efficient Lighting
Benefits: Being responsible with public dollars by leveraging partnerships to have Wolf Ridge students study

LED

lights as a solution and then reducing operating costs through the upgrade to

LED

lights.
Total Project Cost: $3,112.50
Northeast

CERT

Seed Grant: $1,500.00
Annual Energy Savings: 4,600 kWh
People Involved: 15
People Reached: 1,429

---
CERT

s awards seed grants to community groups for energy efficiency and clean energy projects across Minnesota. We've awarded over $1 million in Seed Grants since 2006. Click here to see more Seed Grant blog posts or click here to see more past funded projects.