We had a great response rate to the second annual survey of cities and tribal nations in the Minnesota GreenStep program. The number of cities and tribal nations responding to the survey improved four points over the inaugural survey. Read on for some highlights of the results!
2017 Survey: 84 responded out of the 110 communities at the time = 76% response rate
2018: 96 responded out of 119 = 80% response rate
It's great to have so many communities will to share feedback about the program! We will continue to improve the program based on the survey's responses.

Top Best Practice Actions for 2018

GreenStep Best Practice Advisors and others are busy following-up with the 72 GreenStep Cities or Tribal Nations that expressed interest in receiving assistance on 12 specific best practice actions. If all of these cities act on all of their interest, the program would see 262 best practice actions completed by this time next year. Wouldn't that be exciting?! See below for what's popular in 2018 (number shown is the number of cities stating they are likely interested in pursuing this best practice action (BPA) in 2018):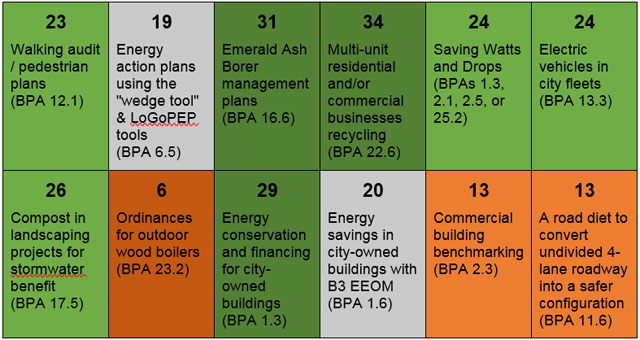 Note: To wood boilers credit, this BPA may not be applicable to most GreenStep communities. Everyone's a winner in our book!

Program Satisfaction

Overall, GreenStep Cities and Tribal Nations are satisfied with the program. Nearly 73% were satisfied or very satisfied in 2017 and satisfaction increased since 2016 by 36%.



Note: This question was improved in the survey to more accurately understand a communities' satisfaction with the program, rather than their own outcomes within the program.

Proudest Accomplishments

In looking back at 2017, GreenStep Cities and Tribal Nations take a lot of pride in the accomplishments they were able to achieve due to their involvement in GreenStep. The word cloud below highlights some of the activities that make communities proud (largest words were more frequently stated than others):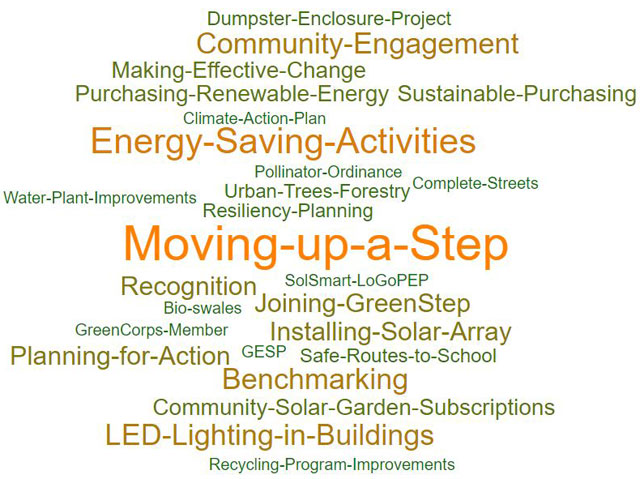 Making Progress with GreenStep

Not only are GreenStep Cities and Tribal Nations proud, they are making progress as well—and it's because of the GreenStep program. Around 90% of GreenStep Cities and Tribal Nations feel like the program helps them take action they otherwise wouldn't. A greater portion in 2017 feels that the program significantly helps them take action than in 2016.


---
About the Local Government Energy Action Series:
This effort tells the stories of Minnesota municipalities, counties, and schools and the tangible results of their energy-saving efforts to inspire others to take their own actions. See all stories in this series >>