It's official, winter is here. If you have a drafty house, you've now had a couple months to be reminded of the comfort issues that come along with poor insulation and air sealing in homes. This roundup of recent stories below offers insight into how some Minnesotans are making their homes more comfortable, safe, and energy-efficient this winter, along with tools for you to follow in their footsteps.

---
Weatherization is a win-win for Miltona man, Minnesota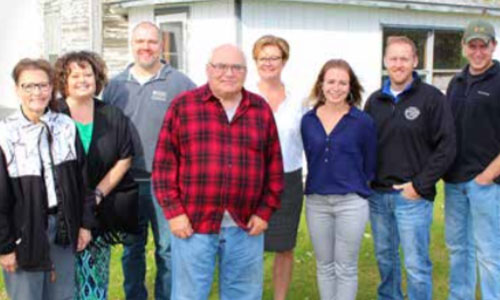 Steven Koelln of Spruce Hill Township in Douglas County was especially grateful in December 2016, after his home was weatherized. His house received a complete energy overhaul—a new fuel oil furnace, attic air sealing and insulation, repaired duct work, a new whole house fan, and much more—at no cost to Koelln.
"It was probably the best Christmas present I've ever received," said Koelln, a former farmer who is disabled and lives just south of Miltona, 15 miles northeast of Alexandria. "It was a real godsend."
Koelln qualified for and received weatherization help from the West Central MN Communities Action (WCMCA) agency based in Elbow Lake, Minn. A year after the work, he is realizing the great outcomes and is even more thankful.
"It's made a huge difference in my home," said Koelln. "On cold days before I had the work done, I would sit in my living room and watch the curtains move. There was a steady draft in the house, and the walls and floors were cold. But now I'm toasty warm in the winter, and the cool air stays inside much better in the summer. My fuel oil bill has been cut in half, and my monthly electric bills have decreased 25% to 40% each month. I am tremendously grateful."
What is the Weatherization Assistance Program?
The Weatherization Assistance Program (WAP) provides free home energy upgrades to income-eligible homeowners and renters to help save energy and make sure homes are healthy and safe. Authorized by the U.S. Department of Energy, Minnesota's WAP serves households at or below 200% of the federal poverty income guidelines ($49,200 for a family of four). Priority is given to households with elderly or disabled family members, children, or high energy consumption. In Minnesota, the program is administered by the Commerce Department in cooperation with a network of 24 local service providers.
Low-income people can apply for weatherization assistance through a combined application for WAP and the Energy Assistance Program (which helps homeowners and renters pay for heating bills). More information about WAP is available by visiting the WAP section of the Commerce website (mn.gov/commerce/consumers/consumer-assistance/weatherization/). Potential applicants work with their local service provider to fill out an application for energy assistance and weatherization services. For more information contact 1-800-657-3710.
Read the full success story from MN Department of Commerce >>

---
Many Minnesota homes would benefit from an energy audit (via
MPR

)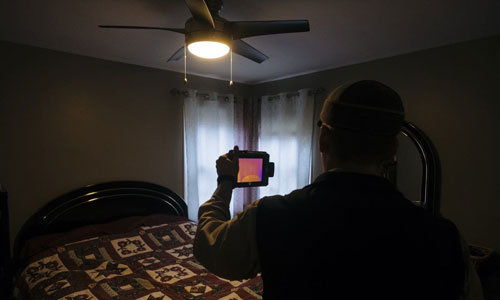 Energy auditor Tyler Botnen uses an infrared camera attached to an iPad to find drafts in the bedroom of a Lauderdale, Minn. home on Tuesday, Nov. 14, 2017. Evan Frost | MPR News
Many Minnesota homes still have lots of room for energy savings.
"Any home built before 1970, there's no guarantee that there's any insulation in the walls," said Stacy Boots Camp, outreach coordinator for the Minnesota Center for Energy and the Environment.
The group helps homeowners cut their energy use. She says a quarter of Minnesota homes still lack sufficient insulation. And many that have enough insulation may still leak a lot of air.
"There's still hundreds of thousands of houses that could be better insulated. Probably, the main issue we see is the potential for air sealing," she said.
Plugging leaks can add up to real savings. CenterPoint Energy, for instance, says customers can cut their natural gas bills by 10 to 30 percent with aggressive conservation efforts. The utility has some 800,000 residential customers in Minnesota. CenterPoint says those households could save enough gas to heat about a quarter million homes for a year if they maximized their homes' energy efficiency.
Zach Zehrer of Lauderdale has lots of leaks to plug.
Zehrer and his wife, Claire, moved into their 1950s vintage home about two years ago.
"It's very obvious that some places are drafty. And I'm not exactly sure what to do about it," he said.
But Zehrer knows there's a lot that could be done to save energy and money. The kitchen addition is chilly. Windows leak. The furnace is old and hot water pipes in the basement are wrapped in old newspapers.
"Harmon Killebrew, I think, is on one" Zehrer said.
He scheduled a Home Energy Squad visit from the Center for Energy and Environment.
"We can figure out if overall the house is fairly tight or leaky," said Auditor Tyler Botnen.
Click here to read and listen to the full story from MPR >>

---
New Year's resolution: Get an advanced energy audit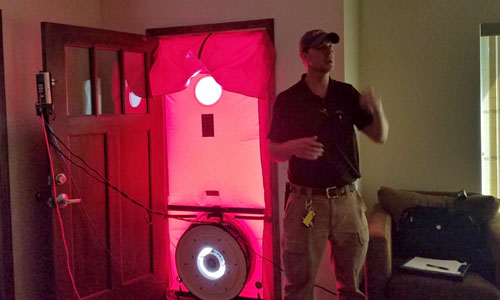 A blower door test is part of most advanced energy audits and helps finds leaks in your home.
A New Year's resolution for you: finally get that advanced home energy audit and identify several energy-saving measures to save on your utility bills.
Many people assume there is little they can do to significantly reduce their energy use and increase the efficiency of their homes. In reality, there are many things that typical residents can do themselves and many other things they can hire others to do. The Minnesota Department of Commerce strongly recommends having an advanced home energy assessment, or home energy audit, before embarking on home energy improvements or remodeling.
An assessment of how your house is functioning can help you decide what needs fixing, upgrading, or replacing. It will identify some simple low-cost measures you can take, such as weather-stripping doors or installing high efficiency light bulbs, and it will determine more expensive but cost-effective measures, such as adding insulation to attics or walls and replacing inefficient furnaces, water heaters, and appliances.
Energy audits will vary by price and the level of detail and types of tests provided. At minimum, several things should be included in a home energy audit:
A review of energy bills to help assess home performance and identify opportunities for savings.
A blower-door test to determine air leakage.
Infrared scans of walls, attic, and foundation to assess insulation levels and locate sources of air leaks.
Efficiency and safety testing for combustion appliances (furnaces, boilers, gas fireplaces, and water heaters) to ensure they are operating properly and not contributing to indoor air concerns.
A visual inspection for attic, wall, crawlspace, foundation, basement, window, door, and roof problems.
Contact your gas or electric utility to arrange an energy assessment. For instance, Xcel Energy offers a $60 Standard Audit that includes the bulleted items above. More comprehensive assessments (for new construction or major remodeling) are available from private contractors specializing in home performance reviews.
Neighborhood energy groups often partner with utilities to deliver audit services. For instance, the Center for Energy and Environment (CEE) partners with Xcel Energy and CenterPoint Energy to deliver a service called the Home Energy Squad, which includes installing energy-saving products such as LED bulbs, weather-stripping, and programmable thermostats.
For more information on home energy assessments and energy-saving improvements, check out the Minnesota Department of Commerce's Home Energy Guide (pdf).

---
CERT

s adds directory of energy auditors to Clean Energy Project Builder website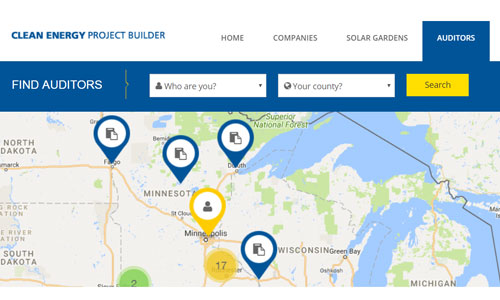 Clean Energy Project Builder auditor directory screenshot.
Now, in addition to finding solar installers, community solar gardens, and installed projects, people can now explore energy auditors serving Minnesota on the Clean Energy Project Builder website.
---