More and more electric vehicles (EVs) are entering the national marketplace and hitting Minnesota roads. CERTs is doing a series of interviews with EV drivers to learn about their experiences.
Meet Sam & Fam: Blaine, MN residents Sam Villella and his wife both drive EVs because of their vehicle performance, the economy, and for fuel independence (and their daughters love them, too). They own a Tesla Model S and a Chevy Volt.
---
Why do you drive an EV?
Performance, economy, fuel independence.
What has been your driving experience so far?
Awesome. I have my wife on board and have convinced many others. It is very liberating not having to go to the gas station.
What do your friends and family think?
Some really get it. Others just avoid it. Most are very interested. My kids don't get why anybody would have an ICE (internal combustion engine).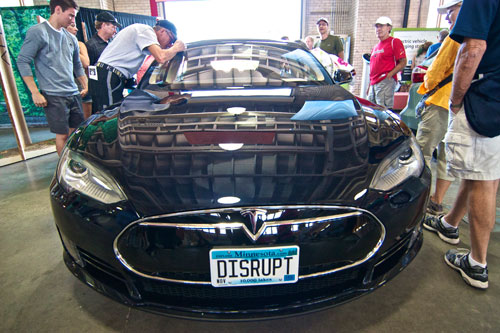 What is your typical charging routine, and who is your electric utility?
Plug in at 8pm every night when our off-peak rates kick in. It costs us about $55-$60 per month in electricity to push the two cars about 2500 miles. Connexus is our electric utility.
What would you say to anyone interested in driving an EV?
No brainer—you won't have buyer's remorse. I have not met an EV owner who said it was a mistake. The genie is out of the bottle.
---
Hear from other EV owners
Get more on EVs
---