From May 2014 through December 2015,

CERT

s helped Minnesota service stations upgrade their canopy lighting to energy-saving

LED

technology.

LED lighting can help reduce canopy energy costs up to 75%, create a brighter and more attractive station, reduce maintenance costs, and more. CERTs connected service station owners and their electricians with quality canopy lighting products at competitive prices, and helped them reduce upgrade costs further with utility rebates.
This campaign ended December 2015. This page remains available for reference.

 
Why upgrade your canopy to

LED

lighting?
 
Reduce your canopy energy costs up to 75%
Create a brighter and more attractive station
Reduce your maintenance costs
Strengthen your business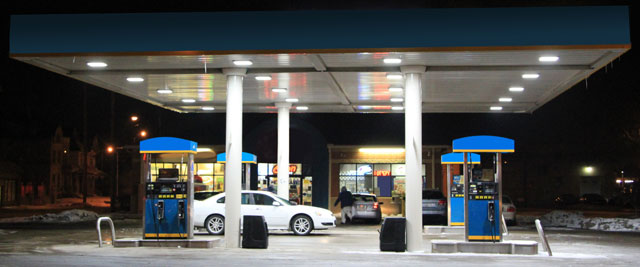 The Clean Energy Resource Teams can help you:
 
Why move forward with this improvement?
 
Project can pay for itself through the cost savings from reduced energy use in 3 to 4 years without utility rebates
Utility rebates can vary from $200 to $3,500 and if sought, could bring the payback down to 1.5 years
Clean, bright white lighting attracts new customers to your business and provides an attractive look and safety
Less time pulling out the ladder to replace bulbs means fewer maintenance costs and a safer work environment
 

LED

Canopy Lighting Products
Access high-quality, competitively-priced lighting products.
 
LED lighting is a relatively new market and new products are entering it each day. There is a large variety in quality of the products. To help your canopy lighting retrofit be successful, we are directing your attention to a list of quality products.
This campaign ended in December 2015. The product list is no longer maintained. It is here for reference.
---
We've done the homework for you.
 
We developed a list of qualifications with a lighting consultant, utilities, and the state energy office that all lighting products listed on our page will meet.
Get the full list of qualifications here >>
Also, did you know? The Illuminating Engineering Society of North America (IESNA) set the average footcandle lighting level for new and existing service stations for urban service stations to be no greater than 30 footcandles.
 
---
Lighting Companies: Interested in your qualifying products being promoted?
 
Contact Alexis Troschinetz with CERTs at atroschi@umn.edu or 612-626-0455 to receive the full instructions on how to submit product information. When submitting product information, you will need to highlight and label each product's specification sheet.
See an example highlighted and labeled product specification sheet here >>
  Utility Rebates for

LED

Canopy Lighting
Offset canopy

LED

lighting upgrade costs with your electric utility rebates.
 
Your electric utility wants to help you pay for your energy-saving LED lighting upgrade with rebates. We've search high and low for the utility rebates that could be used for a LED lighting project in a fuel pump canopy. See if your utility's rebate information is on our list. If not, we encourage you to give them a call to see if they offer any rebates for energy efficiency projects.
This campaign ended in December 2015. The rebate list is no longer maintained. It is here for reference, but be sure to contact your utility to learn what rebates exist today!
LEDs Light Up The Night in Princeton – Retrofitting HID and Metal Halide to LEDs in a gas station canopy
PACE financing sheds light on major energy savings at Blue Line Travel Center in Worthington, MN – First SW MN Property Assessed Clean Energy (PACE) project includes canopy lighting upgrade and eliminates the burden of upfront costs by providing low-cost, long-term financing