The Orr Recreation and Resource Center recently purchased the old Orr High School and began the arduous work of remodeling it. One of the first changes that they decided to make was to replace the old light bulbs in the building with new LEDs. They decided to replace the exit, emergency, and security lighting to begin with; once that important step was out of the way they could focus on the rest of their remodeling plans.
These LED bulbs were an excellent choice by the Center since they have a lifespan of up to five times longer than any other comparable bulb on the market. Although LEDs are more expensive than standard bulbs up front, that cost is brought down significantly when you take their extremely long lifespan and reduced energy consumption into account. To learn more see the CERTs Right Light Guide.


Orr Recreation and Resource Center.
Energy efficiency improvements at the Center will also benefit the community they serve. "The ORR Center enjoys great community support." Said Wendy Purdy, who is the President of the Orr Recreation and Resource Center. Going on to discuss the Homesteading and Sustainable Lifestyles Expo that was held after the new lighting was installed, Wendy said that many positive comments were made by some of the 600 people in attendance, mentioning that the new lighting "really enhanced the look and feel" of the building.
The ORR Center has had very close interaction with the community throughout their remodeling process, inviting citizens to give input at every step of the way. Wendy Purdy left us with these parting words: "The ORR Center is relatively new, and the projects are completed only due to the generosity of organizations like yours. Having upgraded LED lighting installed was vital to the overall remodel. Thank you!"
After the CERTs Seed Grant project was completed, ORR Center went on in January of 2017 to install new LED tube lamps in over 750 fixtures, making them 95% LED! That project was made possible through support from AEOA, IRRRB, and Purdy Electric. Going one step further, the Center was awarded a Business Energy Retrofit grant from AEOA to install a 40-panel (11.6 kW) solar array this summer. So now they'll have solar-powered lights!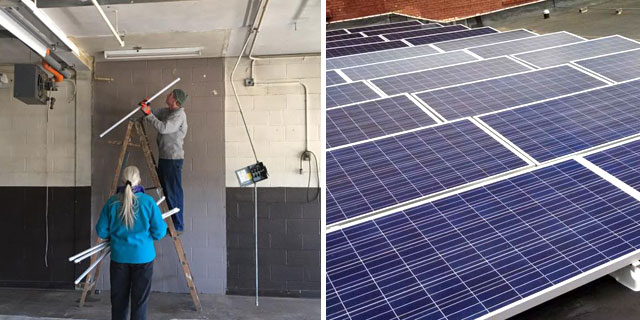 LED re-lamping project (left) and solar installation (right).

Project Snapshot
Project: Retrofitting exit signs and emergency and security lighting to

LED

s
Location: Orr, MN
Activity: Implementation, Outreach
Technology: Lighting Upgrades
Benefits: Providing long lasting and cost saving security to the building
Total Project Cost: $4,000
Northeast

CERT

Seed Grant: $3,000
Annual Energy Savings: 6,392 kWh
People Involved: 3
People Reached: 1,018

---
CERT

s awards seed grants to community groups for energy efficiency and clean energy projects across Minnesota. We've awarded over $1 million in Seed Grants since 2006. Click here to see more Seed Grant blog posts or click here to see more past funded projects.