Earlier this summer, Edna Gulbranson's son came back from Wisconsin with a recommendation: A friend of his had recently had an energy inspection done, and it seemed like a good deal, with his friend's home having received a host of energy-related upgrades and improvements. Gulbranson explained that her son encouraged her to explore the opportunity at her own abode, a townhome in Lindstrom.
"He said he was so impressed with what his friend told him, and he really felt I should check into it. So, it came highly recommended to me, and I was curious—who wouldn't be curious when you know you could have your house inspected and cut back on energy use?," Gulbranson said.
Soon after her son's suggestion, Gulbranson placed a call to Xcel Energy, who referred her to representatives from the Center for Energy and the Environment to set up an appointment. Although the whole process was easy and worry-free, for Gulbranson, the best part came in the form of an unexpected discount. At the time, Gulbranson was not yet aware of the Chisago Clean Energy Hub and related projects, which provided a discount on the cost of the home energy audit.
"When I set up the appointment, I was told that, because I lived in Lindstrom, rather than paying the usual 100 dollars, I would be paying only 45 or 50 due to some grant money. I thought it was a great thing to get in on," said Gulbranson. Metro CERT provided a $3,000 Seed Grant to help support the buy down of the Home Energy Squad (HES) visits in the Chisago Lakes Area.
Before her Home Energy Squad (HES) visit, which occurred in early August, Gulbranson had never had a similar inspection done for her home—and she could hardly have been happier with her first experience.
"They told me briefly before they came what they would be doing when they got here, and then when they got here, I was so impressed! They were total gentlemen, and before they started explained exactly what they would be doing so well and said if I had any questions while they were working, I could feel free to ask them," Gulbranson enthused.
The positive aspects of the experience didn't end with her initial impressions, though. The Home Energy Squad representatives wrapped Gulbranson's hot water heater, added faucet and showerhead aerators, and, perhaps most significantly, replaced 32 conventional lightbulbs with state-of-the-art LED bulbs.
"If I had gone out myself to buy those lightbulbs, it would have cost me a fortune, and there was no additional charge for them," said Gulbranson happily.
The visit also included an airtightness test, but as Gulbranson's townhouse is only 20 years old, there were no major improvements to make in that area. Another aspect of the visit included advice for potential future improvements surrounding large appliances; Gulbranson said she learned that appliances today are much more energy efficient than in the past.
As her home still has its original furnace and air conditioner, Gulbranson now feels equipped to make an energy-saving purchase should the need arise. The HES representatives also left a fact sheet that includes information on financing that is available for those purchases, which Gulbranson also described as helpful. Concerning the visit as a whole, Gulbranson had nothing but affirmation and praise for the job that the two HES consultants did.
"They were extremely nice men, extremely thorough, and did an excellent job. I could not have been more pleased! They were totally helpful, and I would recommend them to anyone," Gulbranson affirmed.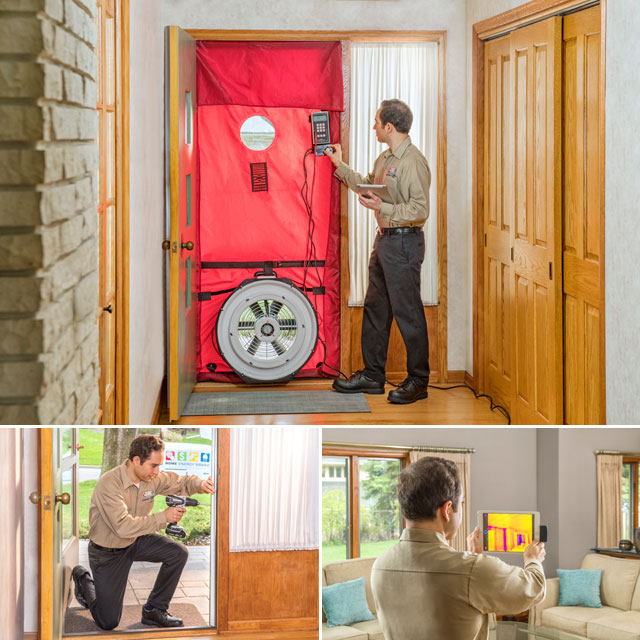 And recommend with gusto, Gulbranson has.
"I told a couple of my neighbors, and I know one has an appointment set up in early September already. I just figured that I would put the information out there in case they wanted to check it out, too," said Gulbranson. When she first recommended the HES services to some friends and neighbors, Gulbranson gave them a couple phone numbers that the HES representatives had left with her to refer people to. However, Gulbranson said that, "Some people had trouble getting through with the numbers I had given them, so I got through to someone and explained that people were having some difficulties. He was really good and gave me another number, and people were able to get through right away."
Since her HES visit and installation of the faucet aerators and LED bulbs, Gulbranson has already noticed some positive differences in her home.
"I think one thing I was surprised by, is that since I have been using the water now, I call tell that I am using far less water than what I was before. That makes me happy because our water bills out here are quite high," Gulbranson said. Continuing, Gulbranson added, "I have two bathrooms with six or eight of those big bulbs above the vanity, and when I turn the lights in the bathroom, it is so much brighter than it was before."
Although Gulbranson has not yet received a utility bill since her recent energy audit, she is hoping to see a potentially significant difference in her next one. "It will be interesting to see how much of a difference it makes, and with 32 lightbulbs and the electric bill, it could make a huge difference," Gulbranson explained.
While there are many reasons to book a visit from the Home Energy Squad, Gulbranson believes her fellow senior citizens could especially benefit from the potential reduced utility bills.
"I am a senior myself, and most of us that are 65 and older are on fixed incomes—I would recommend this to anyone, but I think it would be especially helpful for seniors, as energy costs keep going up, but our pensions and retirements don't increase. I think for people in my situation and for my family, it's just amazing," Gulbranson said.
There's one more benefit that Gulbranson mentioned, one that speaks to humanity's larger role in providing an ecologically sound planet for future generations: "If you can cut your utility costs, not only is it helping the individual, it's helping the environment. That, to me, is important—I have children, grandchildren, and great-grandchildren, and I hope this great Earth will be here 100, 200, 300 years from now. If we can help preserve the environment for future generations, that is very important."