The City of Red Wing, a town of 17,000 people, has been very busy in the last couple years saving energy with efficiency measures and adding solar PV to city facilities. They're also a Step 2 member of the Minnesota GreenStep Cities program, a voluntary challenge, assistance and recognition program to help cities achieve their sustainability and quality-of-life goals.
Since 2011, with 12 buildings in B3, Red Wing has seen a 55% decrease in their carbon footprint! Specifically, Red Wing has LED street lights going up; has done updates to city hall, auditorium, and the library, and public works buildings; is getting new windows in city hall and the auditorium and replacing boilers and heating systems soon. Click here to learn more. In addition, through Xcel Energy's Partners in Energy (PiE) program goals, 10% of homes (about 700) and 10% of businesses (100) will have the opportunity to do energy conservation and/or solar.
Now I'm sure you want to hear more about Red Wing's action on solar! How did they do it? Read on to learn more from Jay McCleary with the City of Red Wing who shepherded these projects along. You can also Click here to read the original version in Public Works Magazine.

---
Let the sun shine
How a small public works department rounded up renewable-energy grants and incentives to save 17,000 residents at least $1.1 million in future taxes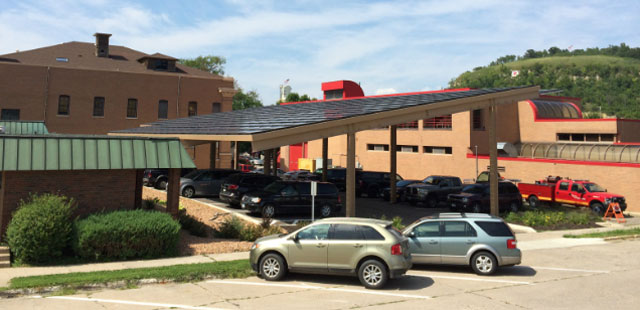 Solar at Red Wing City Hall. Photo by All Energy Solar.
The City of Red Wing now has six alternative energy projects that are expected to save our community of 17,000 at least $1.1 million over the next 40 years. Being the state's first city to implement a public-private partnership for solar-based alternative energy, a complicated financial proposition involving grants and incentives offered by multiple government agencies and suppliers was scary. But we got it done in less than two years.
The projects are a joint effort between Xcel Energy, State of Minnesota, All Energy Solar, Newport Partners, and employees of the City of Red Wing, Minn. We've been working toward this point since summer 2011, when I attended an open house at a home showcasing a ground-mounted solar-power system installed by Minneapolis-based All Energy Solar. I went more out of personal curiosity than anything else, but the presentation made me think the technology might work at the public works administration building.
I asked the company representative to contact me.

An offer we couldn't refuse

Our initial discussions were very positive. Everyone was sure that solar energy could lower the building's electricity consumption.
The problem was cost: $350,000 for a 40 kW system. That was money the city simply didn't have. The best we could do was add the project to our Capital Improvement Program and see if we could find the funding somewhere down the road.
Then, All Energy Solar President Michael Allen asked if we'd consider doing the project at no cost. Our first reaction was, "Sure, but what's the catch? Nothing's free." But after getting together and hearing about the program he had put together, we began to think it might be possible.
The key word was "possible." There were a lot of questions, the biggest one being, is this even legal?
Grant funding through Xcel Energy's Solar*Rewards program. Additional funding through the state Made In Minnesota solar program for buying technology made in Minnesota. Selling federal tax credits and letting someone else benefit from the accelerated depreciation offered for alternative energy projects. Do we have to bid the project? Is this a sole-source possibility? How would we even begin to write a specification that would cover all aspects of such a project? Has anyone ever done this before? Would the system be compatible with the building's existing electrical systems?
The answers didn't come quickly, but they came.

Identifying sites, funding sources

We began by identifying five appropriate sites for rooftop solar installations. In addition to the public works administration building, they were the fire station, public works maintenance shop, solid waste facility, and community development building. With All Energy Solar's help, we submitted applications for 2012 grant, incentive, and financing programs that would fund 100% of four.
Funding for all but one of the four, the public works maintenance shop, was approved.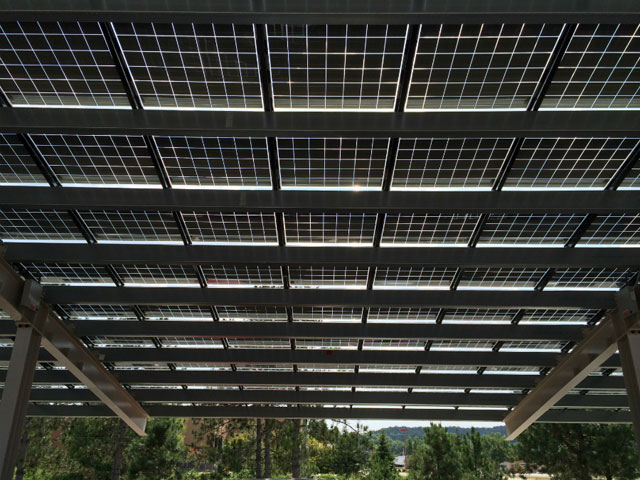 Solar installed on a canopy in Red Wing. Photo by All Energy Solar.
We began structural engineering design and plan development. The process revealed that the community development building roof couldn't support the additional weight of solar panels and other necessary equipment. In October 2012, the city council approved the financial agreements and construction at all four sites, provided we found an alternative mounting system for the community development building.
All Energy Solar and public works discussed a ground-mount solar energy system and installing a carport system over part of the parking lot. We eventually realized that a carport system over the entire parking lot would generate enough power to also supply city hall—a location we'd considered but rejected because the building is on the National Register of Historic Places. Solar panels would significantly alter its appearance.
That led us to think about what we had planned for the other two sites.


Solar at the Red Wing Public Works building. Photo by All Energy Solar.
The public works administration building and solid waste facility had been approved for roof-mounted systems capable of withstanding wind gusts of 105 mph (the required standard). That summer, though, a rooftop system elsewhere in Minnesota was damaged by 120 mph winds. Given the extreme weather patterns of the last several years, we decided on a carport system for public works and a ground-mounted system for the solid waste facility.
Having successfully established a financing process, we decided to apply for two more installations: the public works maintenance shop (not approved in 2012) and city hall. This year, however, the city had to be willing to pay 10% of costs. The 90/10 split would demonstrate the applicant's commitment to investing in solar energy and enable more projects to be built.
The financing contracts used the same language that was approved in 2012, and all contracts were reviewed by the city attorney's office before acceptance. The Sustainability Commission supported all of the installations because they contribute to the city's strategic plan for reducing overall energy consumption.
Our applications were approved. Since city hall is next to the community development building, a carport structure was installed there. Ditto the public works administration building and maintenance shop.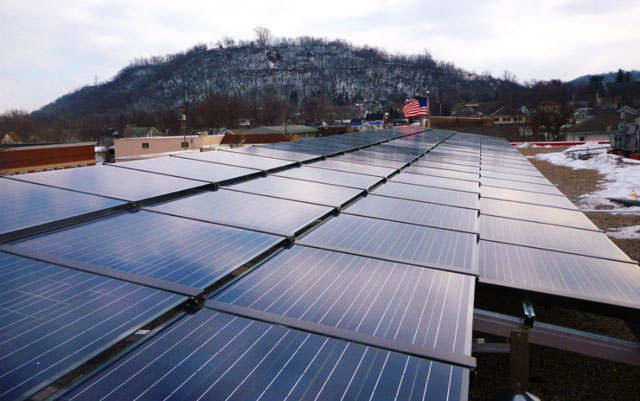 Solar on top of the Red Wing Fire Station. Photo by All Energy Solar.

Come see for yourself

According to the agreements with Newport Partners, the city will incur no maintenance costs for the first six and one-half years. We'll take over routine maintenance in year seven, when the city takes ownership of the installations. At that point, public works will continue to spray the solar panels twice every year with water to remove dust and dirt and be responsible for all repairs and maintenance for the solar electrical systems. Being the first to try a project like this was scary. But now that we're on the back side of the process, we want to show others how to make this work. From the very beginning, we've wanted Red Wing to be an educational site.
This is exciting stuff, the best project I've worked on in 32 years at the city. The technology is getting better and the price is coming down. These systems will pay for themselves over the long term.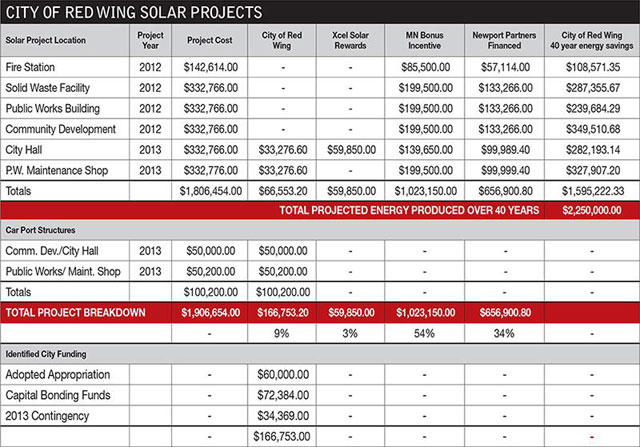 Table of solar project financials provided by the City. Click here for larger version.

Public works: innovation partner

In August, Minnesota Gov. Mark Dayton attended an open house at the City of Red Wing's Community Development Building showcasing the city's efforts over the last two years to use renewable forms of energy. One of his first questions about the building's new carport solar-electric system was whether the photovoltaic panels were made in the state.
City council president Lisa Bayley happily told him the equipment was made four hours north in Mountain Iron, Minn., by Silicon Energy.
Though a relatively small community of roughly 17,000 residents, the open house marked two innovations:
The building was one of six throughout the city that are the fruits of the state's first public-private partnership for solar energy.
It's also home to Red Wing Ignite, an incubator site for developing and deploying high-speed broadband technology. U.S. Ignite was launched in June 2012 because of an executive order issued by President Obama requiring federal agencies to develop consistent processes to facilitate broadband deployment. Red Wing is the smallest of 25 cities designated as a technology base for new business under the program.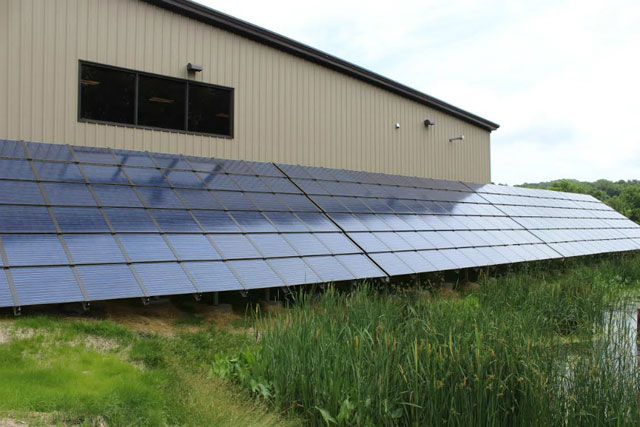 Solar at the Red Wing Solid Waste facility. Photo by All Energy Solar.

Solar Snapshot
Total cost, six solar-electric installations: $1.9 million
City of Red Wing (Minn.) Public Works Department

Capital investment: $167,000
Operations & maintenance: $250,000 over 40 years
Funding contribution: 9%

Newport Partners LLC, Irvine, CA:

Financier specializing in affordable housing, historic rehabilitation, and renewable energy tax credits
Role: $657,000 to be recouped within 6.5 years; 20% rebate on the electricity the city produces for first 6.5 years, 100% in years seven through 40
Funding contribution: 34%

State of Minnesota:

Minnesota Department of Commerce, Division of Energy Resources
$1,023,150 Made In Minnesota Production Incentive
Funding contribution: 54%

Xcel Energy:

Minneapolis-based utility with 3.4 million electricity and 1.9 million natural gas customers in eight states. Permits to operate two nuclear power plants in Minnesota, one of which is in Red Wing, require Xcel to create alternative-energy sources
Role: $60,000 Solar*Rewards Incentive
Funding contribution: 3%
All Energy Solar

Minneapolis, MN
Sells and installs solar-energy systems in Massachusetts, Minnesota, and Wisconsin.

The Garland Co. Inc.

Cleveland , OH
Manufactures built-up roofing (BUR) systems

Silicon Energy

Mountain Iron, MN
Manufactures photovoltaic (PV) modules, commonly referred to as solar panels, which convert solar radiation into direct-current electricity