The Minnesota Renewable Energy Society (MRES) is a member-run non-profit organization that promotes the use of renewable energy in Minnesota through education and practical demonstrations, with a particular emphasis on solar technologies. One of the ways MRES has tried to keep people informed about renewable energy is through various publications.
One of the most successful MRES publications is a Renewable Energy Guide for Schools. Laura Cina Burrington, the Managing Director of Minnesota Renewable Energy Society, coordinated the production of the Guide under a contract with the Division of Energy Resources and the Minnesota Pollution Control Agency. Originally published in 2011 by MRES, Laura wanted to find a way to print off hard copies of the document that could be distributed to schools around Minnesota. "I wanted something to hand out to people who were not comfortable with reading a 90 page document on the computer," explained Laura, "I also thought it would be nice for schools to have a copy in hand at group meetings discussing starting a renewable energy system." The Renewable Energy Guide for Schools is meant to help elementary and secondary institutions evaluate, acquire, install, promote and use renewable energy systems.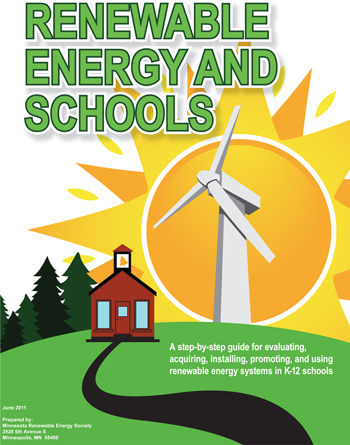 By making the guide more accessible, individuals in the education community have a greater chance of sharing information and acting as catalysts for local projects. The idea to print the Renewable Energy Guide was originally presented to the Minnesota Pollution Control Agency and the Department of Commerce, which donated the funding to print 30 initial copies of the guide. In order to spread awareness of this resource, MRES used the seed grant funding from CERTs to coordinate outreach efforts. Laura gathered emails from school districts in several regions of Minnesota—Northwest, West Central, Southeast, and Southwest—reaching out to teachers and staff with a particular focus on science and math teachers as well as the principals, assistant principals and building managers. Email notifications were then sent out to the professionals gathered on the list that notified them about the guide, along with directions on how to download it from the MRES website. People could also put in a request to have a hard copy of the guide mailed to them and other guides were distributed at workshops or events. In total, 4,000 school employees were contacted through the Email database. The exposure led to the Minnesota Renewable Energy Society receiving over 400 visits to the Renewable Energy Guide download page, and the guide was presented to over 100 people at events for educators and 7 printed guides were sent to schools at the request of a faculty member. In addition, the guide was promoted and distributed by an MRES intern who attend Green School workshops in Rochester and Collegeville put together by Jeff Ledermann with the Dept of Education The MN Dept of Education also distributed the guide via emails to teachers who indicated interest in Green Schools Workshops.
MRES also put together a survey that was sent out to the school staff it had contacted to see what other resources they would like to become available in the future. One idea is to establish a listserv or forum for them to be able to visit, see others' projects, ask questions and get further advice from professionals or their peers. Another suggestion was a webinar on the Guide where people can submit questions ahead of time and MRES can guide the discussion.
Getting the guide out to as many faculty members as possible was not without its challenges. MRES initially had included a $5 shipping fee with the hard copy of the guide, but people were reluctant to pay it so it was dropped. However, the process of gathering school contacts and reaching out to hundreds of people across the state has already produced a number of benefits. "I feel like I am establishing relationships with community leaders in many areas of Minnesota we haven't reached before," said Laura. "These people are using the Guide and looking to us to provide further advice and guidance, which we are happy to give … If we can foster that interest and help it grow we can get solar out to many regions of MN it has not touched before."
Click here to download the Renewable Energy Guide for Schools >>.
:
Renewable Energy Guide for Schools
4,000
$1,500
$2,500
Click here to download the case study PDF >>
---
About the Local Government Energy Action Series:
This effort tells the stories of Minnesota municipalities, counties, and schools and the tangible results of their energy-saving efforts to inspire others to take their own actions. See all stories in this series >>