Solar energy is a hot topic in Minnesota, and people are hungry for in-depth, un-biased information. The Clean Energy Resource Teams (CERTs) adapted a popular series of guides for Minnesota audiences, and they're now available for download.
The new series of factsheets, called Solar Electricity for the Home, Farm, and Business, is designed to help you determine if a solar electric system will work for you.

Overview of Series
Introduction: Basic educational information, myth busting, and orientation.
Building & Site Assessment: Building and site conditions to consider.
Conservation & Efficiency: Conserving and using energy more efficiently can reduce the system size and cost.
System Components: Provides detailed information about system options and components.
System Sizing: Proper sizing is important for a resource-efficient and cost-effective system. Includes a Panel and System Sizing Worksheet.
Costs: System costs depend on various factors. Rebates and incentives lower the cost.
Installation: Finding and hiring a contractor and considerations for operations and maintenance.
Electricity Use Worksheet

Download the Guide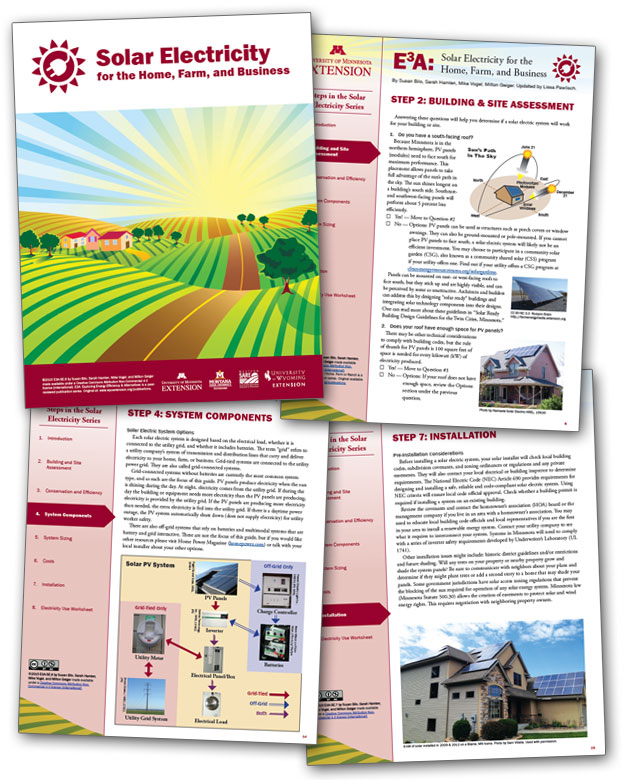 Click here to download Solar Electricity for the Home, Farm, and Business >>

Thank you!
This series was adapted by the statewide CERTs office, which is based at the University of Minnesota Extension Regional Sustainable Development Partnerships. It was adapted from the series, E3A: Exploring Energy Efficiency & Alternatives, specifically the section "Solar Electricity for the Home, Farm, and Ranch." Thanks to University of Wyoming Cooperative Extension Service, Montana State University Extension, and Western Sustainable Agriculture Research & Education (SARE) for making this publication available to University of Minnesota Extension. The full and original publication covering energy efficiency and more renewable energy technologies is available at http://www.e3a4u.info. Thanks is also due to Minnesota technical reviewers Jack Kluempke, Brian Ross, and David Schmidt.

Questions?
If you have questions, please contact Dan Thiede at 612-626-0556 or [email protected], Lissa Pawlisch at 612-624-2293 or [email protected], or Alexis Troschinetz at 612-626-0455 or [email protected].
---