One of the newest developments in the electric fence industry is the increased use of solar-powered electric fences, which are slowly taking hold in Minnesota, in part through a new statewide program.
Like a normal electric fence, a solar-powered electric fence can be used to protect livestock, pets, or land from wildlife and pests. However, unlike normal electric lines or battery-powered fences, a solar electric fence charger use a small solar photovoltaic (PV) panel to collect and convert sunlight into energy, which is then stored in the battery so that it can charge the fence.
Solar electric fence chargers need little maintenance and can work with most existing fencing systems. The Solar PV panels can produce enough energy under cloud cover to power a fence, and the storage battery can provide power to the energizers for more than two weeks without light.
Other key benefits include:
Practical for strip grazing and other portable fencing needs
Eliminates need to frequently transport fresh batteries to fence sites
PV systems can be integrated into existing fencing systems
All-in-one systems are available that combine energizers and panel
This can be a great unit for rotational grazing and remote applications, which is why more Minnesotans are becoming interested. It can power fence lengths up to 30 miles long, and a fully-charged battery can last two weeks even in cloudy weather. It also means you don't have to trudge around replacing and recharging batteries, or worry about costly electrical connections.
To expand the use of this technology, the Minnesota Clean Energy Resource Teams (CERTs) and their Rural Minnesota Solar Initiative program have partnered with Mills Fleet Farm to offer a $50 discount for the Blitzer 30 Mile Solar Fence Charger (pictured here). The unit is on sale for $239.99 through April 30th, 2013, down from its regular price of $289.99.
The Blitzer can be most easily purchased online at www.fleetfarm.com.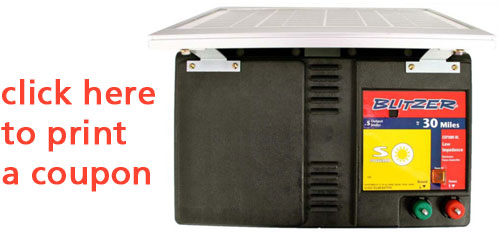 Customers interested in purchasing a unit at a Mills Fleet Farm store can contact Joel Haskard at 612-625-8759 or [email protected] to be mailed a paper coupon for use at the following Minnesota store locations: Alexandria, Baxter, Fergus Falls, Owatonna and St. Cloud. You can also click here to download a coupon or click on the image to the right.
| | |
| --- | --- |
| | Download a factsheet to learn more about both technologies and how they could be utilized on your farm. You can also learn more about the Rural Minnesota Solar Initiative at http://GetSolar.MnCERTs.org |