If you were not able to make it to the event, please take a moment to share your ideas about Metro
CERT

priorities for 2018-2019.


The 10th annual Metro CERT event highlights included a keynote from Muhammad Jiwa with MN Interfaith Power & Light titled Clean Energy Lessons from a Mosque, a community panel, polling and networking, Oh my!

Keynote speaker

Muhammad Jiwa is an organizer in the Muslim community with MNIPL, working to end discrimination against Muslims. He is helping Minnesota mosques become some of the greenest in the nation. He talked about Environmental Ancestry Story Circles—environmental wisdom from cultural traditions, not necessarily intentionally environmentally minded, but coming from a place that interacts and connects more deeply with the environment. He shared an example of older Somali women using their scarves instead of bags in supermarkets, and about efforts to have a zero waste interfaith Iftar—which they plan to make even bigger next year—and their experience coming together to make change.

Live polling

A recent annual tradition has been to utilize live polling to get information and feedback from attendees. What did we learn? The majority of people attending represented nonprofit organizations. The attendees also ranked low-income communities as the highest priority audiences for Metro CERT, followed by local governments. For priority technologies, solar—including rooftop and solar gardens—ranked first, with commercial building energy efficiency/conservation coming second. The top way people wanted Metro CERT to focus our efforts was education/assistance around renewable energy options followed by clean energy financing. Below are the polling results, see for yourself! If you were not able to make it to the event, please take a moment to share your ideas about Metro CERT priorities for 2018-2019. Take the survey >>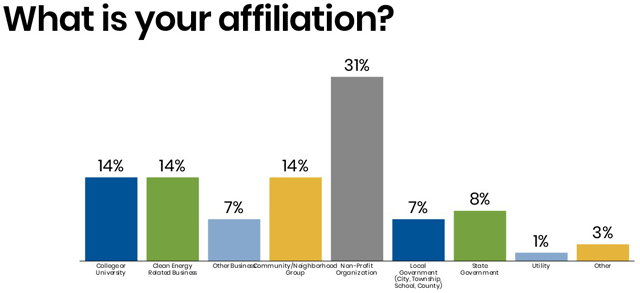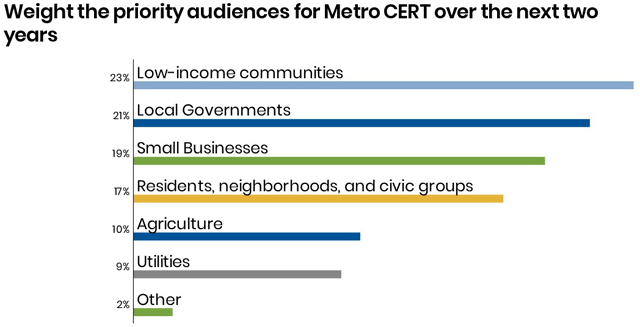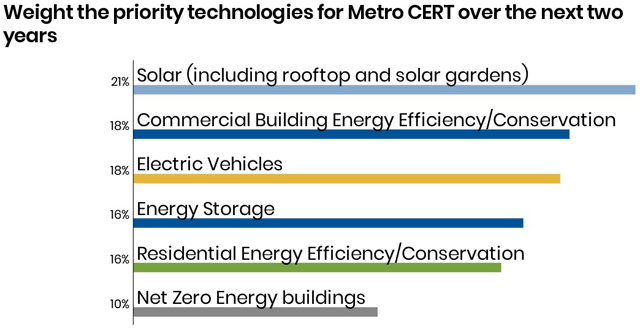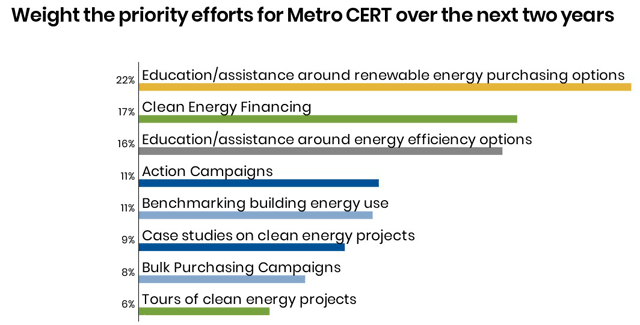 Community Spotlight Panel

Our Community Spotlight Panel included a county-wide clean energy effort, a city's clean energy campaign, and a small business energy efficiency journey.
Jill Behnke kicked off the panel. Jill has lived, worked, and been very actively involved in Chisago Lakes Area her whole life. She highlighted the Chisago Lakes area's involvement and success (they ended up being in the final 8 communities out of 350 applicants!) in America's Best Communities. Learn more in a recent blog post.
Shann Finwall, an environmental planner for City of Maplewood, spoke next. The City of Maplewood has participated in the Minnesota GreenStep Cities program since it began in 2010 and received the Step Five Award for highest achievement in the program this yearat this time. Shann outlined some of the efforts of Maplewood over the past few years including as an inaugural city in Xcel Energy's Partners in Energy program.
Miguel Zagal is the owner of three locations of Taqueria La Hacienda, the first Taqueria in Minnesota when he first opened in the Mercado Central on Lakes Street in Minneapolis in 1999. Miguel shared the energy efficiency projects and economics he has accomplished over the past few years with the help of an energy coaching project in collaboration with the Lake Street Council and Metro

CERT

. He also highlighted the

LED

lighting upgrade as the biggest money saving project. He noted that for him, it was a quick decision once he saw the numbers.
Click here to download the slides >>

Great small-group conversations

As a way to jump start networking discussions we hosted small group discussions with a variety of technologies, community building and financing clean energy projects. We had two rounds of lively conversations that primed the pump for the networking session that followed. Attendees had their choice of engrossing topics, from Decreasing Energy Burden, to Community Solar, to Electric Vehicles and Clean Energy Financing. The discussions included what is most relevant to that particular topic right now, what are the resource gaps, big ideas and concrete potential projects to move forward. In both the small group and networking portions of the evening, beneficial connections were made for future collaborations!

Amazing graphic recording of the event

Thanks to Amy Sparks with A Visual Spark for her live graphic note taking of the event's speakers! Check it out below and click for a larger image.