A 39 kW solar PV array is the newest piece of equipment on Ronningen Dairy Farm in West Concord, MN in rural Goodhue County, and it's pumping enough energy into the grid to cover about 50% of the dairy's electricity needs.
With over 100 head of Brown Swiss and Holstein dairy cows, Kurtis and Kelly at Ronningen Dairy Farm are keeping plenty busy, and always looking for ways to help their family business to be more economically sustainable. The decision to install 39 kW of solar will save the dairy a considerable amount of money on their energy bills by avoiding the rising costs of electricity.
The farm worked with Fritz Ebinger at the Clean Energy Resource Teams to get project planning support through the Renewable Energy for Greater Minnesota program. They came to Fritz from Curt Shellum at Solar Connection, a Rochester-based solar installer. The farm and Solar Connection contacted Fritz for application advice for the USDA's Rural Energy for America Program (REAP), which provides grants and loans for energy energy systems. While the farm was not successful in their REAP funding due to a regulatory impediment, they were able to take advantage of the 30% federal tax credit for renewable energy systems. Another benefit farms and businesses have when they install solar energy systems is depreciation, which can be as much as or more than the tax credit in many cases.
Through Renewable Energy for Greater Minnesota, farmers and rural small businesses can get assistance with:
Solar site assessments
Grant programs like

USDA

REAP

, Made in Minnesota, and

MDA

's Livestock Investment Grant
Available utility incentives, if any
Guidance on federal tax credits and depreciation
Financing opportunities like Property-Assessed Clean Energy (

PACE

), a new and simple way to finance energy projects through property tax assessments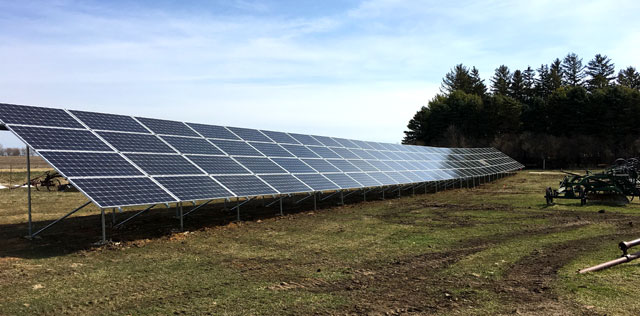 PROJECT SNAPSHOT:
Business: Dairy Farm
Location: West Concord, MN
Approach: Solar Photovoltaic (PV)
Technology: 39 kW solar PV installed by Solar Connection
Costs & Incentives:

Installed cost: $105,000
Tax credit: $31,500
Estimated business depreciation: $32,130
Final cost: $41,370
---