Utility Rebates for LED Holiday Lighting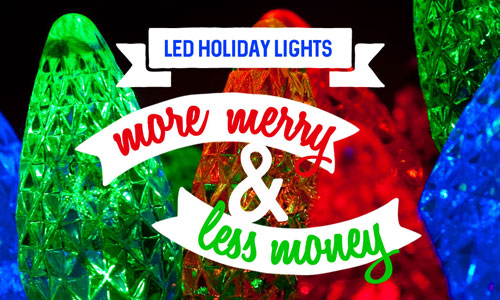 These are the rebate programs CERTs knows of that are offered by Minnesota utilities for purchasing LED holiday lights. They are in alphabetical order, so scroll down to see what, if any, rebates you can get from your utility for purchasing new LED holiday lighting.
You must be an electric customer of the utility to take advantage of the rebates offered by any given utility listed here.
If your utility has a rebate program that is not listed here, please email us to let us know about it.
---
Austin Utilities
Rebate for $3-12 per string
Rebate is limited to 50% of LED string or package cost, tax excluded. Deadline March 31, 2017.
Click here to download a PDF of the rebate form
More info: Residential Rebates
Contact: Kelly Lady, 507-437-0855, KellyL@austinutilities.com
Blooming Prairie Public Utilities
Rebate for $3-12 per string
Rebate is limited to 50% of cost. Deadline December 31, 2016.
Click here to download a PDF of the rebate form
More info: Blooming Prairie Holiday Lighting Rebate Overview SMMPA profile of Blooming Prairie Public Utilities
Contact: Steve Almos, 507-358-9069, sj.almos@smmpa.org
Blue Earth Light and Water
Rebate for $3-10 per string
Rebate applications must be received within 90 days of purchase or by March 31 of the calendar year following the year the item was purchased.
Click here to download a PDF of the rebate form
More info: CMPAS rebates
Contact: 507-526-2191
Brainerd Public Utilities
Rebate for $2 per string
Limit 12 strings. 25 bulb minimum per string. Deadline December 31, 2016 (postmarked by 1/15/2017).
Click here to download a PDF of the rebate form
More info: LED Holiday Lights Rebate Participating Utilities
Contact: 800-677-8423 (option 1)
City of Fairfax
Rebate for $3-10 per string
Rebate applications must be received within 90 days of purchase or by March 31 of the calendar year following the year the item was purchased.
Click here to download a PDF of the rebate form
More info: CMPAS rebates
Contact: 507-426-7255
Dakota Electric Association
Rebate for $3 per string
Rebates cannot exceed purchase price. Purchase price includes tax and coupons. Rebate available for residential members only. Offer expires December 31, 2016. Submit rebate coupon and receipt within 60 days of purchase date.
To download a PDF of the rebate form, visit: Residential lighting rebates
Contact: Jill Eide, Energy Services Rep, 651.463.6384, jeide@dakotaelectric.com
Ely Utilities Commission
Rebate for $2 per string
Limit 12 strings. 25 bulb minimum per string. Deadline December 31, 2016 (postmarked by 1/15/2017).
Click here to download a PDF of the rebate form
More info: LED Holiday Lights Rebate Participating Utilities
Contact: 800-677-8423 (option 1) or Doug Eli, 218-355-2225, de@energyinsightinc.com
Fairmont Public Utilities
Rebate for $3-12 per string
Rebate is limited to 50% of cost. Deadline December 31, 2016.
Click here to download a PDF of the rebate form
More info: Fairmont Holiday Lighting Rebate Overview SMMPA profile of Fairmont Public Utilities
Contact: Marcus Hendrickson, 507-990-5846, mc.hendrickson@smmpa.org
Glencoe Light & Power
Rebate for $3.30 – $10.50 per string
Must be a residential electric customer. Deadline December 31, 2016 (likely).
Click here to download a PDF of the 2015 rebate form
More info: Rebates
Contact: 320-864-5184 or 855-296-3669 (Be sure to call for 2016 program information!)
Grand Marais Public Utilities Commission
Rebate for $3-12 per string
Rebate is limited to 50% of cost. Deadline December 31, 2016.
Click here to download a PDF of the rebate form
More info: Grand Marais Holiday Lighting Rebate Overview SMMPA profile of Grand Marais Public Utilities Commission
Contact: Keith Butcher, 507-990-5907, kr.butcher@smmpa.org
Grand Rapids Public Utilities
Rebate for $2 per string
Limit 12 strings. 25 bulb minimum per string. Deadline December 31, 2016 (postmarked by 1/15/2017).
Click here to download a PDF of the rebate form
More info: LED Holiday Lights Rebate Participating Utilities
Contact: 800-677-8423 (option 1)
Granite Falls Municipal Utilities
Rebate for $3-10 per string
Rebate applications must be received within 90 days of purchase or by March 31 of the calendar year following the year the item was purchased.
Click here to download a PDF of the rebate form
More info: CMPAS rebates
Contact: 320-564-3011
Janesville Municipal Utilities
Rebate for $3-10 per string
Rebate applications must be received within 90 days of purchase or by March 31 of the calendar year following the year the item was purchased.
Click here to download a PDF of the rebate form
More info: CMPAS rebates
Contact: 507-234-5112
Kasson Public Utilities
Rebate for $3-10 per string
Rebate applications must be received within 90 days of purchase or by March 31 of the calendar year following the year the item was purchased.
Click here to download a PDF of the rebate form
More info: CMPAS rebates
Contact: 507-634-7071
Kenyon Municipal Utility
Rebate for $3-10 per string
Rebate applications must be received within 90 days of purchase or by March 31 of the calendar year following the year the item was purchased.
Click here to download a PDF of the rebate form
More info: CMPAS rebates
Contact: 507-789-6415
Lake City Utilities
Rebate for $3-12 per string
Rebate is limited to 50% of cost. Deadline December 31, 2016.
Click here to download a PDF of the rebate form
More info: Lake City Holiday Lighting Rebate Overview SMMPA profile of Lake City Utilities
Contact: Marcus Hendrickson, 507-990-5846, mc.hendrickson@smmpa.org
Litchfield Public Utilities
Rebate for $3-12 per string
Rebate is limited to 50% of cost. Deadline December 31, 2016.
Click here to download a PDF of the rebate form
More info: Litchfield Holiday Lighting Rebate Overview SMMPA profile of Litchfield Public Utilities
Contact: Keith Butcher, 507-990-5907, kr.butcher@smmpa.org
Lyon-Lincoln Electric Cooperative
Rebate for $0.15 per watt saved
Call LLEC to verify rebate program status. Maximum rebate of $100/account/year. Rebates will be issued as a credit on your electric bill. Submit rebate form and receipt within 90 days of purchase date.
Click here to download a PDF of the rebate form
More info: Energy Star rebates
Contact: Brian Jeremiason, Energy Services Manager, 507-247-5505, bjeremiason@llec.coop
Marshall Municipal Utilities
Rebate for $3.50 per string
The rebate amount is $3.50 per light string or the purchase price of the new lighting, whichever is less.
Click here to download a PDF of the rebate form
More info: Utility website
Contact: Mark Antony, Energy Services Coordinator, (507) 537-7005, marka@marshallutilities.com
Minnesota Power
Rebate for $2 per string
Limit 12 strings. 25 bulb minimum per string. Deadline December 31, 2016 (postmarked by 1/15/2017).
Click here to download a PDF of the rebate form
More info: LED Holiday Lights Rebate
Contact: 800-677-8423 (option 1)
Mora Municipal Utilities
Rebate for $3-12 per string
Rebate is limited to 50% of cost. Deadline December 31, 2016.
Click here to download a PDF of the rebate form
More info: Mora Holiday Lighting Rebate Overview SMMPA profile of Mora Municipal Utilities
Contact: Keith Butcher, 507-990-5907, kr.butcher@smmpa.org
Mountain Iron Public Utilities
Rebate for $2 per string
Limit 12 strings. 25 bulb minimum per string. Deadline December 31, 2016 (postmarked by 1/15/2017).
Click here to download a PDF of the rebate form
More info: LED Holiday Lights Rebate Participating Utilities
Contact: 800-677-8423 (option 1)
Mountain Lake Municipal Utilities
Rebate for $3-10 per string
Rebate applications must be received within 90 days of purchase or by March 31 of the calendar year following the year the item was purchased.
Click here to download a PDF of the rebate form
More info: CMPAS rebates
Contact: 507-427-2633 ext. 6
New Prague Utilities Commission
Rebate for $3-12 per string
Rebate is limited to 50% of cost. Deadline December 31, 2016.
Click here to download a PDF of the rebate form
More info: New Prague Holiday Lighting Rebate Overview SMMPA profile of New Prague Utilities Commission
Contact: Marcus Hendrickson, 507-990-5846, mc.hendrickson@smmpa.org
New Ulm Public Utilities
Rebate for $5 (chamber dollars) per string
Limit 5 strings. Rebates will only be given for each string of LED lights whose purchase price was $5.00 or more per string. Each string of lights must have a minimum of 25 lights per string. Chamber Dollars will be distributed between November 14 and December 16. Chamber Dollars can only be redeemed at Chamber-member businesses.
Click here to download a PDF of the rebate form
More info: Rebate information
Contact: William Swanson, Energy Services Representative, 507-359-8228, william.swanson@ci.new-ulm.mn.us
North Branch Municipal Water & Light
Rebate for $3-12 per string
Rebate is limited to 50% of cost. Deadline December 31, 2016.
Click here to download a PDF of the rebate form
More info: North Branch Holiday Lighting Rebate Overview SMMPA profile of North Branch Municipal Water & Light
Contact: Keith Butcher, 507-990-5907, kr.butcher@smmpa.org
Owatonna Public Utilities
Rebate for $3-12 per string
Rebate is limited to 50% of LED string or package cost, tax excluded. Deadline March 31, 2017.
Click here to download a PDF of the rebate form
More info: Residential Rebates
Contact: Jared Hendricks, 507-446-5432, hendricksj@owatonnautilities.com
Preston Public Utilities
Rebate for $3-12 per string
Rebate is limited to 50% of cost. Deadline December 31, 2016.
Click here to download a PDF of the rebate form
More info: Preston Holiday Lighting Rebate Overview SMMPA profile of Preston Public Utilities
Contact: Steve Almos, 507-358-9069, sj.almos@smmpa.org
Princeton Public Utilities Commission
Rebate for $3-12 per string
Rebate is limited to 50% of cost. Deadline December 31, 2016.
Click here to download a PDF of the rebate form
More info: Princeton Holiday Lighting Rebate Overview SMMPA profile of Princeton Public Utilities Commission
Contact: Keith Butcher, 507-990-5907, kr.butcher@smmpa.org
Redwood Falls Public Utilities
Rebate for $3-12 per string
Rebate is limited to 50% of cost. Deadline December 31, 2016.
Click here to download a PDF of the rebate form
More info: Redwood Falls Holiday Lighting Rebate Overview SMMPA profile of Redwood Falls Public Utilities
Contact: Keith Butcher, 507-990-5907, kr.butcher@smmpa.org
Rochester Public Utilities
Rebate for $3-12 per string
Rebate is limited to 50% of LED string or package cost, tax excluded. Deadline March 31, 2017.
Click here to download a PDF of the rebate form
More info: Residential rebates
Contact: Dirk Bierbaum, 507-292-1225, dbierbaum@rpu.org
Saint Charles Municipal Utilities
Rebate for $3-12 per string
$3 bonus rebate for purchasing locally. Maximum rebate of $200 per customer. Rebate cannot exceed price of LED string or package. Also provide an additional $1 per old string recycled for each new LED string purchased (max. of 12 strings for recycling rebate). Deadline December 31, 2016 (likely).
Click here to download a PDF of the 2015 rebate form
More info: Rebates
Contact: (507) 932-3020 (Be sure to call for 2016 program information!)
Saint Peter Municipal Utilities
Rebate for $3-12 per string
Rebate is limited to 50% of cost. Deadline December 31, 2016.
Click here to download a PDF of the rebate form
More info: Saint Peter Holiday Lighting Rebate Overview SMMPA profile of Saint Peter Municipal Utilities
Contact: Marcus Hendrickson, 507-990-5846, mc.hendrickson@smmpa.org
Shakopee Public Utilities
Rebate for $3 per string
Limit 5 strings per customer per year. Rebate may not exceed purchase price. Call to check status of rebate program. Minimum of 25 lights per string. Deadline December 15, 2016.
Click here to download a PDF of the rebate form
More info: Utility website
Contact: John Crooks, Utilities Manager, 952-233-1511, jcrooks@shakopeeutilities.com
Sleepy Eye Public Utilities
Rebate for $3-10 per string
Rebate applications must be received within 90 days of purchase or by March 31 of the calendar year following the year the item was purchased.
Click here to download a PDF of the rebate form
More info: CMPAS rebates
Contact: 507-794-4371
Spring Valley Public Utilities
Rebate for $3-12 per string
Rebate is limited to 50% of cost. Deadline December 31, 2016.
Click here to download a PDF of the rebate form
More info: Spring Valley Holiday Lighting Rebate Overview SMMPA profile of Spring Valley Public Utilities
Contact: Steve Almos, 507-358-9069, sj.almos@smmpa.org
Springfield Public Utilities
Rebate for $3-10 per string
Rebate applications must be received within 90 days of purchase or by March 31 of the calendar year following the year the item was purchased.
Click here to download a PDF of the rebate form
More info: CMPAS rebates
Contact: 507-723-3500
Two Harbors Power and Light
Rebate for $2 per string
Limit 12 strings. 25 bulb minimum per string. Deadline December 31, 2016 (postmarked by 1/15/2017).
Click here to download a PDF of the rebate form
More info: LED Holiday Lights Rebate Participating Utilities
Contact: 800-677-8423 (option 1)
Waseca Utilities
Rebate for $3-12 per string
Rebate is limited to 50% of cost. Deadline December 31, 2016.
Click here to download a PDF of the rebate form
More info: Waseca Holiday Lighting Rebate Overview SMMPA profile of Waseca Utilities
Contact: Marcus Hendrickson, 507-990-5846, mc.hendrickson@smmpa.org
Wells Public Utilities
Rebate for $3-12 per string
Rebate is limited to 50% of cost. Deadline December 31, 2016.
Click here to download a PDF of the rebate form
More info: Wells Holiday Lighting Rebate Overview SMMPA profile of Wells Public Utilities
Contact: Steve Almos, 507-358-9069, sj.almos@smmpa.org
Windom Municipal Utility
Rebate for $3-10 per string
Rebate applications must be received within 90 days of purchase or by March 31 of the calendar year following the year the item was purchased.
Click here to download a PDF of the rebate form
More info: CMPAS rebates
Contact: 507-831-6151
---
Spread the Cheer (and Savings)

FOR TWITTER:
Brighten your #holidayseason with LED lights that save #energy and money! MN utilities offer rebates, too. Details: https://t.co/RRQzBCy6cQ pic.twitter.com/pDU2AEiyCS

—

CERT

s (@MNCERTs) December 7, 2017
FOR FACEBOOK: