Over sixty Winona county residents crowded into the Winona City Hall on a recent brisk March Saturday morning to learn the "Seven Steps to a Solar Ready Home." Because every dollar spent on energy efficiency reduces the size of a needed solar electric generating system energy, efficiency can actually reduce a homeowner's cost for a solar system by three to five times. Getting ready for a solar system is all about energy efficiency!
The event was a partnership of CERTs, Sustain Winona, and the Jefferson Center as the first of a number of events to raise awareness about energy and water use in the region. Networking with local solar electric system installers and local electric utilities (Xcel and MiEnergy) was also available at the event.
Step 1: Get an energy audit
To know what needs improvement a homeowner has to know how their house is currently performing, so the most important step is to have an energy audit. The lead energy auditor for South East Minnesota Citizens Action Council (SEMCAC), Luke Tessum gave the attendees an overview of what to expect from an energy audit. He told the audience to always check with their utility to see what audit options and rebates are available.
Steps 2-4: Air sealing, insulation &
HVAC
Heating and air conditioning generally consume over half of the energy used in a typical Minnesota home. To help reduce that use, air sealing, insulation, and HVAC are the top areas to improve. Terry Webster from the Minnesota Department of Commerce shared his expertise for workshop attendees on how to make those improvements.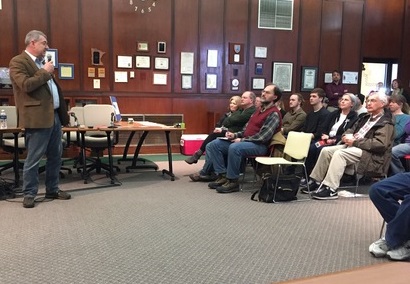 Terry Webster with Minnesota Department of Commerce talks about home energy efficiency.
Steps 5-7: Lighting, loads & appliances
Three students from Winona State University presented their research on lighting, ghost loads, and efficient appliances, which together make up another third of a home's energy use. Energy Star appliances, LED lighting, and shutting off equipment when not in use can contribute to reducing electricity use.
Grab the home energy efficiency guide
If you are interested in learning how you can improve the efficiency of your home check out this free Home Energy Guide provided by the Minnesota Department of Commerce, Division of Energy Resources. To request a paper copy call 800-657-3710 or e-mail the Minnesota Department of Commerce ([email protected]).
Now you're ready for solar energy!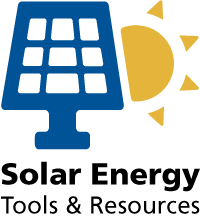 Now that you've explored all of the ways that you can save energy at home and reduce the size of your solar array, you're ready to further explore solar. Solar energy can be used to generate electricity, to provide hot water, and to heat, cool, and light buildings. Believe it or not, Minnesota has the same solar potential as Tallahassee, FL and Houston, TX! Click here for moving forward and more resources >>
Solar Resources: