Did you know that Minnesota has an award-winning Solar Dream Team? It's true! CERTs is helping a talented team of GIS professionals design an online mapping application for solar energy that will serve an array of stakeholders and the energy industry through the coming boom in solar—and they just won a national award for their efforts. Keep reading to get the full story and learn more.

The beginning

Back in January of 2014, CERTs approached Len Kne with U-Spatial at the University of Minnesota—a group that provides support for spatial research—and asked if he had any students that would be interested in mapping the solar potential of the entire state of Minnesota. A week later Len got back to us and said, "I found a Dream Team of masters in GIS students, and they like your idea. They'd like to turn it into a semester-long project."

The award-winning team & their project

Now dubbed the Solar Dream Team, the group of all-stars returned from the 2014 Esri User Conference this week where they received 1st place in Esri's inaugural Climate Resilience App Challenge for their MN Solar Suitability App, in partnership with the White House, which features a statewide map of solar insolation and solar photovoltaic (PV) potential with 1 square meter resolution for the entire state of Minnesota that was created using Lidar data and GIS technology. Other places across the country like New York and Boston have done similar analyses—but these efforts have been limited to individual cities or metropolitan areas. This project is unique because it maps solar potential for the entire state of Minnesota.
Watch the team receive their reward:
What is the app, exactly? The Minnesota Solar Suitability App displays the solar potential of every spot in the state of Minnesota. With this data, and the services provided through this application, home and business owners can identify the solar potential of their property, solar installers can more efficiently provide site assessments, energy companies can site large arrays that integrate with their current network, utilities can incorporate solar into their integrated resource plans, planners can identify specific neighborhoods for targeted solar projects, and local officials can develop policies that encourage local development and preserve solar resources. People can either use the online app or download the layers for use in their own maps. The City of Minneapolis has already created an offshoot project marrying solar insolation data with building information to provide solar suitability for every rooftop in the city (see it here)!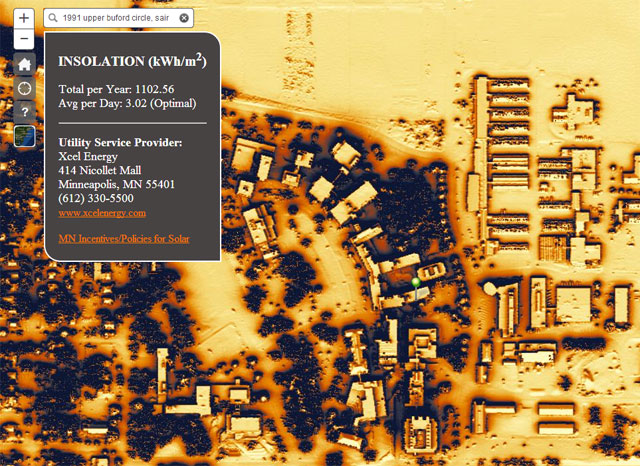 View of app with detail about Hayes Hall at the University of Minnesota where the CERTs statewide office is housed.

What's the big deal?

The timing of this resource could not be more perfect—solar is booming in Minnesota (see the chart below) and demand will only rise. Minnesota advanced state solar policy in 2013 with the adoption of comprehensive legislation designed to expand solar including a requirement that 1.5% of electricity generated in the state come from solar by 2020 and a goal of achieving 10% of the state's electricity from photovoltaics (PV) by 2030. To successfully achieve these nationally goals, we need good tools.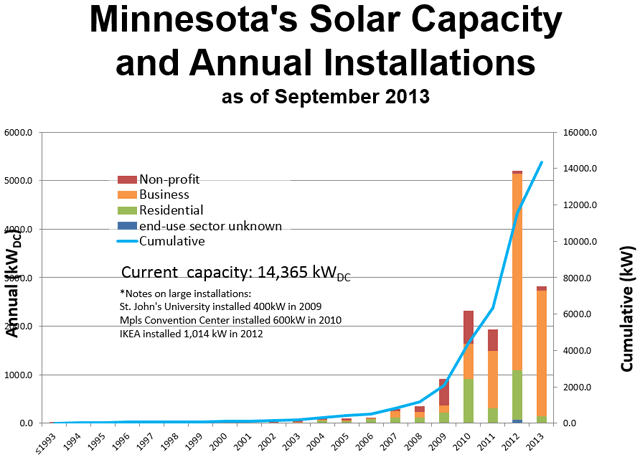 Chart from MN Dept. of Commerce. Learn more about the state of solar in a recent presentation by Stacy Miller.

Check it out!

The Minnesota Solar Suitability application can be accessed with a computer or mobile device at http://maps.umn.edu/solar. More information can be found on the project website at http://solarp.uspatial.umn.edu.
Inquiries and feedback can all be directed to [email protected], the Solar Dream Team's email address for the project. We'd love to know what you think!
Watch this video to learn more about the app:
Media attention:
What is

CERT

s' role?

CERTs provided support to the Solar Dream Team throughout the development of the app and helped the team make some useful connections. We will continue to work with the team as improvements are made to the app, and will then engage a range of audiences to help them use the app to plan for solar development in Minnesota. We're very excited, and could not be more impressed by the team and their outstanding efforts! A shout out is in order to CR Planning and the Minnesota Renewable Energy Society who were instrumental in crafting this idea and carrying the project forward.