Joel Haskard with the Clean Energy Resource Teams (CERTs) spoke with Rachel Boucher, owner of Rach-Al-Paca Farm in Hastings, about their solar thermal hot water project and the savings that they've been experiencing in their operations as a result of the installation.

Rachel, tell us a little bit about your farm.
We live on a 20 acre farm near Hastings, where we raise sheep, alpacas, and goats. We operate a custom fiber mill on the property. We make yarn and clothing from our animals' fleece, but 90% of the time, we process for other people. We have 5 solar panels on a huge rack next to the mill building. We have a lot more detail on our website at http://www.rachalpacafarm.com.
How did you decide to do a solar thermal install?
Washing the fiber requires copious amounts of hot water. A conventional water heater couldn't keep up, and we were told boosting it with an on-demand heater wasn't feasible in the amounts we use. Since our water table is in the low 40s, it makes the most sense to pre-heat the water for the water heater. We get a lot of sunny days, and air temperature isn't really a factor. Last winter, when it was a sunny -20 degrees, the panels were up to 70 and heating the water!
What kind of savings have you seen from the system?
We do not have a meter on the system to measure actual production, which makes reporting difficult. We recommend that be a standard part of any system. Our experience has been that the system heats about 41,000 gallons of water from 45 degrees to 100 degrees in a year's time. This reduces our hot water demand by 50%, and we rely less on electricity and natural gas to heat the water, ultimately reducing generation emissions.
What advise or suggestions would you give other farmers thinking about solar thermal?
If you need a lot of hot water, check it out! Check to see what grants are available, and what restrictions they impose. It may be cheaper to install yourself, but grants often require licensed installers. Also do some research on basic solar thermal, so you know the basics when talking to potential contractors. If you aren't sure how big a system you need, try to ensure it is easily expandable for future growth.

CERTs caught up with Ralph Jacobson at Innovative Power Systems (IPS) to learn more about the solar thermal hot water system they installed at Rach-Al-Paca Farm.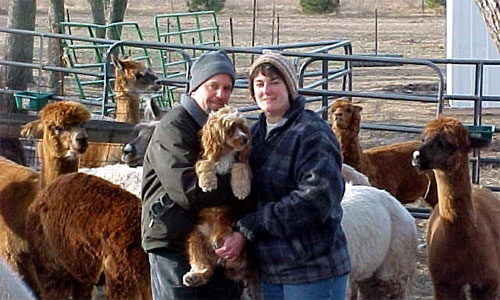 Do you have anything to share about the solar thermal hot water installation that IPS installed at Rach-Al-Paca Farm?
I spoke at the CERTs conference in Saint Cloud about five years ago, and one thing I talked about was some agricultural applications for solar. After my talk, Alan and Rachel Boucher came up and told me about their farm, where they raise goats, sheep, and alpacas! They make yarn from alpaca and sheep wool right there on their farm, as a value-added product. My company ended up installing a solar water preheat system for the wool-washing part of their operation. We collaborated with Solar Skies and Minnesota Renewable Energy Society to put together a system for them. Solar Skies donated five 40 sqft collectors, and I organized a two-day Minnesota Renewable Energy Society hands-on training to do the installation, at which about a dozen members helped out. So Rachel and Alan now have a 200 square-foot solar thermal water preheat system for the wool-washing in their new yarnery. I check in once or twice a year, and the solar is saving them considerably on purchased electricity for their commercial wool washing machine.

Learn more about Rach-Al-Paca Farms on their website >>
---
More on solar thermal:
Learn more about the Made-In-Minnesota Solar Thermal Rebate >>
See more solar thermal blog posts from CERTs >>