Congratulations to Faribault, Kasson, and La Crescent, cities in the Southeast CERT region which advanced in the GreenStep Cities program to steps 2, 3, and 4 respectively in 2022. A welcome to New Prague who joined the program this year and kudos to the cities of Northfield, Red Wing, and Rochester for maintaining their status in steps 4 and 5.
Minnesota GreenStep is a voluntary challenge, assistance, and recognition program to help cities and tribal nations achieve their sustainability and quality-of-life goals. This free continuous improvement program is based upon 29 best practices that are tailored to Minnesota cities and tribal nations. There are 15 GreenStep Cities scattered across the Southeastern CERT region.
Faribault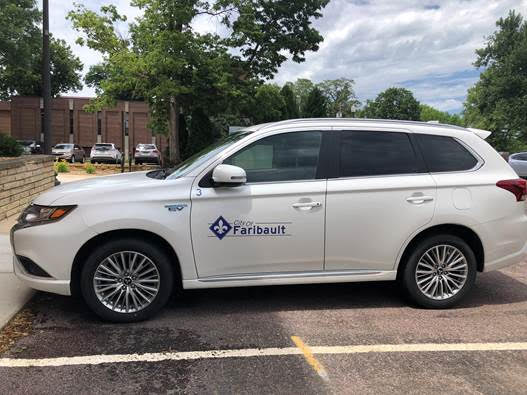 "Faribault added one full EV and one plug-in hybrid to the city fleet since joining GreenStep. We see having EVs in the city fleet as important for making Faribault an EV-friendly city. Faribault has also updated the Comprehensive Plan since joining GreenStep, outlining goals for expanding parks and making downtown Faribault greener and safer for pedestrians and cyclists by 2040. Joining GreenStep Cities has been important in positioning Faribault as a city that cares about creating a cleaner environment for our residents, and I see advancing to Step 2 as a way of ensuring this concern for the environment is ongoing and paired with concrete action rather than a one-time statement." said Sarah Shapiro Minnesota GreenCorps member with the City of Faribault. Faribault joined the GreenStep Cities program in 2016 and has worked steadily on sustainability in the program but as David Wanberg, Faribault City Planner shared "We completed many of our actions years ago; we just had not taken the time to document them until Sarah came to Faribault as a GreenCorps member."
Kasson
"This award shows community members and other cities across Minnesota that the City of Kasson is taking great steps in the direction of energy and resource conservation and innovation," shared Nancy Zaworski, Finance Director and GreenStep program lead with the City of Kasson. Between 2017 and 2018 Kasson planned and took input for their 2040 Kasson Upward comprehensive plan. Zaworski shared that "the comprehensive plan specifically addressed land use issues to advance Kasson to Step 3 and to at the same time prepare the city for water inflow and filtration issues that have resulted from recent high precipitation weather events."  Zaworski also highlighted a Safe Routes to School grant project that will be complete in 2022 and a new ordinance that supports residential solar PV electric systems and bi-directional meters for the municipal electric utility distribution grid in Kasson's GreenStep efforts. 
La Crescent
"By being part of the program, La Crescent and our peers are helping to make Minnesota more resilient for the future while also helping our cities thrive economically." shared Jason Ludwigson, Sustainability Coordinator and GreenStep program lead with the City of La Crescent. La Crescent has worked hard to implement best practice actions in order to meet their own sustainability goals with support from the GreenStep program and their peers. Actions taken within the program focus on cost savings, energy use reduction, resource conservation, climate change, and the encouragement of civic innovation. Joining the GreenStep City program in 2016 and as a smaller city with around 5000 residents La Crescent has been a leader winning a Benchmarking award in 2018, achieving Gold SolSmart status in 2021, and recently being one of the first in the nation to create a Solar Ready Home Certification program.
Steps 4 and 5 in the program differ from steps 1-3 in that they involve annual calculation of metrics such as energy use per square foot by city buildings, percentage of LED traffic and street lights, or stormwater volume. A step 4 city completes these metric calculations annually and to achieve step 5 the city improves metrics annually on three of the eligible items. 
Northfield
Northfield advanced to step 4 in 2020, Step 5 in 2021, and maintained those steps this year. Among their metrics achievements in 2020 are: 
100% of traffic lights are LEDs.
3.87 miles of new/reconstructed sidewalks & trails were installed in 2020.
100% of housing is located within 1 mile of a bicycle route.  
Red Wing
Red Wing moved to step 4 in 2017 and to step 5 in 2018. Notable achievements in 2022 are: 
45% of all new housing were affordable housing units in 2021.
38% of residential solid waste is recycled, up from 27% in 2020.
Red Wing purchases 4,637 MWhr/yr of renewable energy for city operations, amounting to 120% of total city operations energy use that is generated or purchased renewable electricity, the most of any Step 4/5 reporting city.
Rochester
Rochester moved to step 4 and 5 in 2018 with notable achievements in 2022 of:
Increased Stormwater Assessment Scores from 46 (36 adaptation) in 2020 to 51 (43 adaptation).
43% of Rochester residential solid waste is recycled.
24.4% of total city operations energy use that is generated or purchased renewable electricity, up from 17% in 2019.
Congratulations to all of the GreenStep Cities in Southeastern Minnesota!