Here at CERTs we have been getting a few questions recently about stray voltage with regards to clean energy project, so we thought it would be useful to share some resources for people to learn more.
While stray voltage can be a concern in certain situations, it's unlikely to arise when work is done by professional contractors in partnership with electric utilities.
---
Minnesota Stray Voltage Guide

A number of utilities in Minnesota came together to create the Minnesota Stray Voltage Guide, for which outlines the steps that farmers, electrical contractors, utilities and their advisors can take to discover and resolve stray voltage concerns on livestock farms. When farmers and utility companies work together, stray voltage concerns are more likely to be satisfactorily resolved.
The Guide includes a list of common causes and a farm wiring checklist to address possible causes and ways to avoid on-farm stray voltage. It also goes through what the farmer and utility should expect when conducting a stray voltage investigation, including the proper testing procedures for stray voltage. Although this Guide is focused on cattle and dairy farms, the processes and procedures are relevant to all types of livestock and livestock housing facilities.
Click here to download the Guide >>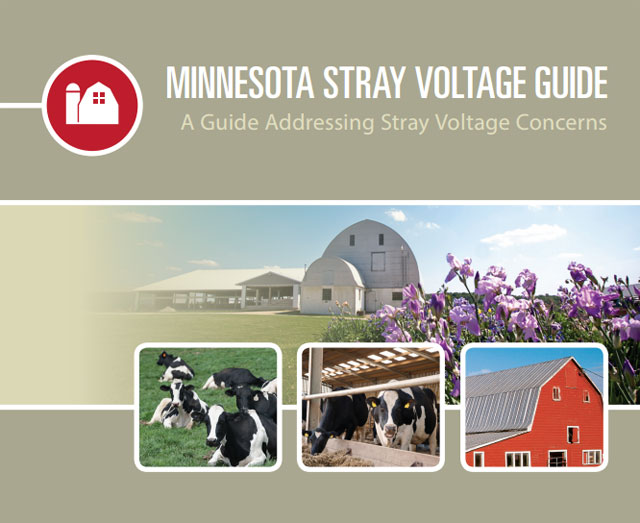 Who's behind the guide?
---
Midwest Rural Energy Council & University of Wisconsin Extension

MREC members have been active participants in developing Wiring codes for agricultural facilities, developing methods to detect and correct stray voltage problems and improving the quality and safety of farm wiring systems. Follow these links for resources on farm wiring systems, the structure and function of the electrical distribution system, interconnection action between the distribution system and the on-farm wiring system the causes and cures for stray voltage, and an overview of recent science on the sources and influence of Electric and Magnetic Fields (EMF).
---