For the last two years the Clean Energy Resource Teams have hosted a Solar Video Contest at the Minnesota Solar Energy Industry Association's Midwest Gateway to Solar Conference. We've been blown away by the creative, powerful, funny, and informative submission we get, and this year was no different! Keep reading to see who won this time around and watch their videos.

First Place Video:
"The Generation for Solar" by Edina Project Earth

Edina High School's Project Earth environmental club made this video to show that the next generation supports an increase of solar energy in Minnesota. We know that this is the best choice for our future, and want to promote the benefits of solar energy.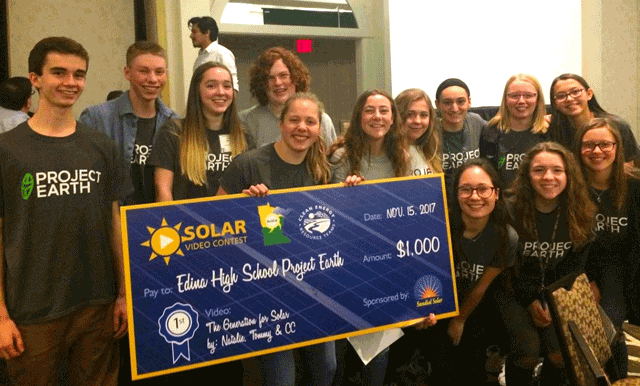 Second Place Video:
"Solar Powers Minnesota" by Marley & James


The future isn't what it used to be. Go solar! Produced by Brendan Dillon, Carina Dillon, Laura Hannah, and Julian White.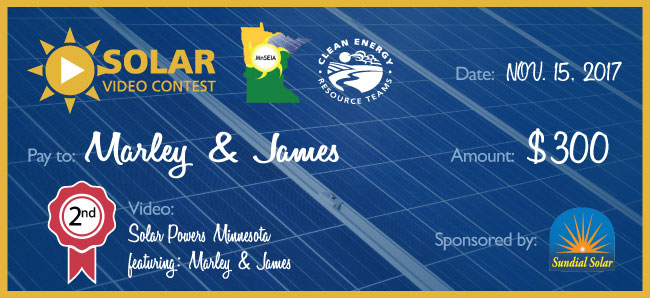 Third Place Video:
"The Wine Company Goes Solar" by The Wine Company

Committed to sustainable initiatives at every turn, The Wine Company is proud to go solar! This video is our playful announcement about flipping the switch and a toast to all committed to #makingeverydayanearthday!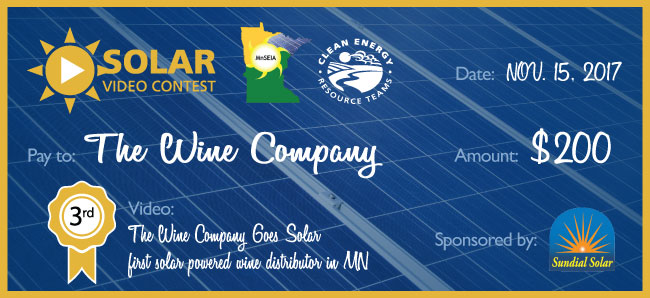 Thanks to MnSEIA and Sundial Solar for their support and sponsorship of the Solar Video Contest!