It was a beautiful day to tour the state's largest solar photovoltaic (PV) installation on July 19th, 2013 in Slayton, Minnesota. With the sun high and bright in the sky and only puffy white clouds to speak of, 35 members of SW/WC CERT toured the 7.5 football fields worth of solar panels working at maximum capacity. Keep reading to learn more and see lots of photos.
The day started with a informal lunch at the town's Pizza Ranch at noon. Members of the CERTs tour, as well as members of the day's previous tours, gathered in the East room. After a quick introduction by Joel Haskard (CERTs Co-Director) and Jeff Vetsch (West Central CERT Coordinator), Brian Ross of C.R. Planning took the stage to explain some of the changes in the recent Minnesota legislation concerning solar. Click here to view the handout provided by the Minnesota Department of Commerce, Division of Energy Resources. Topics covered included the solar electricity standard, net metering, the value of the solar tariff, Made in Minnesota solar incentives, solar production-based incentive, community solar gardens, and Property-Assessed Clean Energy (PACE).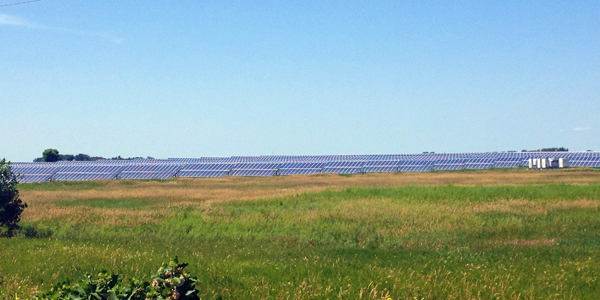 The next speaker was Jim Dontje of Gustavus Adolphus College. Jim outlined both the opportunities and challenges of putting together a community solar garden from the viewpoints of consumers, installers, and utility representatives. The audience was very engaged and quickly ran out of time due to the amount of questions asked. Lastly, Kristi Loobeek, the Clean Energy Communication Assistant for CERTs, introduced the Clean Energy Project Builder website, an online directory that connects people to the solar and wind energy industries (installers, business owners, homeowners, and those simply wanting to learn more).
Then the group carpooled over to the solar project site just outside of Slayton where the tour group was met by Brad Wilson of Ecos Energy. The Slayton Solar Project was developed by Ecos Energy LLC in partnership with Xcel's Renewable Development Fund and was constructed by Blattner Energy. After the group walked alongside rows and rows of solar photovoltaic (PV) panels, Brad answered attendees' questions.
Learn more:
View more pictures from the event on the CERTs Flickr page or watch the slideshow below!