In August 2012, the University of Minnesota began a campus-wide lighting installation process. The LED lighting integrated with digital controls now reduces the energy consumed in stairwells by 90 percent.
Before this project, many of the stairwells were fully illuminated 24 hours per day throughout 120 buildings across campus. Once the project is complete, nearly 6,000 W Series LED luminaires will illuminate campus stairwells, amounting to nearly $180,000 savings annually.
Just today, they started retrofitting stairwells in Hayes Hall on the St. Paul campus where CERTs is housed. We were delighted to walk out into the hallway today and find the contractor installing LEDs with motion sensors! Below is more information about the retrofits, as well as a couple photos.
"LED lighting has been received really well," Alicia Phillips, an engineer and senior energy auditor with the university's facilities management department, says. "Initially, we had to do a lot of testing and get quite a few samples in order to show people what opportunities are available and what the different colors are. A lot of people have different opinions about whether it's the best technology to go to."
It's pretty easy to tell, however, how we here at CERTs feel about the new lighting…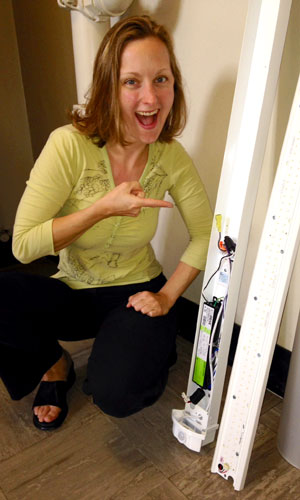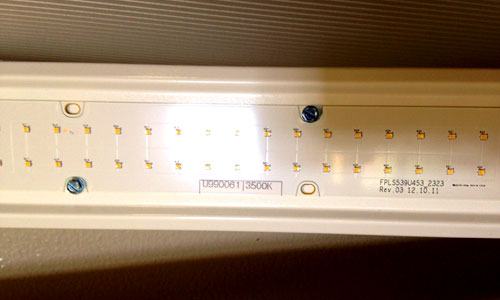 The current phase of LED retrofits targets areas with minimal occupancy and continual lighting needs. "We're currently going across campus and totally retrofitting all of our stairwell lights from fluorescents to LEDs," she says. "We find that's another great opportunity to take advantage of savings with LEDs because stairwells are primarily unoccupied, but the lights are always on."
Quick facts on the lights installed in the hallway at CERTs:
24 Watts (replacing two 32 watt linear fluorescent plus its ballast)
3500 K color temperature (middle of the spectrum)
82

CRI

– color rendering index (results in fairly true colors to the eye)
motion-sensors (lights up to 100% when fixture detects motion)
15 second reset (after 15 seconds of no motion, lights dim to 10%)
Learn more about energy-efficient lighting options with the Right Light Guide from CERTs!