After a snowstorm delayed plans, five staff from the City of Winona and Minnesota's Clean Energy Resource Teams (CERTs) set out in March for the first Business Blitz in downtown Winona.
The blitz involved walking door-to-door in downtown Winona to speak with small and medium sized businesses about reducing energy use and saving money on their energy bills. They achieved their goal of reaching 100 small and medium businesses, and signed 29 businesses up for free energy assessments with EnergySmart, a program offered by the State Chamber of Commerce. The blitz is following the success of a series of blitzes in other communities over the past several years.
Throughout the day, the Business Blitz team informed business owners about programs available to Xcel energy customers, rebates they may be eligible for from past or future energy efficient updates, and financing available including Property Assessed Clean Energy (PACE), an innovative funding opportunity available in Winona County.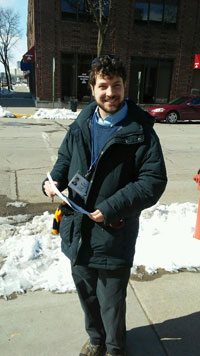 On March 19th and 20th, three EnergySmart energy efficiency specialists made a visit to Winona to conduct on-site energy assessments with the 29 local businesses. The assessments included a discussion of recent building updates, a tour of the business' HVAC, lighting and appliances, and concluded with rebate paperwork where applicable.
The energy efficiency specialists took note of specific appliance and lighting models and gained permission to access businesses' past energy bills in order to create specialized recommendation reports for each business. The reports include proposed project costs, estimated savings, available rebates and a return on investment spreadsheet.
The Business Blitz was the city's first big step toward fulfilling the small and medium business goals of Winona's new Energy Action Plan, adopted back in November of 2017 and related to their efforts in the Xcel Energy Partners in Energy program. Staff at Center for Energy and Environment have also been integral to these efforts.
To learn more about the Energy Action Plan and future events, contact the City of Winona's Natural Resources Sustainability Coordinator John Howard at [email protected] or the Business Energy Efficiency Outreach Intern Sadie Neuman at [email protected].
The Business Blitz garnered great media attention, including a nice piece for TV!
---
Bring a Business Blitz to your town!

Is your utility or community interested in learning more about getting a business blitz scheduled through CERTs?

Contact Joel Haskard at 612-625-8759 or [email protected] to learn more and discuss options.
---
About the Local Government Energy Action Series:
This effort tells the stories of Minnesota municipalities, counties, and schools and the tangible results of their energy-saving efforts to inspire others to take their own actions.