The Minnesota Women in Energy series highlights influential women who are part of our state's energy efficiency and renewable energy industries. CERTs is highlighting these leaders during the month of March in 2016, which is Women's History Month.
As part of the series we interviewed Rebecca Lundberg, CEO of Powerfully Green, to learn more about her work, what inspires her, and how other women can get involved in the industry. Read on to learn more!
---
Can you tell us a little bit about what you do in the energy world in Minnesota?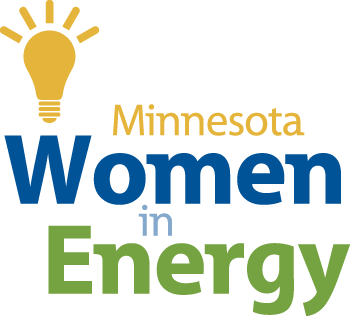 I am CEO of Powerfully Green, a solar installation company that focuses on residential solar projects. I hold the General Contractor's license for Powerfully Green, and am NABCEP certified in PV Installation and Technical Sales.​

How did you get into this work?

​In 2006 my partner Dan Williams and I were interested in renewable energy for his rental property in Minneapolis. We had a lot of questions, and found that there was a need in the market for contractors that specifically wanted to work with homeowners. As it turns out, Dan's background with work in the construction industry, and my background with a master's degree in education, were helpful in becoming a knowledgeable friendly resource for homeowners.​

What is a typical day like for you?

During the install season I get up at 5:30 a.m., make coffee, read the paper, respond to any urgent emails that came in overnight, and leave for the job site by 7am. We work on the roof until about 4-5pm, return home and spend several hours doing computer work.​
​We are totally immersed in what we do, and enjoy leading by example. Because Dan and I are both life partners and work partners, working practically non-stop during install season is not a problem because we're still spending loads of time together. We enjoy our work, meet really great people, and every day is different. It really doesn't feel like we're "working" constantly even though we pretty much are.​

What are the best and worst parts of your job?

The hardest part of my job is that on first contact people don't realize that we actually do the work ourselves. We aren't sitting at a desk waiting to answer the phone. People often have to leave a message the first time they call, and sometimes this is frustrating for them. Once we've met and they realize experts (Dan and I!) are going to be doing the work on site and that we're not just sales people, they understand.
The best part of my job: I have the privilege of meeting a lot of really great homeowners who are excited about installing solar and doing something important to help make our lives more sustainable. There are a lot of really good people in the world, and our customers are people I hope we'll stay in touch with even after their job is finished because we have a lot of shared values.

What about your job inspires you?

I absolutely love it when we finish a project and it's time to boot up the inverter to test the system for the first time. It's so cool to see the homeowner watch their electric meter stop, and then start to spin backwards. It makes me grin ​just ​thinking about it, because it's often the very first time they've actually SEEN the power of the sun. Honestly, we've just put solar panels up on ​their ​roof, and they're sitting there quietly, making electricity to power the home. It's really kind of magical. I never tire of teaching people how solar energy systems​ work, and​ ​getting to be the one to actually make it happen is pretty awesome. It's very hard work, but wow, what a joyful job.

What advice do you have for women who are thinking about working in energy?

Please don't be afraid of something that's technical, or requires learning some math and science! I had absolutely no construction background. I wouldn't even let my dad teach me about tools when I was a little girl—I just wasn't interested in it. Now I'm a licensed general contractor and an expert in my area of specialty construction. It's the willingness to learn that's most important, not your background knowledge. I often tell people "It's not rocket science," but honestly, even if it was, I could learn it.

Bio Box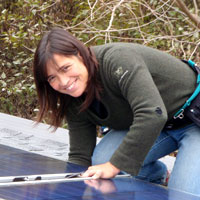 Rebecca Lundberg
CEO
Powerfully Green
Rebecca Lundberg is president and CEO of Powerfully Green, designing and installing residential and small commercial solar energy systems. She holds a Master's Degree in Education, a Minnesota Residential Building Contractor's license, and is a North American Board of Certified Energy Practitioners (NABCEP) Solar PV installer.
Share on Twitter!
For #wmnhist #IWD2016 mncerts</a> is highlighting 18 women leading MN&#39;s <a href="https://twitter.com/hashtag/CleanEnergy?src=hash">#CleanEnergy</a> industry! <a href="https://t.co/N6dQ6gXx6U">https://t.co/N6dQ6gXx6U</a> <a href="https://t.co/q0ZWy51Iym">pic.twitter.com/q0ZWy51Iym</a></p>&mdash; CERTs (MNCERTs) March 1, 2016
About the Author: Kathleen McGee is a freelance writer and content strategist for environmental organizations. She can be reached at

[email protected]
---
The Minnesota Women in Energy series highlights influential women who are part of our state's energy efficiency and renewable energy industries during Women's History Month.