Mike's Holiday Station in Grand Marais cashes in on lighting rebates with LEDs
No, it isn't Christmas time again, but you might think that with all the new LED lighting that illuminates the recently remodeled Holiday Gas Station in Grand Marais!
To promote energy efficiency strategies, the Grand Marais Public Utilities Commission issued a rebate to Mike's Holiday, Inc. for their extensive use of LED technology. They installed energy-saving LED lights throughout the store, around the building, and under the canopies. The rebate from the city totaled $10,912 and will eliminate the need to generate approximately 83,000 kWhs of electricity each year.
"The payback was remarkable," stated manager Courtney Quaife. "Especially with the rebate covering about 23% of the cost. This is a great service that the utility provides to help local businesses reduce costs and remain competitive."
Karl Hansen, chair of the Grand Marais Public Utilities Commission, encourages others to take advantage of these funds. "Go to the website," he proclaimed at the February 15th Commission meeting where the commission presented them with a check. "And learn more about energy efficiency and our programs."
That information, along with the utility's rebate forms can be found at SaveEnergyInGrandMarais.com.

---

Mike's Holiday in Grand Marais is not alone in their work on energy-efficient lighting.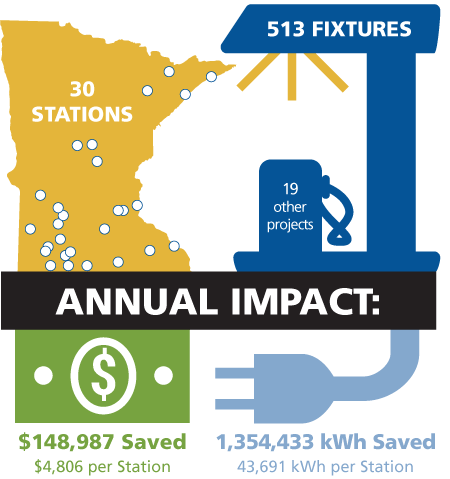 From May 2014 through December 2015, CERTs helped Minnesota service stations upgrade their canopy lighting to energy-saving LED technology.
LED lighting can help reduce canopy energy costs up to 75%, create a brighter and more attractive station, reduce maintenance costs, and more. In this campaign, that ended in December 2015, CERTs connected service station owners and their electricians with quality canopy lighting products and helped them reduce upgrade costs further with utility rebates.
Click here to learn more about this past campaign >>
Relates to the following technologies
May be of interest to the following communities

Bringing you news about clean energy projects and opportunities happening across the state. Tell your story.

---